5 Days Xinjiang Road Trip: "Bring me that horizon!"
Glittering alpine lakes, vast grassland, endless desert, oasis settlements, vanishing cities, bustling bazaars, Xinjiang is one of the best places in China for holiday road trip. Listen to your favourite music as the world slides by, and make choices en route that will determine your experience. In this journey, discover hidden gems when you go off the path, explore some exotic places not shown on the map and have a unique experience with your travel mates. Set the nose of your car down the road, and feel the horsepower start to carry you onward towards your destiny.
Trip Highlights
Visit a vanishing ancient town in Kashgar
Enjoy some tranquillity at two beautiful alpine lakes, Baisha Lake and Karakul Lake
Visit Tashkurghan County which is far west of Xinjiang
Home visit to Tajik family in Tashkurghan
An opportunity to bond with your travel mates(partner, friends or your whole family)
Customizable Tour Itinerary
On the first day, you will enter China via Torugart Pass. Upon arrival, you have to pass the border crossing inspection procedures at the customs. Not to worry, officers will give you clear instruction during the process. Also, your private tour guide will assist you through the procedures. Please take note that you have to leave your car at the customs for registration and retrieve it the next day. Then take private transport provided by us to Kashgar, check in at Radisson Blu Hotel. Remember to bring all your passport, visa, and any documents that can verify your identity. You can consult your tour guide on the thing needed to bring on the next day.
Notes
Please provide the following information 2 months in advance of your trip for any applications: Your passport, driving license, vehicle safety standard certificate, white background passport photo, photo of your car.
Remember to have your Pakistani visa ready before you arrive, as on the last day of this tour, you will exit China to Pakistan.
Torugart Pass will be closed on every weekends and public holidays, so avoid crossing during these period.
Please take note of operation time of all passes in Xinjiang before planning for your trip.
Your temporary driving license is valid for either 30 days or 60 days.
Feel free to customise your tour with our trip advisers as this is just a sample of the shortest route for road trip in Xinjiang. You can enter China via other passes, travel beyond Xinjiang to other provinces, then exit via passes in other provinces such as Inner Mongolia, Tianjin and Yunnan. Road trip in Xinjiang and to other provinces can last for a month and over. You can also exit China to other nearby countries after this tour. If you wish, experienced private tour guide will be available throughout the journey.
It is not advised to travel with caravan and to check in at hotel for better experience.
Hotels: Radisson Blu Kashgar, Luxemon Qinibagh Hotel Kashgar Prefecture, Kashgar Yinruilin International Hotel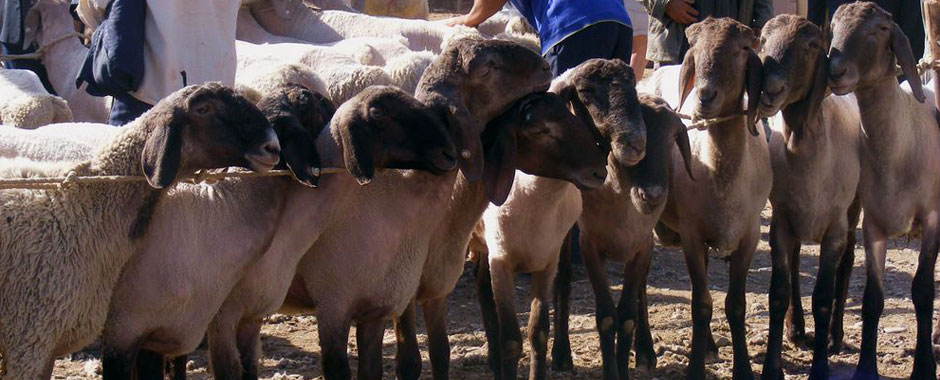 Sunday Livestock Bazaar near Karakoram Highway
After breakfast, take private transport to Torugart Customs, you will need to get your vehicles border crossing permit and temporary driving license in China which is valid for either 30 days or 60 days. A day is needed to get all these done at the customs. Retrieve your car, drive back to Kashgar and return to the hotel.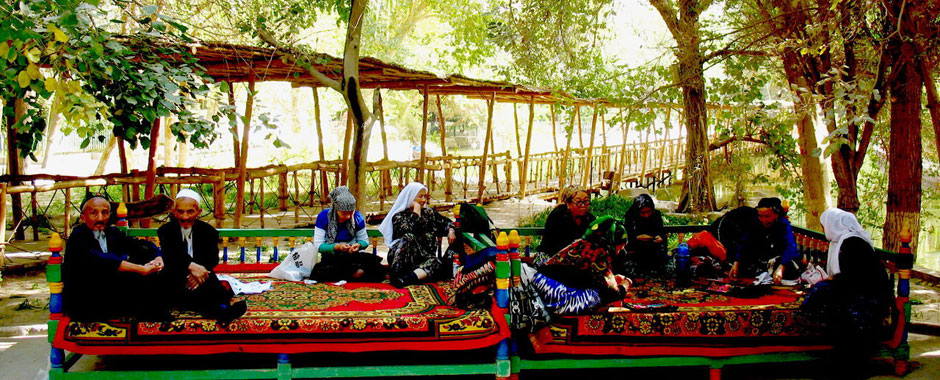 Locals chatting in the shade
In the morning, we will need to go to Vehicles Administration Office to finish up the formalities, before starting our trip. Then, you will drive to Abakh Khoja Mausoleum, which takes about half an hour from the administration office. Park your car at the nearby carpark. First built in 1640 A.D, Abakh Khoja Mausoleum is the most beautiful and magnificent mausoleum in Xinjiang. This mausoleum complex belongs to the Khoja family, and is named after Abakh Khoja, a famous Sufi and political leader in the 17th century in Xinjiang. And according to legend, during Qing dynasty, Emperor Qianlong's favourite concubine Xiangfei, whose name is Iparhan, is Abakh Khoja granddaughter. Thus, this mausoleum is also known as Xiangfei Tomb. This is a typical Islamic style mausoleum with mainly green decorative titles pave on the exterior. No matter you are single or married, you will get to see or perhaps participate in the whole process of a local wedding here (don't worry, this is not a real wedding). Handcraft experience, savouring different types of local tea, and some local souvenirs will be given to you after a series of events. If you happened to visit Abakh Khoja Mausoleum at 12:30pm or 5:00pm, be prepared for a welcoming ceremony!
Kashgar is famous for selling everything under the sun. The local Grand Sunday Bazaar is one of Asia's largest and most exuberant gatherings. But looking around the market, it's hard to believe you're in China. Kashgar is a melting pot of non-Chinese ethnic people. Uyghurs, Tajiks, Kyrgyz, Uzbeks, and many others. Grand Sunday Bazaar in Kashgar is also called Young Bazaar by the locals. 'Young' here means east in Uighur. Though it is called Grand Sunday Bazaar, it opens every day, but it only kicks up a gear on Sunday. There is often 'human jam' in the bazaar on Sunday, so you may want to avoid visiting on that day. But it would be a brilliant opportunity if you want to experience this unique live of Uighur. There are more than five thousands of shops and booths in this bazaar. Different category of items are sold in different districts. You can find more than just spices, naan, local teas, silks, Persian carpets and other imported goods from the neighbouring countries. Authentic local food and snacks can be also found in the bazaar. You can also get some fresh local fruits here. Do spot some interesting booths selling second hand goods and antiques. Some of those booths only appear on Sunday.
Find more animals and herds than human in Sunday Livestock Bazaar. This bazaar is located besides the Karakoram Highway (known by its initials KKH, also known as National highway 35 or the China-Pakistan Friendship Highway). It only opens every Sunday. You can find sheep, cow, donkey, horse and even camel here. It is definitely boisterous, crowed, dusty and smelly here, yet a new experience for most people.
No visit to Kashgar is complete without a trip to its soul, The Old Town. As a major trading town on the ancient Silk Road, there was a robust exchange of cultural and beliefs. Kashgar Old Town is the only Islamic style neighbourhood with maze-like lanes in China. Though only few buildings survived after decades of modern replacement by the local government, you can still find traces left by the history and architectures that have withstood the passage of time. Do check out the neighbourhood around Jiefang Street, you will see some of the remaining ancient alleys and adobe houses that are over 500 years old. Stroll down those haphazardly twisted lanes and meet some friendly Kashgaris in the neighbourhoods.
Located in the heart of Kashgar Old Town is Id Kah Mosque, the largest mosque in Xinjiang. Though bustle and hustle on the street outside the mosque, it is always perfectly quiet inside. A wonderful place for meditation. Remember to remove your shoes when entering the main hall.
Enjoy your afternoon tea at 'Hundred-year-old tea house' in Kashgar Old Town. Double-level building with balcony on second floor. Taste some local snacks and cookies with special Uyghur milk tea while enjoying song and dance organised by locals. It's very common to see groups of people dancing in the public in Xinjiang. If you are lucky enough, they may invite you to join them.
At the end of the day, drive back to Radisson Blu Hotel. Tomorrow we will visit some natural scenery on the way to Tashkurghan.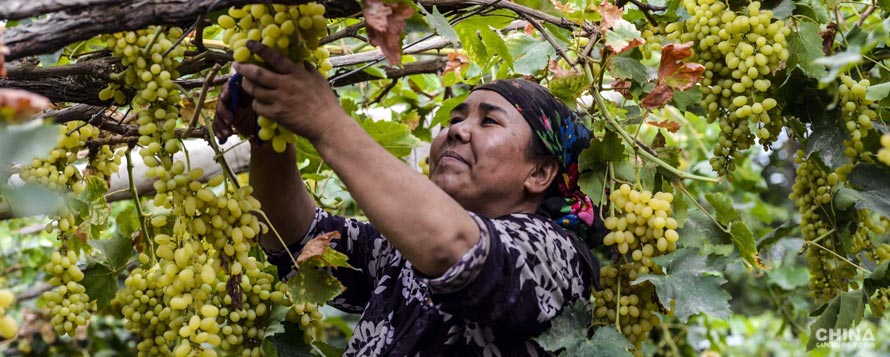 Local picking grapes
Down national highway G314, driving pass Upal town towards Tashkurghan, we will stop at two beautiful alpine lakes, Baisha Lake and Karakul Lake.
Kaclark Lake or Baisha Lake is located on the Pamirs Plateau, surrounded by mountains and desert. Pamir plateau was once a busy passage used by traders travelling along the ancient Silk Road. Baisha Mountain roll into panorama on the far shore, giving a metallic glow under the sunlight. Walking on the soft sandy shore, you can smell some earthy fragrant. In June, encounter sea of wild lotus covering the lake and in October, brighten up your mind with riots of autumnal colour from trees around the shore.
Karakul Lake means 'black lake' in Kyrgyz language. Though Karakul Lake is just an ordinary alpine lake, what make it stands out are those majestic mountains: Muztagh Ata (7509m), Kongur Tiube (7530m) and Kongur Tagh (7719m). Both Kongur Tiube and Kongur Tagh are in the Pamir range in Xinjiang, China. While Kongur Tiube, also known as Jiubie in Chinese, is a sub-peak of Kongour Tagh. Mountaineers have to climb several peaks of 7000 metres and higher in order to reach Kongur Tagh summit, making it one of the toughest mountains to conquer. Only Muztagh Ata is relatively well developed and safer for mountaineering. If you are interested in climbing Muztagh Ata, we can help you arrange professional team, Xinjiang Mountaineering Association, who can help you with the journey up the mountain. Stay long enough at Karakul Lake, you will notice that, it will change its colour under the sunlight.During summer, you will encounter sea of flowers surrounding the lake.
Arrive at Tashkurghan County in the afternoon after a 6 hour drive. Check in at Qian Hai International Hotel and call it a day.
Meals: Breakfast, Lunch,
Hotels: Qian Hai International Hotel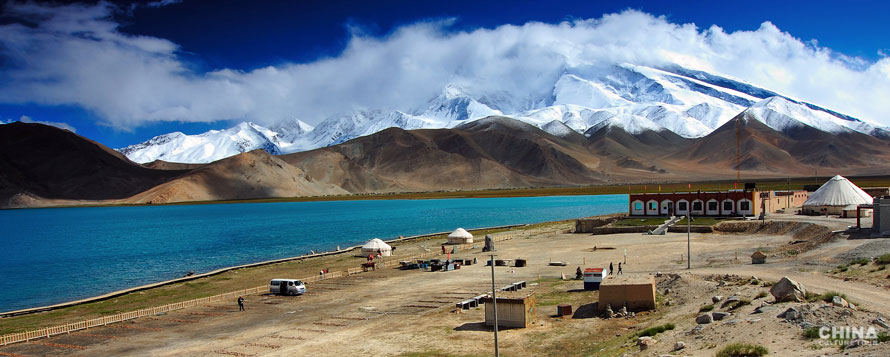 Kalakuri Lake
Already existed in the 420A.D, Stone City Ruin in Tashkurgan is located 20 meters up a rocky hill. It is one of the three Stone Cities in China, with another two in Nanjing and Liaoning. Below the Stone City Ruins, winding river flow through Alarkin Meadow, against snow-capped Kunlun Mountain backdrop. You will see some yurt based on this as if ever stretching meadow, with some livestock wondering in this area.
Not far from Alarkin Meadow, we will pay visit to a Tajik family in Iridescent Cloud Family village. During the home visit, watch some traditional song and dance by the Tajik people and taste some local snakes and yok milk tea (normally not many people are used to its taste). Those hospitable people may invite you to join their campfire at night. If lucky enough, you may happen to come across a wedding in the village (though the chance is not so high due to its low population). Weddings are often held in September and October or before spring comes. It will last for three days.
At the end of the day, you will cross border to Pakistan via Khunjerab Pass, one of the highest pass in the world at an altitude of 4800 metres. Remember to have your Pakistani visa ready before you arrive. You can choose Pakistan as your next destination after you crossed the border.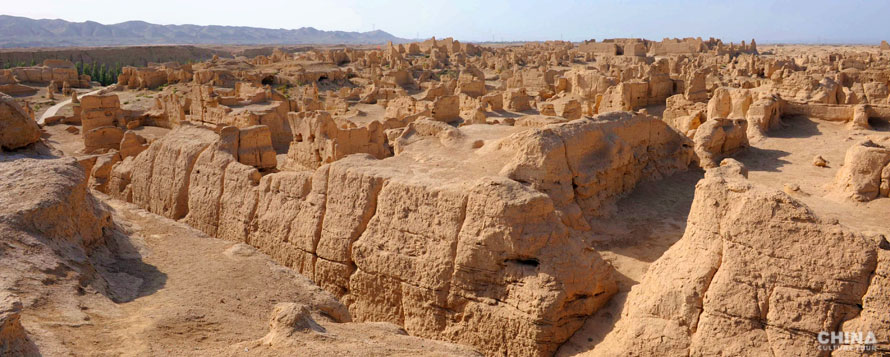 Jiaohe Ruins
Price Includes
In-country transportationas noted in the itinerary.
Admission fees and activity expenses as noted in the itinerary.
Luxury or boutique hotels centrally located.
Meals in local restaurants as noted in the itinerary with complimentary drinking water.
Your own English-speaking guide service.
Your own chauffeur and vehicle service.
Price Excludes
International transportation.
Chinese tourist visa. (which enquired for most foreign passport holders)
Travel and medical insurance.
Meals, snacks, alcohol, etc. apart from those included in the itinerary.
Excess baggage charges.
Personal expenses.
Sights, excursions and activities not included in the itinerary.
Gratuities to guide and driver.
ANY QUESTIONS?
This tour is tailor-made and we can tailor to meet your reqeusts. Your personal travel consultant will contact you within 24 working hours!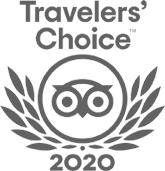 FABULOUS TOUR COMPANY
CHINA OCTOBER - NOVEMBER 2019 We researched several companies and studied reviews on Trip Adviser before contacting who did a very China Culture Tour with an initial query. Right from the outset Grace who owns the company was excellent. She emailed detailed with pictures information and a suggested…read more details
Karen from US
Ready to Create a Unique Dream Travel?