13 Days Xinjiang drive from Duku to Kashgar, from the grassland to desert
Across vast desert, through river valley, over fertile pastures, through the ruins of lost cities and enjoy Tajik hospitality in Tashkurghan. In this expedition, cover most of the highlights from Urumqi all the way south to Tashkurghan, via Duku highway and Desert highway. Appreciate extraordinary natural beauty and amazing ancient architecture along the way, experience four seasons within one day, through the largest desert in the world, and discover some most impressive landscapes in Xinjiang.
Trip Highlights
A journey that covers most of the attractions from Urumqi to Tashkurghan
Home visit to Tajik family in Tashkurghan
Travel along Duku highway with incredibly beautiful landscapes
Drive through Taklamakan desert via Desert highway
Customizable Tour Itinerary
Arrive at Urumqi Diwopu International Airport and meet your personal tour guide. Private transport will bring you to hotel. Your private tour guide will assist you in checking in at Wanda Vista Urumqi. Be sure to pack your passport, visa and relevant documents that can verify your identity into your backpack. You will need them for any surprise check and to pass check points on the highway.
Important
Duku highway only opens from June to September. Even during this period, there may be temporal closure of the road due to bad weather, such as heavy rain or heavy snow which is often accompany by mudslides and landslides. The closure can last from a few days to over a week. Please take note that this uncertainty may affect greatly on the tour.
Road closure. Most parts of the highway are above 2000 meters in altitude. And in winter, the temperature often drops to 30 degree Celsius below zero. So the road is closed from October to May for all vehicles. Only sections around Kuqa, Dushanzi, and Bayanbuluk town are opened in winter.
Safety hazard. Duku highway is an arduous road in Xinjiang. There is a high occurrence of car accident on Duku highway. Drive slow and steady when ascending. Remember to horn the car at any turning points where you are not sure if there is any vehicles approaching.
Traffic jam during peak season. There will be a sharp rise of Chinese tourists to attractions around duku highway. Thus, during this period, you can't drive fast even on highway. Time spend on the road may be longer.
No vehicles with more than seven seats on this highway. Only vehicles with seven seats and below are allowed to pass Duku highway.
Check points on the highway. There are many check points on the highway or when entering or leaving Duku highway. It is important to have your passport, visa, identity card, travel permit and any documents that can verify our identity. Please also take note that, you will spend some time passing these check points.
Some limitations for international travellers. Bayanbulak and the whole Bayingolin Mongol Autonomous Prefecture with some small towns along the highway are restricted for international visitors. It is allowed to enter and travel, but not allowed to accommodate and to visit the tourist sites, unless we are able to get you a travel or entry permit from the Urumqi travel department. Though recent years, it is harder to get permit to some restricted places.
This tour is based on the most ideal outcome, which there is no bad weather, no traffic jam, no mudslide, and you are able to get travel permit to visit places along the highway.
Hotels: Hilton Urumqi Hotel, Universal Hotel Urumqi, Wanda Vista Urumqi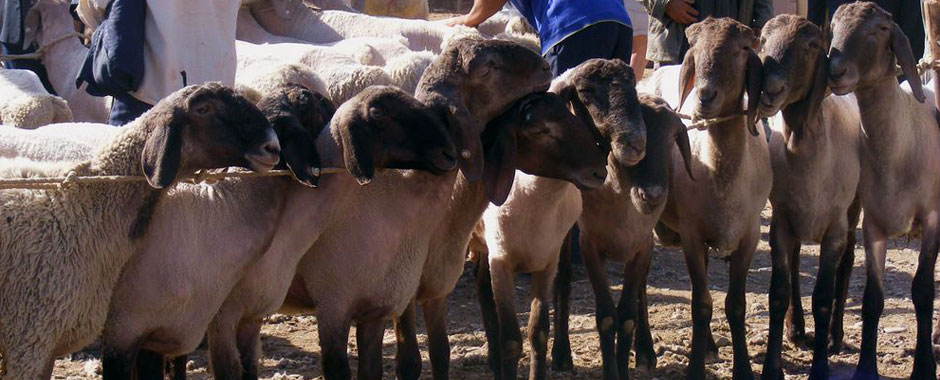 Sunday Livestock Bazaar near Karakoram Highway
Today, we will drive westwards from Urumqi to Kuytun city. This three hours journey covers a distance of 244km. Time flies while you are spending time appreciating the beautiful scenery along the way. We will have our lunch at Wangfeishawan big plate chicken restaurant. This restaurant is famous for a traditional Xinjiang dish, big plate chicken. Big plate chicken is a shared dish which is sautéed spicy chicken with potatoes and onions. It is typically ordered by half or full plate, with or without noodles. Thick and chewy hand-pulled wheat noodles that soak up the sauce will be added after half of the dish is finished.
40km south of Kuytun City, a fabulous canyon has been carved out by water coming down from the nearby Tien Shan Mountains over millions of years. Dushanzi Grand Canyon is considered to be the most beautiful scenery along Duku Highway, though not really well known by most visitors. This canyon looks unusually stunning at the time of sunrise and sunset.
In Dushanzi Mud Volcano Scenic Area not far from Dushanzi Grand Canyon, you will see 4 'mud pot' volcanoes around 40cm in diameters, erupting grey magma and emitting gases. Mud volcanoes is a rare natural landform in Xinjiang, especially erupting mud volcano. Some over 1000 metre high yellow hills spurting silvery grey magma unceasingly at the top of the hill. Magma is then cold with a strong smell of petroleum. According to experts, mud volcano in Dasahnzi was formed about 200 to 300 million years ago.
At the end of the day, return to city area and check in at Kuitun Hotel. Remember to rest at a sensible time.
Meals: Breakfast, Lunch,
Hotels: Kuitun Hotel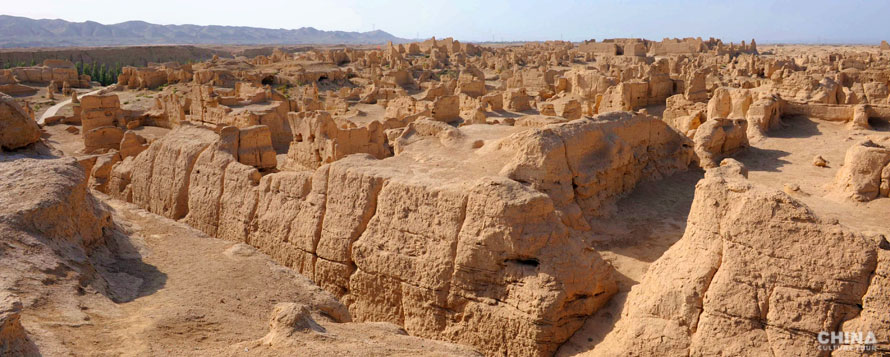 Jiaohe Ruins
Travel southwards along national highway G217, and after an 8 hour drive, we will be at Nalati Grassland. Nalati Grassland is a famous pasture since the ancient time. Nalati means 'where the sunshine cast upon' in Mongolian. This grassland is also known as 'air grassland', due to its high altitude (average altitude of 2200 meters). It is an Inter mountain basin. Soaring mountains surrounding the grassland with some yurts settling on it, winding river cutting through the basin. Rich and colourful plain. Recommended travel time would be from June to September, with preferable temperature when the grassland is covered with sea of vibrant flowers, flocks of sheep wondering on the grassland. Catch horse racing festival in June and walk through fields of salvia stretch all the way to the horizon in July. Shuttle bus will escort you around the area. Due to its latitude, in summer, sun rise around 9:30 am, you can arrange your schedule accordingly to catch the sunrise the next day. Remember to bring wind breaker or jackets, as temperature difference is great.
Other than spring and summer, you may also want to pay visit during winter. (Note that in winter, we can't reach this place via Duku highway. Thus, we may use other routes.) In this silvery season, everything here is covered under the white blanket. See the amazing and unique New Year celebration of Kazakh people. Normally it includes horse racing and Buzkashi. It's said that people living outside the Great Wall in China are born in the saddle. Even as children, they are consummate riders. Buzkashi is a traditional sport which required both strength and strategy. Horse-mounted players attempt to place a goat or calf carcass in a goal. In the evening, check in at Air Grassland Resort in Nalati grassland. You can spend some time exploring the surrounding near hotel.
If we are able to get the entry permit for you to Bayanbulak grassland, we will travel further down the highway, and stay overnight at Bayanbulak Grassland. Located at the foot of Tien Shan Mountain, 58km south from Nalati grassland, is Bayanbulak Grassland. This is an inland mountain basin with an altitude of 2500 metres. The name Bayanbulak means" rich headwaters". Its rich resources attract a huge variety of birds. Demoiselle cranes, wading birds and waterfowl migrate here from all over Asia. Do visit the Swan Lake if time permit. It's the world's most important breeding site for whooper swans. And unarguably mosquitoes as well. Thus, mosquito repellence is definitely a must to bring. Also, it is dangerous to go too close to the lake, as there are swamps around. The best time to visit Bayanbulak grassland is from June to September. Wear enough clothing according to weather forecast.
Meals: Breakfast, Dinner,
Hotels: Nalati Grassland Holiday Hotel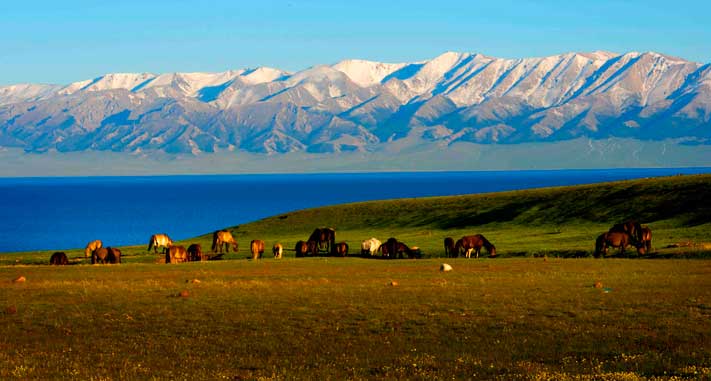 Sayram-Lake
If the weather is good, you can catch the sunrise over Nalati grassland. Today, it will be the longest journey. It will spend at least 9 hours to reach Kuqa city and since we are going to visit some beautiful natural landscape along our way, time spent can be up to 14 hours. Also, be prepared to spend some time at each check points on the highway.
65 kilometres north of Kuqa, just at the south foot of Tien Shan Mountain, stands a ranges of rufous massifs. Tien Shan mysterious Grand Canyon (a.k.a. Kezilya Grand Canyon) is formed 1.4 billion years ago during the Cretaceous period. Kezilya means 'red cliff' in Uighur language. This formation is caused by wind and rain erosion, flash flood scouring. 1400 metres into the canyon from the entrance, keep an eye on this ancient grottoes 35 metres up the canyon cliff. This grottoes was built during the Tang dynasty. There is a narrow path up the cliff to the grottoes. Feel free to pay a visit but always keep your eyes on the road. Safety first. It will take about 3 hours to finish the walk, due to time constrain, we may not finish the whole walk.
Upon reaching Kuqa city, we will have dinner at Anna's ramen restaurant, which is just a five minute walk from Ku Che Hotel. Anna's ramen restaurant serves traditional Uyghur dishes such as shish kebab, naan bread, Laghman (Xinjiang hand-pulled noodles) and handmade yoghurt. At night, check in at five-star building of Ku Che Hotel.
Meals: Breakfast, Dinner,
Hotels: Ku Che Hotel (Five-star Building)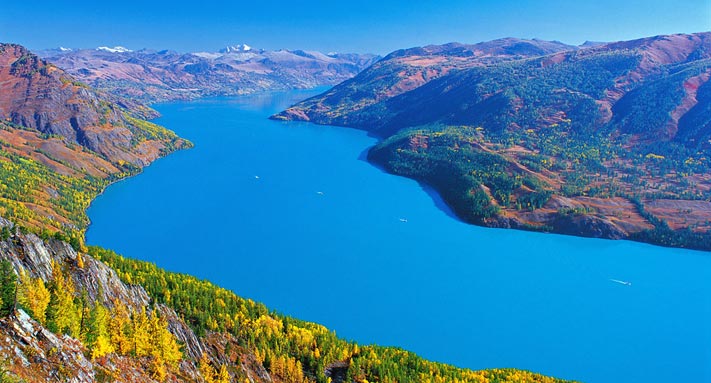 Kanas Lake
After breakfast, visit Kuqa's Great Mosque in the city area before heading to Kizil thousand Buddha caves. Kuqa's Great Mosque is the largest mosque in Kuqa and second largest in Xinjiang next to Id Kah Mosque in Kashgar. First built in the 1500s, this adobe structure was renovated into a wooden one in 1700s. On the premises, the prayer hall can hold about 3000 people. From the corridor of mosque, you can get an over view of the old residential area in Kuqa.
On the way to Kizil thousand Buddha caves, we will pass Yanshui Valley. It is a dry river bed, with high concentration of saline, which run across Mount Kolltagh. If luck enough, encounter some ruins built in Han and Tang Dynasty near the valley. Date from the 3rd to the 8th centuries, Kizil Cave complex or Kizil Thousand Buddha Cave is the largest cave-art site in Xinjiang and the earliest major Buddhist cave complex in China. The caves complex is 75km northwest of Kuqa, on the cliffs of Mingwu Dage Mountain in the north bank of Muzhadi River, extending thousands of kilometres. Once comparable to the Mogao Grottoes, its once dazzling wall art has been largely destroyed by expedition teams, archaeologists and religious zealots. Several caves were stripped bare. Out of the 339 survivals, only 80 of them are relatively well preserved, and 6 of the caves are opened to the public. Note the richly decorated roof of Cave 8, where the Buddha's golden robes have been systematically removed over the centuries.
After returning from Kizil thousand Buddha caves, enjoy our dinner at Eighth stories' Trotters. This restaurant is famous for pig's trotters in Kuqa. After dinner, return to hotel and rest at a sensible time.
Meals: Breakfast, Dinner,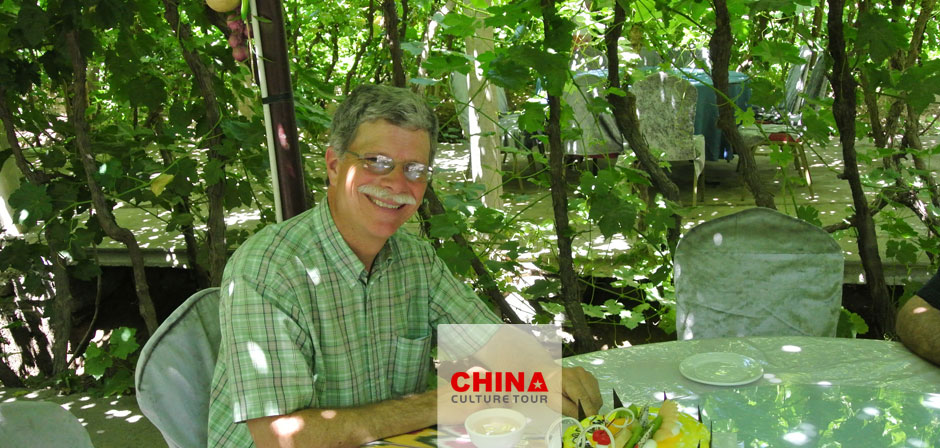 Local family's courtyard
Kuqa Royal Palace, located 3.5km west from city area, is the residence of the kings of Kuqa until the early 20th century. The last Kuqa king, Dawud Mahsut, died in 2014 and is buried in the ancestral hall at the back of the compound. The residence is a combination of Chinese, Russian and Uyghur style building. There is a small museum in the palace. Frankly speaking, those exhibits in the palace are mundane and poorly curated, yet bizarre, a visit to this site can be entertaining. Near to Kuqa Royal Palace is a remaining section of Qing dynasty city wall.
Our journey continue down road S210, toward an oasis in the desert, southwest of Kuqa city. It takes about 4 hours to reach Alear city. Check in at Yindu Holiday Hotel, which is the only hotel opened to international travellers. Please take note that, after check in at the hotel, police will come and register some information from the hotel. Not to worry about this, as it is their duty to keep a record on basic information of foreigners coming to the city, since not many international travellers stay overnight here.
Meals: Breakfast, Dinner,
Hotels: Yindu Holiday Hotel Alear
Camel riding
Taklamakan desert, an area the size of Germany, covered in sand dunes, through which the Silk Road traversed, this is the world's largest shifting sand desert. Swirl and eddy, as the winds rise and fall, sand grains swept up the flanks are blown off the crests of the ridges, forming new dunes. Dunes of sand, hundreds of lines long, streak their surface. These sand seas can be hundreds of miles across. Over millennia, mega-dunes build up, walls of sand soaring to over 500 metres tall. Intense heat and abrasive wind-blown sand, a place totally hostile to life. Yet, we are going to drive across this desert from Alear to Hotan via the Desert highway. Remember to stay hydrated all time during the journey.
Off the highway near Hotan, we will come across this ancient Buddhist temple ruins. Rawak Buddha temple ruins is a Ghandara style Buddhist stupa located on the southern rim of the Taklamakan desert. Few rocks can resist the continuous blast of the sand-carving wind, so does these ancient temples. Most of the temple ruins are heavily eroded with some have been marooned in a sea of sand. Around the stupa there are other smaller structures which were originally decorated with a large number of colossal statues. Find some terracotta relieves and some wall-paintings in the courtyard of the temple. In the evening, check in at West Lake International Hotel in Hotan. If you are interested, it is possible to stay overnight in Taklamakan desert.
Meals: Breakfast, Dinner,
Hotels: West Lake International Hotel Hotan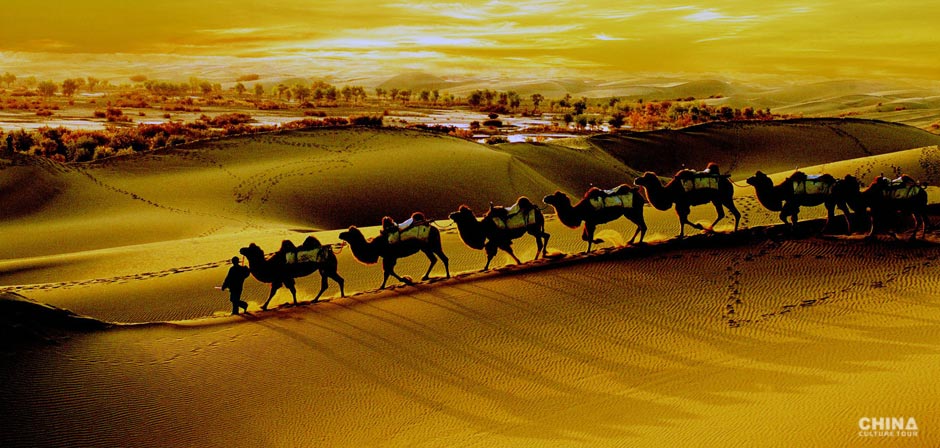 Camel riding through desert
For centuries, Hotan has been famous for its carpets along with jade and silk. The carpet industry no longer is as prominent as it used to be but there are still a couple of factories and family-run businesses in Hotan. 15 minute drive from downtown, we will visit a carpet factory in Hotan. Foreign trade Carpet Factory is the most influential factory in Hotan. You will get to see the whole process of carpet production and various types of carpets there. At Hotan, on the ancient Silk Road, silk weaving is still a cottage industry, done the old-fashioned way on wooden looms. Visit the full process of this traditional handicraft at Ed Rice's handmade silk workshop.
In the afternoon, meet the oldest walnut tree here in the 'King of Walnut Trees' Park .It was planted during the Tang dynasty in 644 A.D. And, it produces thin-husk 6000 walnuts per year. Then we will be heading to Melikawat Ancient Ruins. 25km south of Hotan City, an ancient city ruin built 1600 years ago settled amidst Taklamakan desert. Melikawat Ancient Ruins is a large archaeological site which scholars believe that it was once a major Buddhist centre and the capital of ancient Hotan kingdom. Walk through the site, you will find remains of wind-eroded walls, Buddhist stupas, glass and pottery. This once prosperous city that rose during the height of ancient Silk Road, fall eventually like many other ancient cities along the ancient Silk Road. Follow our guide into this forgotten ancient city.
In the evening, return to Hotan downtown and check in at West Lake International Hotel. Make sure your camera has enough memory for the scenery along the road, as we will spend the whole day travelling from Hotan to Kashgar tomorrow.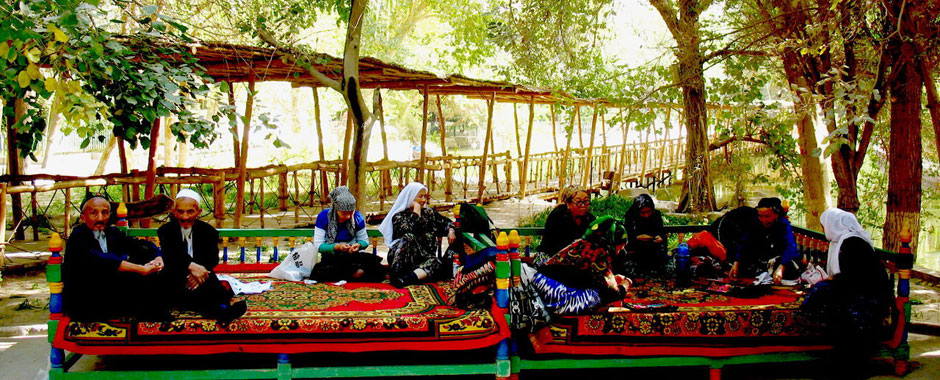 Locals chatting in the shade
After breakfast, we will travel down the 'Turpan-Hotan' Highway and head towards Kashgar. According to recent government policies, attractions along the way from Hotan to Kashgar are now not available to international travellers. However, don't be disappointed, every scene along the highway is worth a snapshot. You can also try to do a time lapse video on the car. In your journey, your private guide will introduce Kashgar to you. Time flies while listening to some interesting facts and stories about Kashgar, this can be certainly entertaining. In the evening, you will check in at Radisson Blu Hotel in Kashgar.
Meals: Breakfast, Dinner,
Hotels: Radisson Blu Kashgar, Kashgar Yinruilin International Hotel, Luxemon Qinibagh Hotel Kashgar Prefecture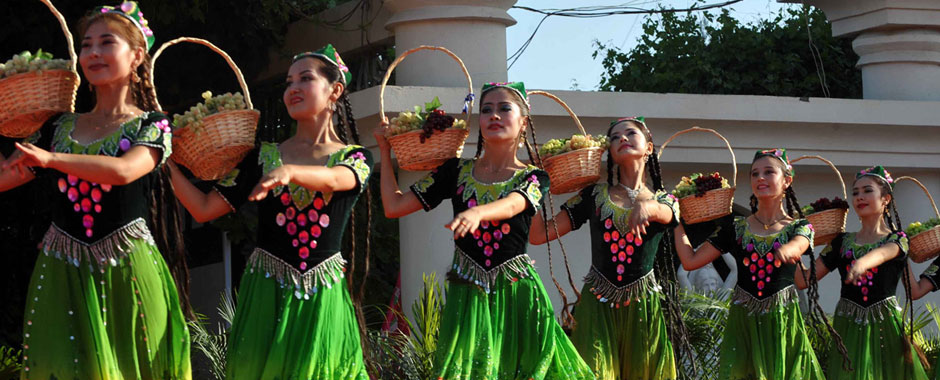 Local performance
Our first stop of the day is Abakh Khoja Mausoleum. First built in 1640 A.D, Abakh Khoja Mausoleum is the most beautiful and magnificent mausoleum in Xinjiang. This mausoleum complex belongs to the Khoja family, and is named after Abakh Khoja, a famous Sufi and political leader in the 17th century in Xinjiang. And according to legend, during Qing dynasty, Emperor Qianlong's favourite concubine Xiangfei, whose name is Iparhan, is Abakh Khoja granddaughter. Thus, this mausoleum is also known as Xiangfei Tomb. This is a typical Islamic style mausoleum with mainly green decorative titles pave on the exterior. No matter you are single or married, you will get to see or perhaps participate in the whole process of a local wedding here (don't worry, this is not a real wedding). Handcraft experience, savouring different types of local tea, and some local souvenirs will be given to you after a series of events. If you happened to visit Abakh Khoja Mausoleum at 12:30pm or 5:00pm, be prepared for a welcoming ceremony!
Kashgar is famous for selling everything under the sun. The local Grand Sunday Bazaar is one of Asia's largest and most exuberant gatherings. But looking around the market, it's hard to believe you're in China. Kashgar is a melting pot of non-Chinese ethnic people. Uyghurs, Tajiks, Kyrgyz, Uzbeks, and many others. Grand Sunday Bazaar in Kashgar is also called Young Bazaar by the locals. 'Young' here means east in Uighur. Though it is called Grand Sunday Bazaar, it opens every day, but it only kicks up a gear on Sunday. There is often 'human jam' in the bazaar on Sunday, so you may want to avoid visiting on that day. But it would be a brilliant opportunity if you want to experience this unique live of Uighur. There are more than five thousands of shops and booths in this bazaar. Different category of items are sold in different districts. You can find more than just spices, naan, local teas, silks, Persian carpets and other imported goods from the neighbouring countries. Authentic local food and snacks can be also found in the bazaar. Do spot some interesting booths selling second hand goods and antiques. Some of those booths only appear on Sunday.
Find more animals and herds than human in Sunday Livestock Bazaar. This bazaar is located besides the Karakoram Highway (known by its initials KKH, also known as National highway 35 or the China-Pakistan Friendship Highway). It only opens every Sunday. You can find sheep, cow, donkey, horse and even camel here. It is definitely boisterous, crowed, dusty and smelly here, yet a new experience for most people (though some visitors may find the treatment of animals here disturbing).
No visit to Kashgar is complete without a trip to its soul, The Kashgar Old Town. As a major trading town on the ancient Silk Road, there was a robust exchange of cultural and beliefs. Kashgar Old Town is the only Islamic style neighbourhood with maze-like lanes in China. Though only few buildings survived after decades of modern replacement by the local government, you can still find traces left by the history and architectures that have withstood the passage of time. Do check out the neighbourhood around Jiefang Street, you will see some of the remaining ancient alleys and adobe houses that are over 500 years old. Stroll down those haphazardly twisted lanes and meet some friendly Kashgaris in the neighbourhoods. One interesting fact to know: one of the scene in the movie "Kite Runner" was filmed in Kashgar Old Town. In one of the copper workshops, admiring the craftsmen as they bang on tin and chase copper. There will be an opportunity to make your own bracelet and art piece out of that copper if the craftsmen is free at the moment.
You may notice this beautiful mosque in Kashgar Old Town. It is Id Kah Mosque, the largest mosque in Xinjiang. Located in the heart of Kashgar Old Town, though bustle and hustle on the street outside the mosque, it is always perfectly quiet inside. A wonderful place for meditation. Remember to remove your shoes when entering the main hall.
Enjoy your afternoon tea at 'Hundred-year-old tea house' in Kashgar Old Town. Double-level building with balcony on second level. Taste some local snacks and cookies with special Uyghur milk tea while enjoying song and dance organised by locals. At the heart of Uyghur culture is sing and dance. Dancing is said to be the second nature for people who born in Xinjiang. It's very common to see groups of people dancing in the public here. If you are lucky enough, they may invite you to join them. At the end of the day, return to hotel where we will spent last night here in Kashgar.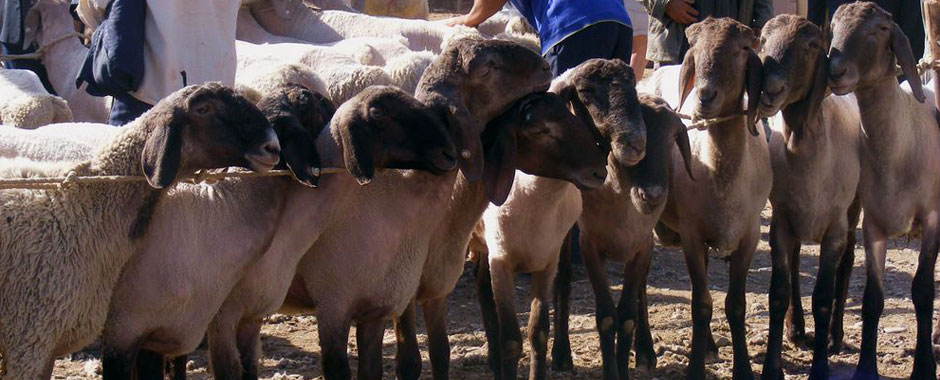 Sunday Livestock Bazaar near Karakoram Highway
Driving pass Upal town towards Tashkurghan, we will stop at two beautiful alpine lakes, Baisha Lake and Karakul Lake.
Kaclark Lake or Baisha Lake is located on the Pamirs Plateau, surrounded by mountains and desert. Pamir plateau was once a busy passage used by traders travelling along the ancient Silk Road. Baisha Mountain roll into panorama on the far shore, giving a metallic glow under the sunlight. Walking on the soft sandy shore, you can smell some earthy fragrant. In June, encounter sea of wild lotus covering the lake and in October, brighten up your mind with riots of autumnal colour from trees around the shore.
Karakul Lake means 'black lake' in Kyrgyz language. Though Karakul Lake is just an ordinary alpine lake, what make it stands out are those majestic mountains: Muztagh Ata (7509m), Kongur Tiube (7530m) and Kongur Tagh (7719m). Both Kongur Tiube and Kongur Tagh are in the Pamir range in Xinjiang, China. While Kongur Tiube, also known as Jiubie in Chinese, is a sub-peak of Kongour Tagh. Mountaineers have to climb several peaks of 7000 metres and higher in order to reach Kongur Tagh summit, making it one of the toughest mountains to conquer. Only Muztagh Ata is relatively well developed and safer for mountaineering. If you are interested in climbing Muztagh Ata, we can help you arrange professional team, Xinjiang Mountaineering Association, who can help you with the journey up the mountain. Stay long enough at Karakul Lake, you will notice that, it will change its colour under the sunlight.During summer, you will encounter sea of flowers surrounding the lake.
Arrive at Tashkurghan County in the afternoon after a 6 hour drive. Check in at Qian Hai International Hotel and call it a day
Meals: Breakfast, Lunch,
Hotels: Qian Hai International Hotel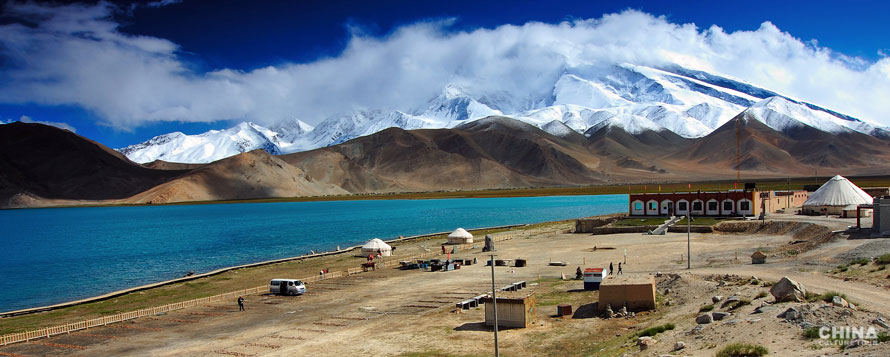 Kalakuri Lake
Already existed in the 420A.D, Stone City Ruin in Tashkurgan is located 20 meters up a rocky hill. It is one of the three Stone Cities in China, with another two in Nanjing and Liaoning. Below the Stone City Ruins, winding river flow through Alarkin Meadow, against snow-capped Kunlun Mountain backdrop. You will see some yurt based on this as if ever stretching meadow, with some livestock wondering in this area.
Not far from Alarkin Meadow, we will pay visit to a Tajik family in Iridescent Cloud Family village. During the home visit, watch some traditional song and dance by the Tajik people and taste some local snakes and yok milk tea (normally not many people are used to its taste). Those hospitable people may invite you to join their campfire at night. If lucky enough, you may happen to come across a wedding in the village (though the chance is not so high due to its low population). Weddings are often held in September and October or before spring comes. It will last for three days.
After this, we will return to Kashgar via the same route, Karakoram Highway (known by its initials KKH, also known as National highway 35 or the China-Pakistan Friendship Highway). Due to poorly paved road, even though the distance is just 300 km, it take about 7 to 8 hours to return to Kashgar. We will stay overnight in Radisson Blu Hotel in Kashgar.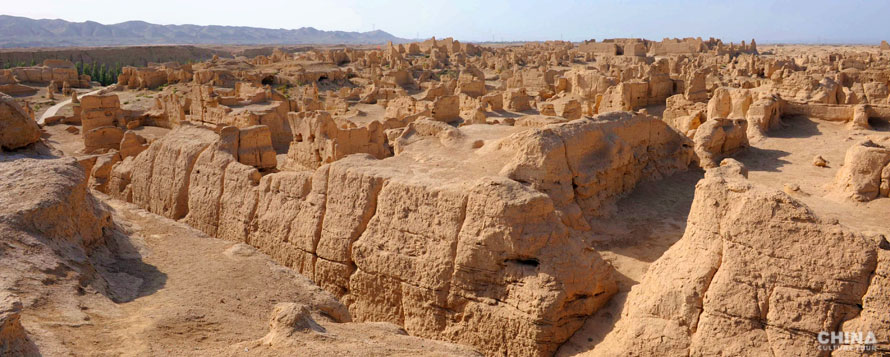 Jiaohe Ruins
After breakfast, private transport will bring you to Kashgar airport, where you can choose to fly back to Urumqi and take the international flight there or continue your journey to other cities in China from Kashgar.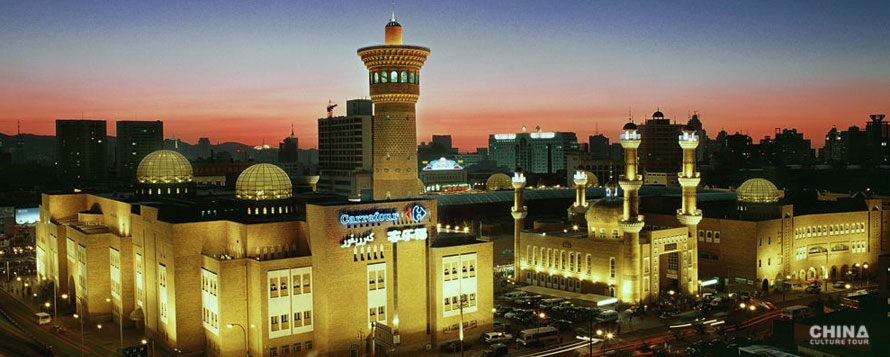 International Grand Bazaar in Urumqi
Price Includes
In-country transportationas noted in the itinerary.
Admission fees and activity expenses as noted in the itinerary.
Luxury or boutique hotels centrally located.
Meals in local restaurants as noted in the itinerary with complimentary drinking water.
Your own English-speaking guide service.
Your own chauffeur and vehicle service.
Price Excludes
International transportation.
Chinese tourist visa. (which enquired for most foreign passport holders)
Travel and medical insurance.
Meals, snacks, alcohol, etc. apart from those included in the itinerary.
Excess baggage charges.
Personal expenses.
Sights, excursions and activities not included in the itinerary.
Gratuities to guide and driver.
ANY QUESTIONS?
This tour is tailor-made and we can tailor to meet your reqeusts. Your personal travel consultant will contact you within 24 working hours!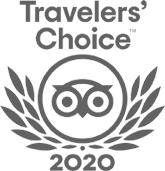 FABULOUS TOUR COMPANY
CHINA OCTOBER - NOVEMBER 2019 We researched several companies and studied reviews on Trip Adviser before contacting who did a very China Culture Tour with an initial query. Right from the outset Grace who owns the company was excellent. She emailed detailed with pictures information and a suggested…read more details
Karen from US
Ready to Create a Unique Dream Travel?