8 Days Sacred Snow Mountain Trip from Lhasa to the Base of Mt. Everest
Nothing is more compelling than the Mount Everest also known as the highest in the world. Visitors in Tibet will be fascinated by the magnificence of its peak. There, you can see hundreds of glaciers converging with one another. What a picturesque landscape! In the morning you can see Mount Everest from a distance in the glow of sunrise. The mountain is covered with snow year round, forming a winter wonderland that does not fail to appeal to visitors. There, everything is so secluded that you'll feel like your in the middle of nowhere, while you experience the tranquility of nature. Additionally, you'll feel dwarfed by the surroundings and enlightening you on the philosophy of life. When the end is near visitors are always reluctant to say goodbye. The majestic, extending mountains, the Tibetan antelopes along the way, the wild yaks, the snow leopard, the white-lipped deer and the black-necked crane are a feast for the eyes.
Trip Highlights
To the Everest Base Camp of Mt. Qomolangma
Visit sacred temples and monasteries with monks debate
Fascinating Tibetan arts and culture
Customizable Tour Itinerary
Welcome to the roof of the world! Your guide will pick you up at Lhasa airport upon your arrival. The rest of the day is free for you to adjust to this highland.
Hotels: Four Points by Sheraton Lhasa, Intercontinental Lhasa Paradise, The St. Regis Lhasa Resort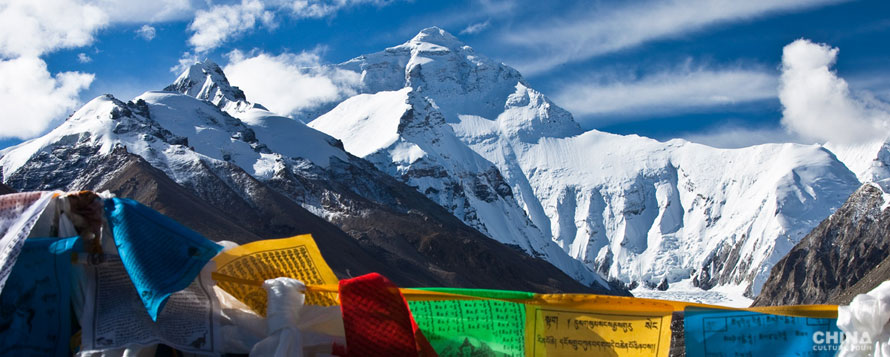 Colourful prayer flags with Mount Qomolangma in the backdrop
Today is your first day of discovery. We've packed three attractions with minimal physical demands. The first is Sera Monastery, which is one of Lhasa's three largest monasteries. It is also the place where Buddhist maters preach. There are thousands of sculptures of Buddha there, some of which are from India. The various murals tell a story about Tibetan Buddhism. Monks debate is a unique style of learning Buddhist knowledge. It is held every day at the Sera Monastery adding to its appeal. Lunch is later arranged at a local fine restaurant, after which you will visit Norbulinka. Norbulinka is a place to appreciate Tibetan-style gardens. It has a history of over 200 years. It is currently built as a botanical garden where precious flowers and plants can only be found there. Additionally, there are several historical architectures to observe. Tibet Museum is located southeast of Norbulinka. At the museum you can learn about Tibetan history from more than a thousand historical relics, including sculptures of Buddha, Thangka, Tibetan musical instruments, and unique Tibetan handicrafts. Make sure you're well rested in preparation for the next day.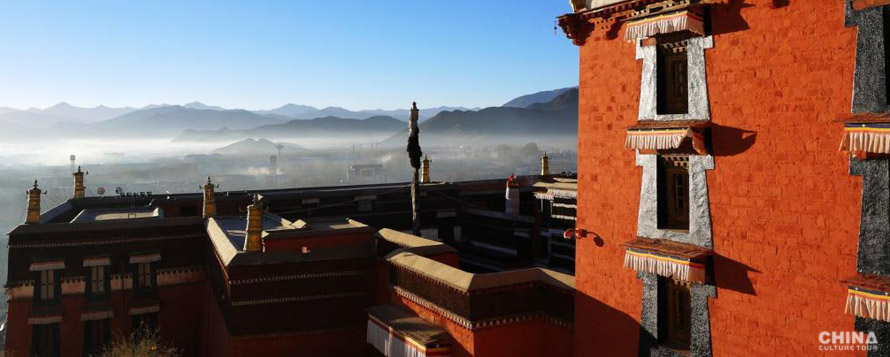 Tashilhunpo Monastery
Today starts with the most popular site in Lhasa, called Potala Palace. Potala Palace is a castle-like complex built in typical Tibetan style. There are many precious treasures in this palace, including Buddhist items and invaluable historical materials written in Tibetan language. The palace is the representative of Tibetan architecture and a symbol of Tibet. After lunch at a local restaurant,a visit to Barkhor Street is made. The street is a circumambulation road surrounding Jokhang Temple and an area of traditional Tibetan dwellings. Try not to be astonished when coming across locals. There are numerous stalls selling Tibetan handcrafts. Take a look and bargain for your favorites.
Jokhang Temple has a history of more than 1,300 years. The existing temple was built more than 1,200 years ago. Thus, the architecture there is a great historical highlight. Pay attention to the exquisite carvings and Buddha sculptures to experience the temple fully.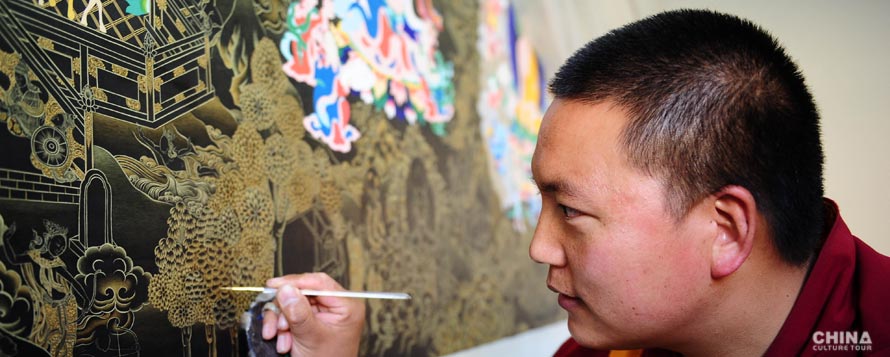 A monk painting thangka
We'll get outside of Lhasa to explore highlights in Shigatse. Shigatse is about 6 hours away from Lhasa. Half way on the trip we'll stop at Lake Yamdrok to admire the beauty of its tranquility. It is one of the three holy lakes in Tibet. Take a walk by the lake and sense the power of nature. A picnic lunch is later arranged by the Lake. After, we'll keep riding to Palkor Chode which is a monastery combined with Sakya, Kadam, and Gelug schools.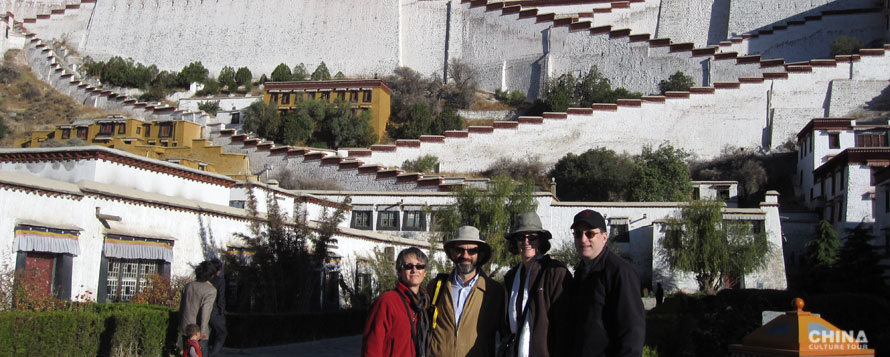 Potala Palace
We'll ride for about 4 hours to get to Dingri. En route you will visit Sakya Monastery, which is one of the largest monasteries in Tibet and the main monastery of Sakya school. It is named as the second Dunhuang because of the large collection of valuable relics there. Lunch is later arranged at a local restaurant. Feel free to walk around the hotel when you arrive at Dingri.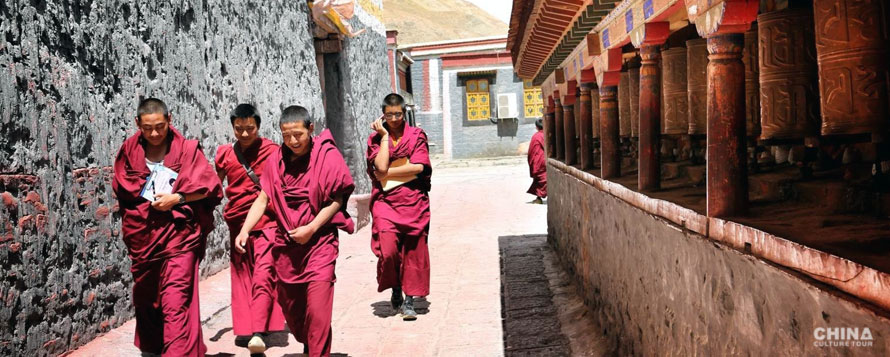 Students in Sakya Monastery
You'll get up very early for the ride to the Everest Base Camp, which takes about three hours to get to. We must get there early to get the chance to see Mt. Everest. By noon, the mountain is crowded with clouds and mists. No words can describe the excitement you'll experience when facing Mt. Everest. Close your eyes and experience it standing in front you. You will pass Rongbuk Monastery, which is small but is known for being a monastery at the highest altitude. A picnic lunch is arranged at the Everest Base Camp. At the end of the day we'll head back to the Shigatse.
Mt. Qomolangma in the background
One of the main highlights of Shigatse is the Tashilhunpo Monastery. It is the largest in the area and one of six Shamanism monasteries in China. The most magnificent architectures in the Monastery is the big Maitreya Hall and Panchen Lama Stupa Hall. Since it was built on the mountain there is a Knutsford to unfold giant Buddha's portrait on every Buddhist festival. On the right side of the Monastery you can also find a small hospital where you can see how locals get medical treatment. After lunch you will be escorted back to Lhasa.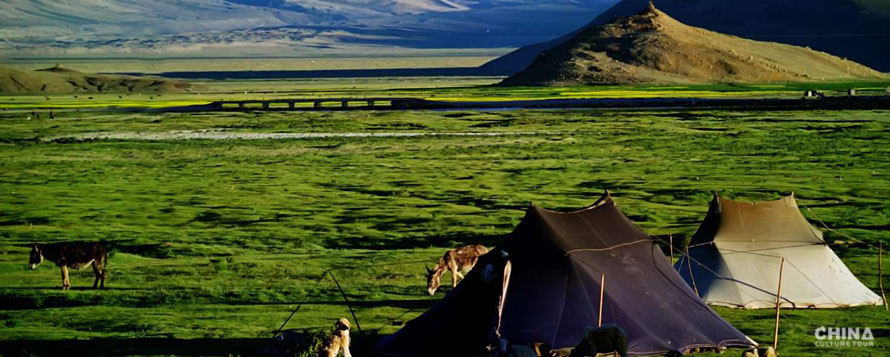 A pasture near Namtso Lake
Hold onto your memories of Mt. Everest while you head to the airport. Your guide and driver will see you off at the airport.
Potala Palace
Price Includes
In-country transportationas noted in the itinerary.
Admission fees and activity expenses as noted in the itinerary.
Luxury or boutique hotels centrally located.
Meals in local restaurants as noted in the itinerary with complimentary drinking water.
Your own English-speaking guide service.
Your own chauffeur and vehicle service.
Price Excludes
International transportation.
Chinese tourist visa. (which enquired for most foreign passport holders)
Travel and medical insurance.
Meals, snacks, alcohol, etc. apart from those included in the itinerary.
Excess baggage charges.
Personal expenses.
Sights, excursions and activities not included in the itinerary.
Gratuities to guide and driver.
ANY QUESTIONS?
This tour is tailor-made and we can tailor to meet your reqeusts. Your personal travel consultant will contact you within 24 working hours!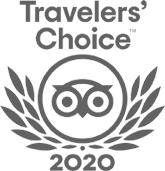 FABULOUS TOUR COMPANY
CHINA OCTOBER - NOVEMBER 2019 We researched several companies and studied reviews on Trip Adviser before contacting who did a very China Culture Tour with an initial query. Right from the outset Grace who owns the company was excellent. She emailed detailed with pictures information and a suggested…read more details
Karen from US
Ready to Create a Unique Dream Travel?