Rongjiang Travel Guide
Rongjiang, in the southeastern region of Guizhou province had a similar appearance to modern Chinese towns. However, it serves as the base of surrounding Dong villages. A half an hour walk to the east of Rongjiang are the Chejiang Dong villages. They are three villages of varying sizes, among which Zhanglu village is the well-known as the cradle of the standard Dong dialect. The main source of income there derives from farming and tourism.
Zaidang is a small Dong village 30 kilometers to the northeast of Rongjiang. While tourists in the past have gone to Xiaohuang to hear famous Dong chorus singing. Zaidang is taking over as a backpacker's choice of entertainment while traveling. This delightful community is safely tucked away 1.5 hours from the main road, limiting the growth of tourism and the changes that it will bring. The architecture is traditional and the locals speak in their mother tongue. The Dong chorus performance in this village should not be missed. Composed of soprano, mezzo, alto and even coloratura voices, the local chorus has a strong and haunting sound echoing throughout the village.
About one and a half from Rongjiang is Zengchong Dong Village, a community of around 100 families. It is set in the hillsides of terraced fields, banyan trees, and bamboo patches, and surrounded on almost all sides by a clear stream. In the middle of the town is 25 meters high stone and wooden drumtower with a huge leather drum on the top. Built in 1672 without nails, it is the largest and most well preserved tower in Guizhou and protected as a "National Cultural Treasure." The costumes of this village are unique. Unlike navy blue outfits of the Dong women in most of Guizhou/Guangxi, the women in Zengchong wear colorful clothes in greens, purples, along with other colors. It is a charming little town remote enough that the tourists are few and far between. A day trip from Rongjiang can be combined with a visit to Xindi, which is home to the largest drumtower in the region.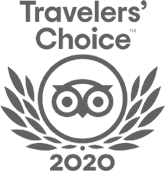 FABULOUS TOUR COMPANY
CHINA OCTOBER - NOVEMBER 2019 We researched several companies and studied reviews on Trip Adviser before contacting who did a very China Culture Tour with an initial query. Right from the outset Grace who owns the company was excellent. She emailed detailed with pictures information and a suggested…read more details
Karen from US
Ready to Build a Unique Dream Travel?