6 Days Luoyang, Dengfeng & Zhengzhou Tour
Henan is the cradle of Chinese civilization. Over the past 5000 years more than 200 emperors in over 20 dynasties have chosen to build their capital cities there. It was used to serve as a political, economic and cultural center of ancient China, which spanned over 3000 years. Among the eight ancient capitals in China four are located in Henan, including Luoyang (an ancient capital of nine dynasties), Kaifeng ( ancient capital of seven dynasties), Anyang (the ancient capital of the Yin and Shang Dynasties), and Zhengzhou (the ancient capital of the Shang Dynasty). Longmen Grottoes in Luoyang, the ruins of the ancient capital of the Yin Dynasty in Anyang and the ancient architectural ensemble in Dengfeng have been placed on the list of world cultural heritage sites. Additionally, Henan is the birthplace of martial arts, world-renowned Shaolin martial arts and Chen-style taiji boxing.
Trip Highlights
Fascinating Shaolin Kungfu show
Amaze by exquisite Longmen Grottoes
Discover the history and culture of Luoyang
Customizable Tour Itinerary
When you step out of the railway station or airport you will see your guide holding a name sign. Your guide will take you to the driver and take you to the hotel. You will make full use of the day by visiting the Longmen Grottoes and White Horse Temple. Longmen Grottoes is famous for being one of the four greatest grottoes in China. The niches and shrines chiseled there are complete and demonstrate spectacular Buddhism artworks from late North Wei Dynasty to Tang Dynasty.
Hotels: New Friendship Hotel Luoyang, Hyatt Place Luoyang, Holiday Inn Express Luoyang City Center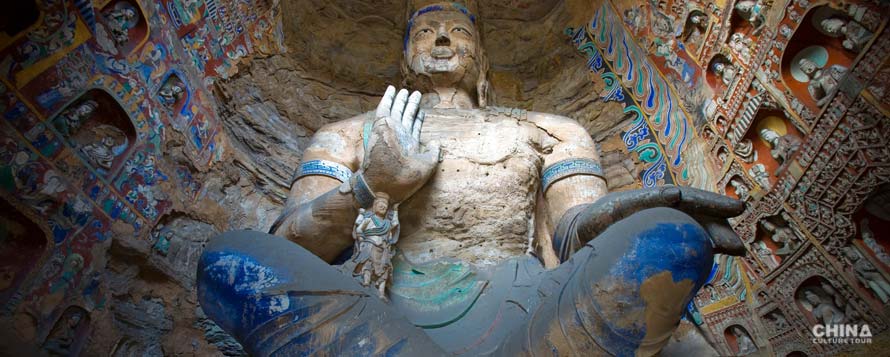 Longmen Grottoes
In the morning you will visit the Eastern Zhouwangcheng Tianzijialiu Museum. It was built over the original site to display the horses and chariots for emperor and officials in the Eastern Zhou period. After, you will take a stroll around Laochengqu, which means "old district of the city." It is the first district in Luoyang with many temples, memorial halls and drum towers could be seen. After lunch at a local restaurant you will visit the White Horse Pagoda, which is the first Buddhist temple in China. You will see relics from the Yuan, Ming and Qing dynasties. Later, you will be escorted to Dengfeng.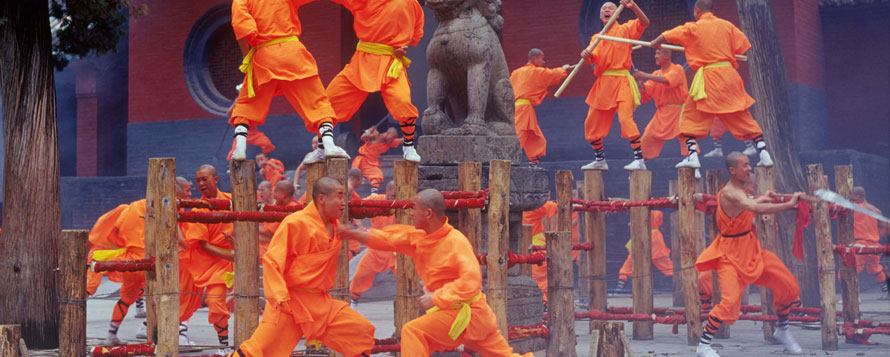 Dengfeng Shaoling Temple
Wake up early for the Kungfu day tour. It takes about an hour to get to Dengfeng where Shaolin Temple is. Shaolin Temple was built in 495 AD and is well known for Shaolin Kungfu taught in the Temple. There are monks living in the Temple that practice martial arts every day. You will not only see a Kungfu show but also take a look at the environment and way they live. After a vegetarian lunch at a local restaurant you will visit the Pagoda Forest (tombs for famous monks), and Songshan Academy (the cradle of Neo-Confucianism in Song Dynasty). Later, you will take the private vehicle to Zhengzhou.
Meals: Breakfast, Lunch,
Hotels: Sofitel Zhengzhou, Yuda Palace Hotel in Zhengzhou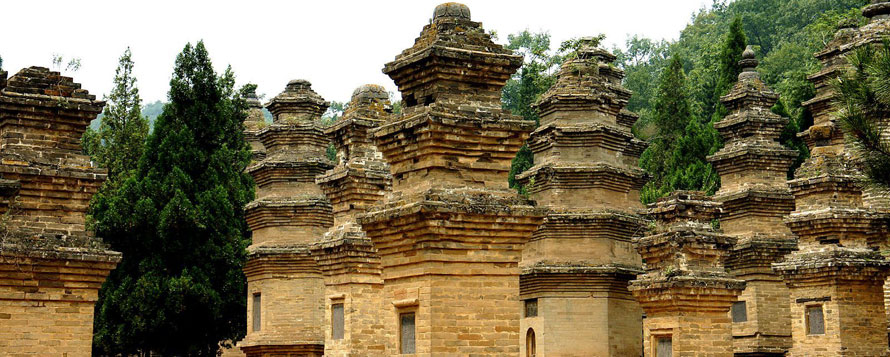 Pagoda Forest
You should not miss the Henan Museum when you are in Zhengzhou. Its large collections rank after the Forbidden City in Beijing and Taipei, due to its prehistoric relics, bronze ware of Shang and Zhou Dynasties, porcelains and jade artworks. It is worth the three hour visit. Lunch will be arranged at a local restaurant and followed by a visit to the Yellow River Scenic Area. Yellow River is the mother river of China and the second longest river in the county and the fifth longest river in the world. Feel free to climb the Jimu Pavilion to have a great view of the roaring yellow water. Later, you will be escorted to Kaifeng for the night.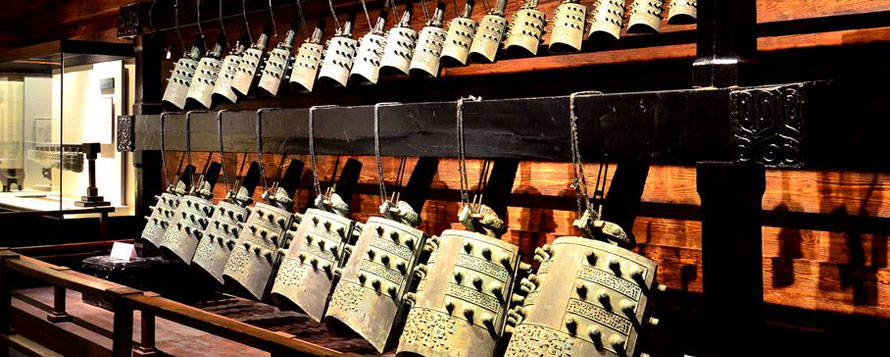 Henan Museum
A full day city tour in Kaifeng is arranged to include Millennium City Park/ Qingming Grand-River Park, Dragon Pavilion, Kaifeng House Scenic Resort, and Jewish xx site. Qingming Grand-River Park/ Millennium City Park is made based on the famous picture of Qingming Grand River by Zhang Zeduan, a painter in North Song Dynasty. The Park is themed by daily life, folk customs, imperial gardens and entertainment, and successfully creates a picturesque scene. Walking in the Park is like walking back in time. Your tour guide will advise you on the people living during the Song Dynasty. Dragon Pavilion, despite it sounding like a pavilion, is a palace built high enough to have great views of Pan Lake and Yang Lake. Iron Tower is a wooden building of 13 floors that is 55.88 meters. It also has dark black glass tiles that were embedded on Iron Tower resembling a tower made of iron. The patterns carved on the glass tiles include unicorns, bodhisattva, singing and dancing girls and lions. After lunch in a local restaurant you will visit Kaifeng House Scenic Resort. There, you will learn about Bao Zheng, which is a symbol of justice and a government officer in Song Dynasty. He gave rulings with justice in mind. Besides historical records there are live shows available to experience the ancient courtroom in Song Dynasty. You may also find the Jewish Quarters interesting though Jews in Kaifeng are not recognized by Israel Jews. Many records show that Jews in Kaifeng moved there more than 700 years ago.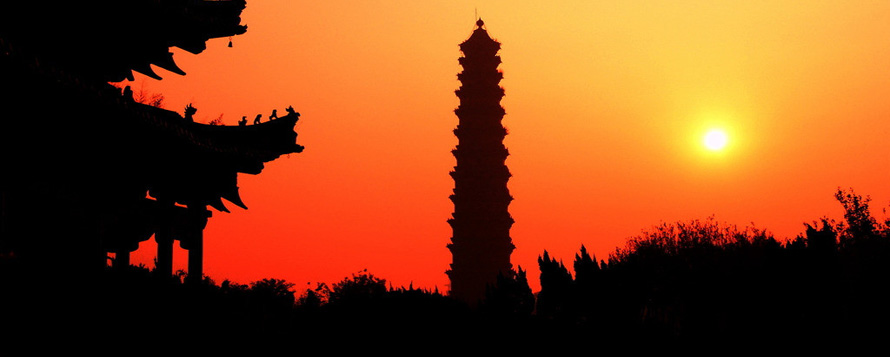 Silhouette of Kaifeng Pagoda against the red sky of sunset
You'll ride back to Zhengzhou to catch your flight or train for next destination.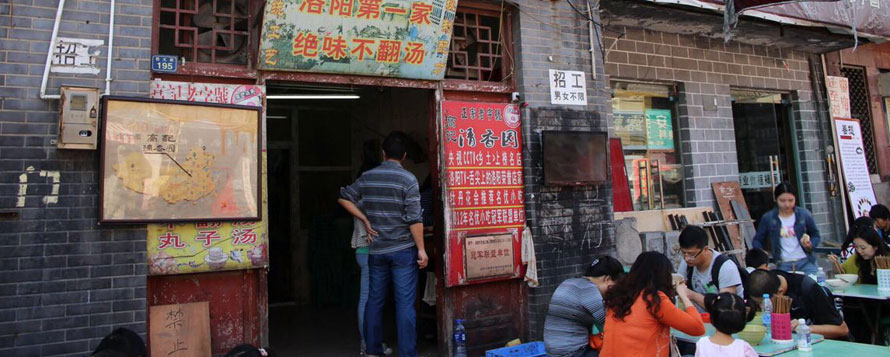 Streete food
Price Includes
In-country transportationas noted in the itinerary.
Admission fees and activity expenses as noted in the itinerary.
Luxury or boutique hotels centrally located.
Meals in local restaurants as noted in the itinerary with complimentary drinking water.
Your own English-speaking guide service.
Your own chauffeur and vehicle service.
Price Excludes
International transportation.
Chinese tourist visa. (which enquired for most foreign passport holders)
Travel and medical insurance.
Meals, snacks, alcohol, etc. apart from those included in the itinerary.
Excess baggage charges.
Personal expenses.
Sights, excursions and activities not included in the itinerary.
Gratuities to guide and driver.
ANY QUESTIONS?
This tour is tailor-made and we can tailor to meet your reqeusts. Your personal travel consultant will contact you within 24 working hours!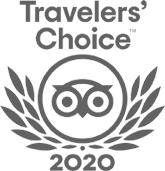 FABULOUS TOUR COMPANY
CHINA OCTOBER - NOVEMBER 2019 We researched several companies and studied reviews on Trip Adviser before contacting who did a very China Culture Tour with an initial query. Right from the outset Grace who owns the company was excellent. She emailed detailed with pictures information and a suggested…read more details
Karen from US
Ready to Create a Unique Dream Travel?