Huangshan (Yellow Mountain) Travel Tips
Sight-seeing: Sight-seeing while walking can easily distract your attention. So, to avoid injury you should follow these rules: no walking while sight-seeing and no sight-seeing while walking, along with not lingering.
Climbing: The roads in the hills zigzag and tortuous. You'd better wear skid proof hiking boots or sneakers while climbing. Most of the roads in Huangshan are steps and ropeways and are very dangerous. When climbing, you are supposed to lean forward and when descending the mountain, you should walk slowly. It is advised that you not bring too many things with you. You can check your luggage in the hotels at the foot of the mountain. It's quite windy in Huangshan. In summer, you can easily bump into rains or thunderstorms. In this case, you're not supposed to go climbing. Don't touch iron chains, stay under the trees or hold up an umbrella on rainy days.
Clothing: The temperature in the mountain is 10℃ lower than that in downtown area. Additionally, sunlight is quite intense in the mountain. You should prepare a hat and some clothes that can protect you from the sun. It's difficult for you to locate a hotel with available rooms if you want to stay on the top of the mountain overnight in the peak season. Sometimes it's difficult for you to rent a coat. In this case, a raincoat is quite necessary. Though it can't protect you from the wind as effectively as a cotton-padded coat, it is better than a sweater or a jacket. In addition, it rains a lot in Huangshan. In summer, it rains more frequently. As it's windy and the roads are precipitous in many peaks, visitors are not allowed to hold up umbrellas. Under this circumstance, raincoats are more essential for you!
Healthcare: High blood pressure patients and cardiac patients should bring medication in case of an emergency. Also, these patients are not supposed to walk alone. The old and the young should be have their families with them at all times.
Outpatient services are available in Beihai Hotel and Yuping Mansion. Stretchers are also available if you have difficulty walking down the mountain. If an emergency should happen, there is a hospital at the foot of the mountain.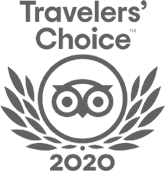 FABULOUS TOUR COMPANY
CHINA OCTOBER - NOVEMBER 2019 We researched several companies and studied reviews on Trip Adviser before contacting who did a very China Culture Tour with an initial query. Right from the outset Grace who owns the company was excellent. She emailed detailed with pictures information and a suggested…read more details
Karen from US
Ready to Create a Unique Dream Travel?