Xidi Village
Xidi is a beautiful village near Huangshan Mountain in Anhui Province. Comparied with the busy Hongcun Village, Xidi is more authentic and a better place for visitors to see typical folk houses where residents have lived for centuries. It gives visitors a great opportunity to explore China's ancient culture and arts.
Xidi Village is located 8 kilometers east of Yi County, 40 kilometers away from Huangshan Mountain. With a history of over 900 years, Xidi Village is divided by over 40 ancient winding and narrow lanes which are paved with bluestones. Visitors strolling through this ancient village will discover traditional Hui-style houses, ancestral temples, academies of classical learning, stone archways, white walls and grey tiles, beautifully paned windows, projecting horse-head walls, and stone slab bridge. These features are all centuries old and residents live as they always have making Xidi Village equivalent to that of an open-air museum.
From that moment when visitors step into the village, they feel every inch was designed by artists. On the marble door frames, flowers, birds and beasts can be found carved there. The carved bricks feature: pavilions, human figures, and scenes from local operas. Many villagers have kept many of these arts alive, and visitors can visit them and see their woodcarvings, murals, and gardens exhibition by the local villagers. In Xidi Village, the arrangements of antique furniture, and the laying of paintings in the houses are as they were during the Ming and Qing Dynasties (1368-1911AD).
Xidi Village is like a page out of a fairy tale. Encircled by mountains, with clear streams flowing through it and goldfish ponds scattered throughout, and with paddy fields placed in front of it, Xidi Village looks too picturesque to be real. In 2000, this quiet and peaceful village was listed as UNESCO's World Cultural Heritage List with Hongcun Village. And ever since, architects, planners, sculptors, industrial artists, and painters have been heading to Xidi for inspiration.
Comment from the World Heritage Committee
In Xidi and Hongcun, two traditional ancient towns, the local people have had the same lifestyle throughout the last century without making many changes to the town. The style of the street, the ancient buildings, the decorations and the homes are equipped with complete water supply systems are all cultural heritages unique to these two ancient towns.
Introduction
As part of Huangshan scenic area, Xidi and Hongcun are the two most representative ancient villages among all homes in southern Anhui Province. They have a worldwide reputation for the dreamlike pastoral scenery, well-preserved village ensemble, the exquisite homes of the Anhui architectural style.
The location, layout and architectural style of Xidi and Hongcun are deeply influenced by the fengshui theory put forward in The Book of Changes, embodying a perfect combination of man and nature. They also show that nature is revered in ancient Chinese philosophies. The elegant homes and nature just live side by side in harmony, creating a sound living environment. Thus, they are regarded as the essence of the traditional Chinese homes. The unique water network is a shinny example for the combination of utility and aesthetic value. In particular, the ox-shaped water network in Hongcun demonstrates human wisdom in making use of natural resources to work for people's benefit.
More about Xidi Village
Xidi, 8 kilometers squared to Yi County, was originally built during the Huangyou Period of the Northern Song Dynasty (1049-1054 AD), with a history of 1,000 years. The village comes in the shape of a boat, with 122 well-preserved homes and 300 households, involving a population of over 1,000. It is hailed as the miniature of the traditional Chinese culture and a museum of the homes of the Ming and Qing Dynasties.
Xidi is encompassed by mountains, with two rivers in its northern and eastern regions converging with each other at Huiyuan Bridge in its southern side. The village has a main road stretching from the south to the north and other two arteries that are built along the two rivers, three of which constitute a main transportation network of the village. All the streets and lanes are constructed with the stones that are only produced in Yi County. Most of the ancient buildings are composed of wooden structures with exquisite wood, stone and brick carvings. All the lanes and buildings just fit into the whole setting of the village. Flavored with an antique and simple style, the buildings represent the best of the Anhui architectural style.
Cultural Heritages
Originally built in the Northern Song Dynasty, Xidi used to be the former home of the Family Hu. The whole village comes in the shape of a boat, encompassed by extending mountains with two rivers flowing within. The streets and lanes are constructed by the river, covered with green stones. The layout of village is well designed, embodying the combination of stillness and motion. The ancient buildings on the roadside are of antique beauty, fitting perfectly into the whole setting. Currently, there are existing 124 homes of the Ming and Qing Dynasties and 3 memorial temples, including Yunling Mansion, Cishi Decorated Archway, Ruiyu Courtyard, East Garden, West Garden, Dafudi Pavillion, Jingai hall, Lvfu Hall, Qingyun Pavillion, Yingfu Hal, etc. All of them are thought to be the representative buildings of the ancient homes with Anhui architectural style. The greenstone-made decorated archways at the entrance of the village were originally built in the six year of the Wanli Period of the Ming Dynasty (1578 AD). These five story structures are all exquisite in details and magnificent when looking at it as a whole, serving as a symbol of the high social standing of Family Hu. In the village stands Lvfu Hall, which was originally built during the reign of Emperor Kangxi of the Qing Dynasty. Its display is elegant and brimming with aroma of books. On its doorway there is a couplet, with sayings that encourage people to devote themselves to study. In a sense, this is a demonstration of the local people's emphasis on Confucianism. There is another ancient house in the village-Dafudi Pavillion. Originally built during the reign of Emperor Kangxi of the Qing Dynasty (1691 AD), it is a pavilion-style structure mainly for sightseeing purposes. A plaque is hung over the doorway, with inscriptions that encourage people to reflect on themselves. The homes in the village are all elegantly designed, with exquisite gardens, archways made of black marbles, decorated windows, stone carvings of various kinds, caved pavilions and mansions, figure paintings, opera lyrics, fine wood carvings, colored paintings and murals. All these embody the very best of ancient Chinese arts. The rare unique layout, well-designed structure, beautiful adornment, fine building techniques and cultural elements are well-known in all residents homes in this region in China.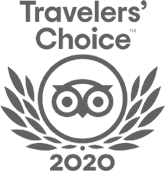 FABULOUS TOUR COMPANY
CHINA OCTOBER - NOVEMBER 2019 We researched several companies and studied reviews on Trip Adviser before contacting who did a very China Culture Tour with an initial query. Right from the outset Grace who owns the company was excellent. She emailed detailed with pictures information and a suggested…read more details
Karen from US
Ready to Create a Unique Dream Travel?