4 Days Senior Tour, Into the soul of Yellow Mt.
A fantastic opportunity to explore few UNESCO World Heritage Sites and a chance to dip your toe into vibrant culture of Huizhou. Breathe in the fresh air of Huangshan while immerse yourself into the calmingly warm hot spring halfway up the mountain. Silver of granite peaks topped with twisted pines, sea of cloud enveloped the region. Huangshan is truly a magical sight to behold. Then, weave your way through alleys and lanes of Hongcun, with picture-perfect scene every twist and turn. Try your hand at incense pendant making at Huizhou Huangshan Cultural Museum. Stroll down Tunxi Old Street with lines of Huizhou-style building. Refresh yourself with this 4-day trip at a slower pace and let it leisurely unfold, so the area's atmosphere and nuances can truly be appreciated.
Trip Highlights
Travel at a leisure pace to appreciate the destination better
Enjoy the hot spring on Huangshan
Catch the breath-taking sunrise and sunset on Huangshan
Incense pendant making at Huizhou Huangshan Cultural Museum
Customizable Tour Itinerary
After checking in at the hotel, remember to pack your items needed for day 2 and day 3, as you will be leaving your luggage at Hot Spring Resort and only bring along your valuables and necessities. Keep it light as possible. You will come back to get your luggage on day 3 when you make your way down from the mountain.
Upon arrival, you will see your private tour guide waiting for you at the arrival hall holding a sign with your name written on it. You will take a private transport to Huangshan Hot Spring Resort located halfway up the mountain. The drive from both airport and station to Huangshan is about 1.5 hour. There will be shuttle bus at mountain foot to transfer you up to Hot Spring Resort. Then, enjoy the calmingly warm hot spring before check in at Huangshsan Hot Spring Resort. Get yourself ready and rest well for tomorrow's journey.
Hotels: Banyan Tree Huangshan, Crowne Plaza Huangshan Yucheng, Huangshan Hot Spring Resort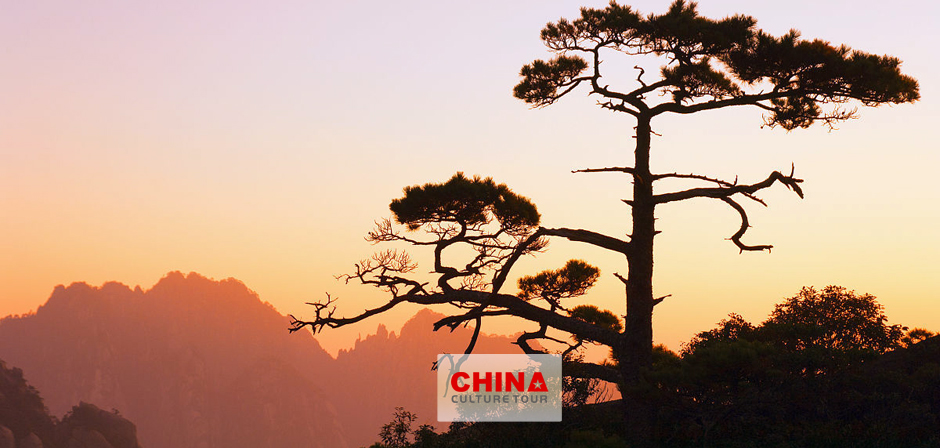 Silhouette of a bizarre pine tree against golden sunset is one of the highlights in Huangshan Scenic Area
Take a shuttle bus to Yungu temple and ascend via cable car. This is a good opportunity to have some stunning view of Huangshan. Through granite peaks and ubiquitous pines, the vista changed with every twist and turn of the road. You will pass Beginning-to-Believe Peak, Black Tiger Pine and 'Flower Blooming on a Brush Tip' stone on your way. Beginning-to-Believe Peak, with elevation of 1683m, is a famous peak for some stunning views across lonely, mist-encased peaks, also one of the best place to view the sunrise. En route to the North Sea, you will pass Black Tiger Pine, one of the top ten famous pines in Huangshan, is said to be looking like a black tiger lying on the slope. Also, do spot this granite formation topped splendidly with a pine tree on your way, that's the 'Flower Blooming on a Brush Tip' stone. Many peaks and pines will inspire your imagination. As dusk approaching, everything on this land start to put on a crimson coat. Enjoy sunset at Cloud Dispelling Pavilion before checking in at Xihai Hotel. Rest early, as we will need to wake up early at around 5 to 6 am the next day to catch sunrise at Stone Monkey Watching the Sea.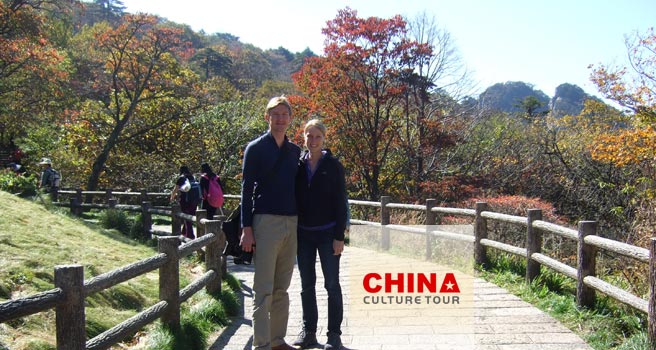 Yellow Mountain
Take a 40 minutes hike from Xihai Hotel to Stone Monkey Watching the Sea. We will wait for dawn to come. Be patient, as you will find yourself over a different landscape as dawn breaks. Then we will return to hotel for breakfast before we continue our journey. Hike our way slowly to West Sea Grand Canyon to view those gravity-defying rocks from another perspective. We will make our way to First Ring only. The vista is the same at Second Ring and bottom of the canyon, just viewing the valley from different angles. Also, do not underestimate the gradient further down from First Ring. The route can be demanding and knee-killing. Habitat of more than 300 species, sometimes you can hear chirping of birds echoing the mist-filled valley. And if you are lucky enough, you may spot some Huangshan macaques swinging from branches to branches. Spend some time at First Ring before going down the mountain. Make our way leisurely down to White Goose Ridge Station and take Yungu cable car down the mountain. Take a one hour drive to Bishan at Yi County before checking in at Pig's Inn. Located inside a Qing dynasty home masterfully restored by Shanghai artist Li Guoyu, it a chance to experience this extravagant villas.
Meals: Breakfast, Lunch,
Hotels: Pig's Heaven Inn Bishan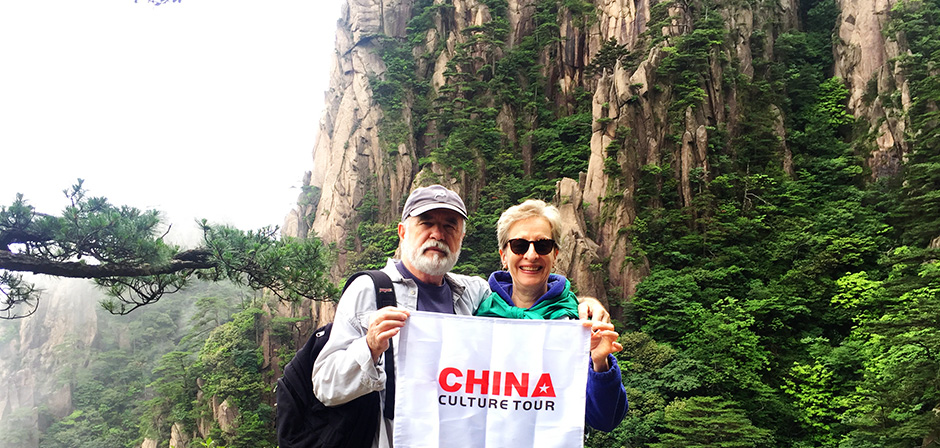 Yellow Mountain
Savour the unique Huizhou breakfast in hotel before make our way to Hongcun. Stuffed with white-washed buildings, black slate roofs and old stone bridges, this village was once home to many wealthy merchants and scholars. Most of the building here are from Qing and Ming dynasty even though the village was built around 1131 AD, in Song dynasty. Weave your way through alleys and lanes, examine the building closely and listen to the heartbeat of this ancient village. Set in the heart of the village is the Yuezhao Lake. A picture perfect scene no matter the angle you take the shoot. Enjoy a moment of tranquillity away from the bustle world before leaving this UNESCO World Heritage Sites and try your hand at incense pendant making at Huizhou Huangshan Cultural Museum.
Mostly made from sandalwood incense or agalwood incense and plant-extract binder, incense pendant is very popular among Huizhou merchants and officials during Qing and Ming dynasty. Giving off an aroma, it also promotes blood circulation, nourishing the heart and soothing our nerves. It is suitable for woman and man of all ages. Next, we will be going to Tunxi Old Street. Lined with restored Ming-style Huizhou buildings, Tunxi Old Street is occupied with snack vendors, saviour stores, tea shops and more. Surely it is touristy, nonetheless, still a pleasant place for a stroll to mark the end of the journey. Private transport will take you to station or airport for your next destination.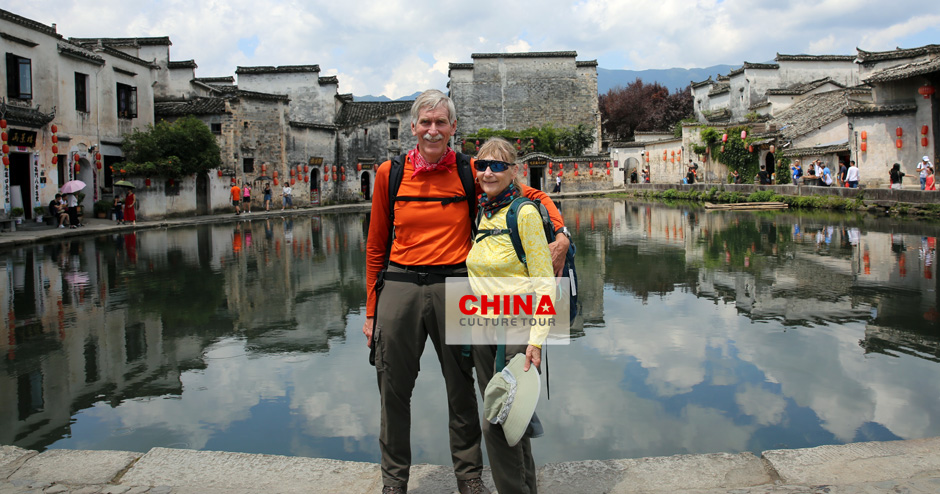 Yuezhao Lake in Hongcun Village
Price Includes
In-country transportationas noted in the itinerary.
Admission fees and activity expenses as noted in the itinerary.
Luxury or boutique hotels centrally located.
Meals in local restaurants as noted in the itinerary with complimentary drinking water.
Your own English-speaking guide service.
Your own chauffeur and vehicle service.
Price Excludes
International transportation.
Chinese tourist visa. (which enquired for most foreign passport holders)
Travel and medical insurance.
Meals, snacks, alcohol, etc. apart from those included in the itinerary.
Excess baggage charges.
Personal expenses.
Sights, excursions and activities not included in the itinerary.
Gratuities to guide and driver.
ANY QUESTIONS?
This tour is tailor-made and we can tailor to meet your reqeusts. Your personal travel consultant will contact you within 24 working hours!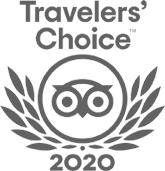 FABULOUS TOUR COMPANY
CHINA OCTOBER - NOVEMBER 2019 We researched several companies and studied reviews on Trip Adviser before contacting who did a very China Culture Tour with an initial query. Right from the outset Grace who owns the company was excellent. She emailed detailed with pictures information and a suggested…read more details
Karen from US
Ready to Create a Unique Dream Travel?