6 Days Photography, A different Huangshan through lens
Idyllic pools of mist settle over the mountain, filling its valleys with fog. Huangshan is a UNESCO World Heritage Site, a famous tourist attraction, moreover, photographer's paradise. On Huangshan, you will capture gravity-defying stones and twisted pines enveloped by spectral folds of mist; amazing creatures living underneath the granite peaks; sunrise and sunset over this magical landscape. Then take a close-up of the ancient villages around Huangshan, which are famous for their special architecture and rich Huizhou culture. Zoom into the details of those white-washed wall and black slate roof buildings, shift your focal point to local people portraits in old houses to capture the beauty of those villages, hospital people and architectures.
Trip Highlights
Visit and capture magnificent natural landscapes and amazing creatures in Huangshan Scenic Area
Catch sunset and sunrise on Huangshan's various peaks to get your perfect shoot
Explore and capture the beauty of indigenous villages nearby
Plunge into the "bamboo sea" immortalized in the Crouching Tiger, Hidden Dragon
Customizable Tour Itinerary
Upon arrival, you will see your private guide at the arrival hall holding a sign with your name written on it. Then you will be transfer by private vehicles to Huangshan International Hotel. Your guide will assist you with check-in. Enjoy the remainder of your day at your leisure.
Hotels: Huangshan International Hotel, Huangshan Beihai Hotel, Huangshan Shilin Hotel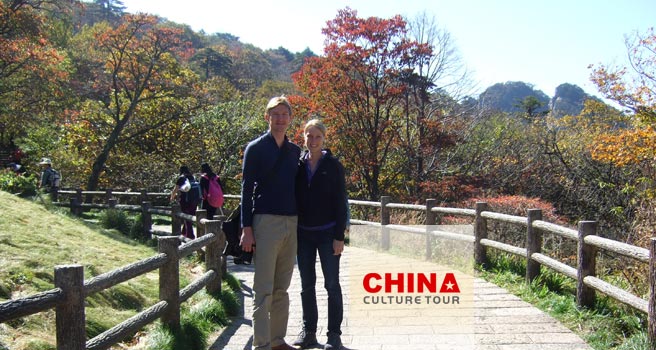 Yellow Mountain
After breakfast, we will move to Huangshan Scenic Area. Shuttle bus will transfer you from mountain foot to Yungu temple to take cable car up to White Goose Ridge Station. Take stunning view down from the cable car and prepare your camera and lens for the otherworldly scene coming. On your way to Lion Peak, many oddly twisted pines and silver of stones may inspire your imagination. Remember to capture them with your camera. Here are some of the highlights on the way you may want to pause and take some pictures of them:
Twisted pines:(Four in ten of the most famous pines on Huangshan)
Harp Pine:
Northern slope of Woyun Peak. As its name, it looks like a harp.
Black Tiger Pine:
Growing on the junction from White Goose Ridge Station to Beginning-to Believe-Peak. It is said to be looking like a black tiger lying on the slope.
Tanhai Pine:
It's located on the cliff, half way up Woyun Peak. Believe to be more than 5 hundred years old. The pine stretch its branches as if dragons going down to explore the Sea
Lianli Pines:
It's located on the way from Beginning-to-Believe Peak to Black Tiger Pine. The pine tree split into two stems of similar size and height, looking like two couples.
Bizarre stones: Use your imagination.
Eighteen Arhats going for Pilgrimage: On the mountain range near Beginning-to-Believe Peak. 18 small peaks of the mountain range looking like 18 arhats going to the South China Sea for pilgrimage.
Immortals Playing the Chess: On the left of Beginning-to-Believe Peak. A combination of a twisted pine and granite peaks, forms a scene that looks like two immortals playing chess on the mountain.
Stone monkey watching the sea: An oddly shaped stone on a peak. Spot it on the way up to Lion Peak. Based on the angle you are looking from, that stone may look like monkey, bird or other things to you.
If you are lucky enough capture Sea of cloud at these locations on the way:
White Goose Ridge/ Refreshing Terrace/Lion Peak/Cloud Dispelling Pavilion
Locations to catch the Sunset:
Cloud Dispelling Pavilion/ Purple Cloud Peak
We will head towards Cloud Dispelling Pavilion to enjoy the sunset and to have some shoots at this splendid view. Then check in at Xihai Hotel. Rest early as the next day we need to wake up at around 5-6am to catch the sunrise.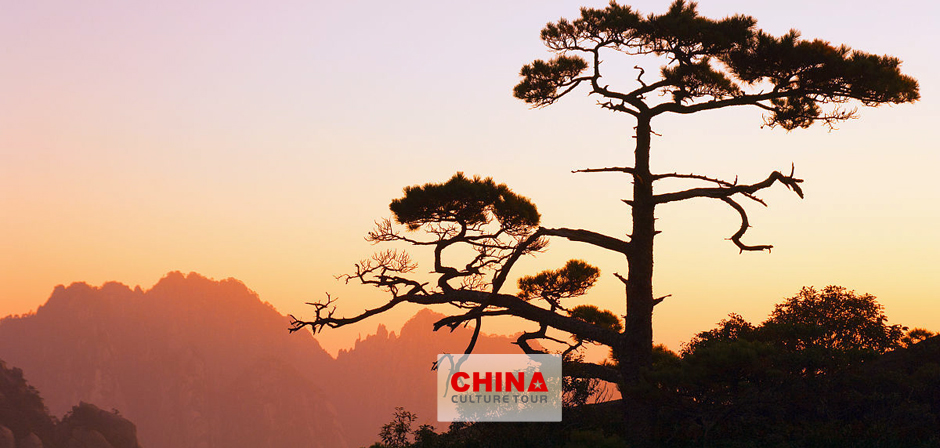 Silhouette of a bizarre pine tree against golden sunset is one of the highlights in Huangshan Scenic Area
Carry your camera, move to Lion Peak and wait for sunrise. We are going to capture the best moment of Huangshan. If you are lucky enough, you will get to see the luminous spectacle of sea of clouds and Buddha's light (circular rainbow).
Return to hotel for breakfast before we head to West Sea Grand Canyon for more photos. Ghostly puffs of mist filled its chambers and valleys. Peer into the mist atop the lonely peaks, capture these magical vistas and take some close up shoots of the 'residents' living in West Sea Grand Canyon. With an incredible biodiversity, Huangshan has more than 1805 species of plants and around 300 species of animals. Stay alert and capture those creatures camouflaging themselves in the forest with your camera. Most possible to see are: Leiothrix Lutea, Red-billed Blue Magpie ,Eurasian Jay ,Rusty Laughing Thrush, Accipiter nisus, Plumbeous Water Redstart, Oriolus chinensis, Yellow-browed Warbler, Coal Tit, Slaty Bunting, Huangshan macaque and more.
We will start from Cloud Dispelling Pavilion, take some amazing views at the granite formations. Hike down to First Ring and Second Ring, then to the bottom of canyon before taking ground cable car to Tianhai Station. After that, we will return to Fairy Walking Bridge, a section that was not covered earlier on, for more photos. Hike to Bright Summit, one of the best places to view sunset, to catch the breath-taking view. Then we will check in at nearby Baiyun Hotel. Prepare to wake up early the next day to catch sunrise at Bright Summit.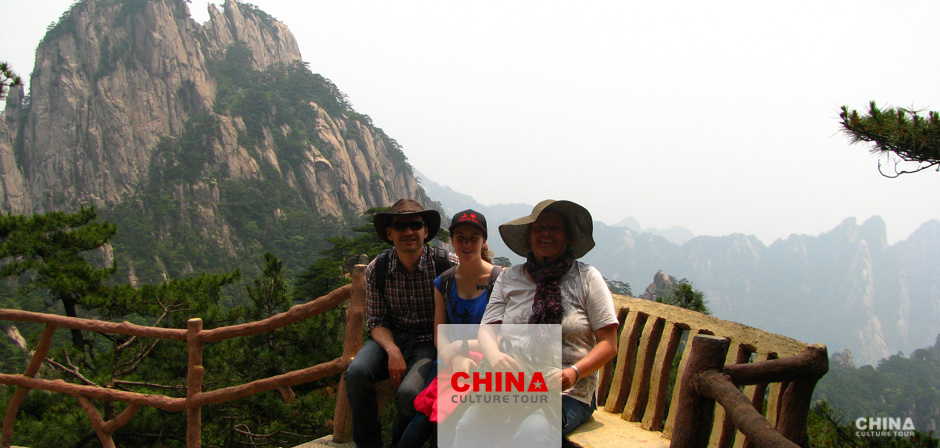 Yellow Mountain
Wake up early to have a perfect shoot of sunrise at Bright Summit. As a very famous peak for watching the sunrise, Bright Summit may be very crowed by dawn, so it is best to reach there as early as possible to get a good spot. While waiting, you can take a time-lapse video. Remember to bring along your tripod. On the route from Bright Summit to Cloud Dispelling Pavilion, you will see this gravity-defying rock, the Rock Flying From Afar. Return to hotel for breakfast before we make our way down from the front mountain. On the way down, pay extra tension to Turtle Peak (an enormous formation of rocks on mountain peak that look like a huge turtle), Lotus Peak (near Yuping cableway, highest peak on Huangshan, is a lotus-like peak with altitude of 1864.8m) and Guest-greeting Pine (pine tree that is more than 800 years old. It has a branch stretches out, as if stretching out her arm to welcome all guests coming from afar). Watch your steps carefully when going down Hundred Steps Ladder, as the gradient can be really steep at that section. Take Yuping cable down the mountain and then move to Yi County and check in at Pig's Inn Bishan.
Meals: Breakfast, Lunch,
Hotels: Pig's Heaven Inn Bishan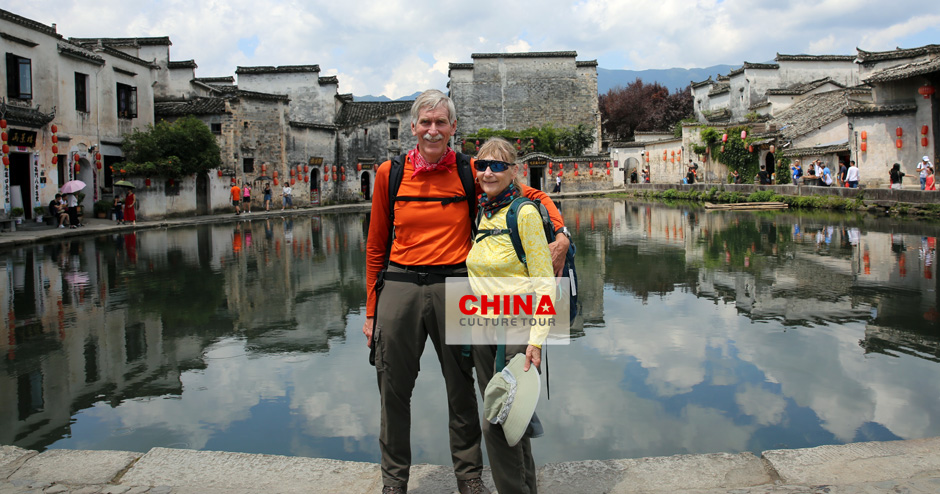 Hongcun Village
Dip your chopsticks into local Huizhou cuisine prepare by the hotel before we drive to Hongcun, an ancient village nearby. Hongchun is the most famous ancient villages near Huangshan, it is pretty touristy and crowded now, so we are visiting there in early morning to avoid tourist groups. Hongcun, which is a UNESCO World Heritage Site, sets against the forest green backdrop. Stuffed with white-washed buildings, black slate roofs, and old stone bridges, this photogenic village is just a perfect place for your perfect shoot. Then, together, brave the 'Bamboo Sea' immortalized in the Crouching Tiger, Hidden Dragon, near Hongcun, and make some wonderful shoots on the way.
Head for another ancient village nearby for a similar yet different experience. Similar in the architectures, different in the people you will meet there. Nanping is a village with more than thousand years of history. Villagers there still practise traditional ways of life. Stroll down the narrow alleys and lanes, wander through this maze-like village, you will find some fantastic shoots there. In the evening, we will check in at Crowne plaza in Tunxi district, Huangshan city.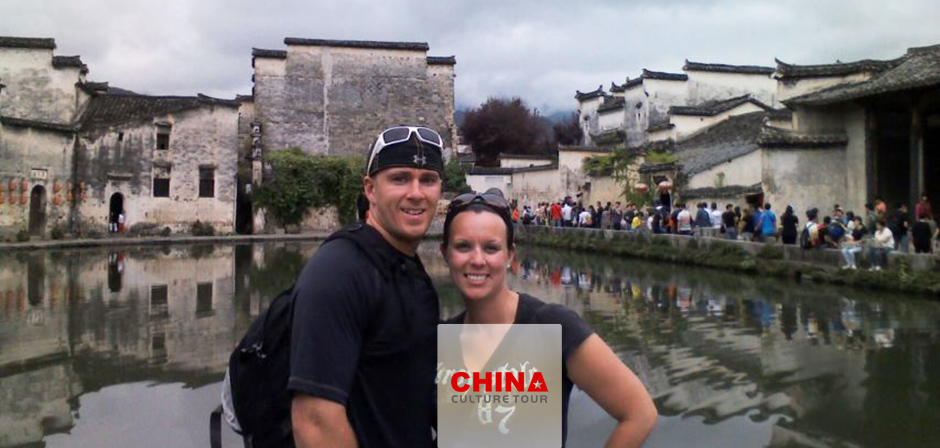 Yuezhao Lake in Hongcun Village
We will take a one hour drive to Mulihong Village, a popular village for photographers to capture the fantastic scenery, local people in old houses and elaborated architectures. In April, yellow irises bloom in the shallows, adding a pop of colour to the scenes of whitewashed residences with their black slate roofs. Go up a nearby low-lying hill, you can get your best shoot of the village there. And here comes to the end of our journey. We will transfer you safely to airport and station for your next destination.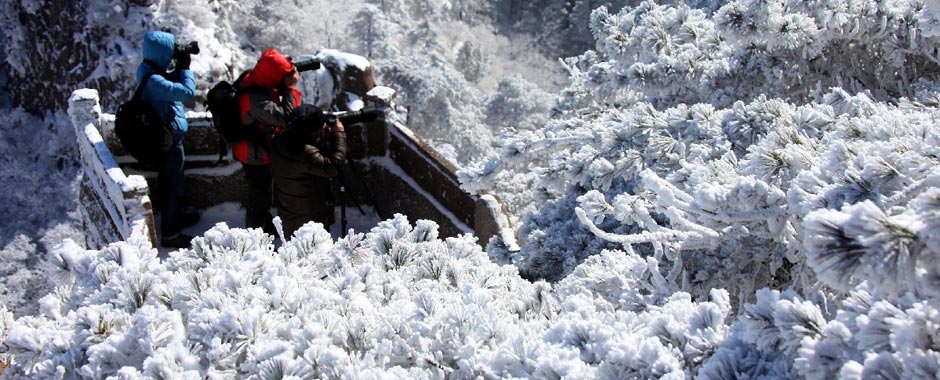 Snow blanketed Yellow Mountain in winter
Price Includes
In-country transportationas noted in the itinerary.
Admission fees and activity expenses as noted in the itinerary.
Luxury or boutique hotels centrally located.
Meals in local restaurants as noted in the itinerary with complimentary drinking water.
Your own English-speaking guide service.
Your own chauffeur and vehicle service.
Price Excludes
International transportation.
Chinese tourist visa. (which enquired for most foreign passport holders)
Travel and medical insurance.
Meals, snacks, alcohol, etc. apart from those included in the itinerary.
Excess baggage charges.
Personal expenses.
Sights, excursions and activities not included in the itinerary.
Gratuities to guide and driver.
ANY QUESTIONS?
This tour is tailor-made and we can tailor to meet your reqeusts. Your personal travel consultant will contact you within 24 working hours!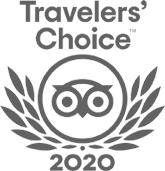 FABULOUS TOUR COMPANY
CHINA OCTOBER - NOVEMBER 2019 We researched several companies and studied reviews on Trip Adviser before contacting who did a very China Culture Tour with an initial query. Right from the outset Grace who owns the company was excellent. She emailed detailed with pictures information and a suggested…read more details
Karen from US
Ready to Create a Unique Dream Travel?