5 Days In-Depth Cultural Immersion, Deep dive into the Huizhou heritage
Discover hidden Huangshan city, where sets a famous mountain, and a place where lives 38 different groups of minorities that still practise their traditional ways of life, amidst backdrop of rolling mountains. On this trip, you'll explore magical landscapes, experience local culture, wander off two rustic ancient towns and encounter hospitable people and more. This journey will lead you to a world far from urban city and deep into the legacy of Huizhou people.
Trip Highlights
Explore inspiring landscapes of Huangshan and freeze-in-time villages nearby
Local life experience in Nanping village
Specially selected hand-on experience: Bamboo weaving/ Tofu making/ Chinese brush making/ Incense pendent making
Customizable Tour Itinerary
Once you have arrived Huangshan, you will see your private tour guide waiting for you at the arrival hall holding a sign with your name written on it. Take a 1.5 hour private transport to Huangshan Scenic Area. Shuttle bus will transfer you from mountain foot to Yungu temple. Take a short walk before ascend the mountain with cable car from Yungu cable car station. Then, we will hike up the mountain on the less steep side. On the way, you will encounter some highlights, including Beginning-to-Believe Peak, Black Tiger Pine, 'Flower Blooming on a Brush Tip' stone and Stone Monkey Watching The Sea. Beginning-to-Believe Peak and Lion Peak (a peak further up from Stone Monkey Watching the Sea) are some decent spots to enjoy sunrise. Many of the rocks and pines on your way will inspire your imagination. Enjoy your walk into the scroll of this Chinese painting. You will check in at Xihai Hotel before taking enough rest for tomorrow's journey. Remember to wake up early at around 5-6am in order to catch the sunrise.
Hotels: Huangshan International Hotel, Huangshan Beihai Hotel, Banyan Tree Huangshan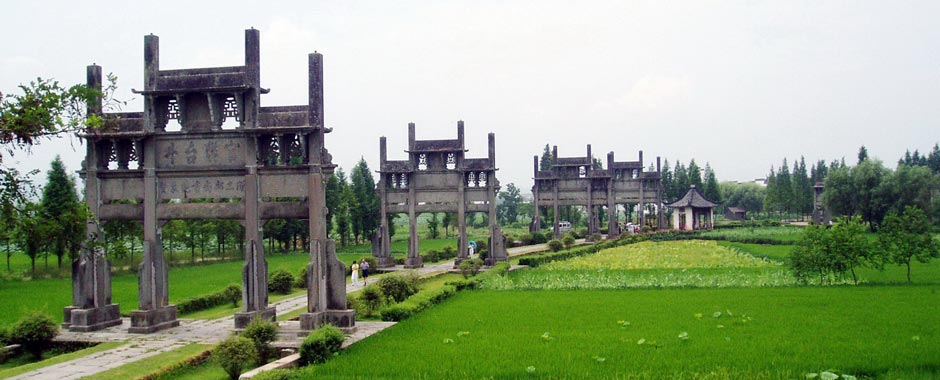 Stone archways in Tangyue
Lion Peak is selected from spring to autumn and Purple Cloud Peak is for summer and autumn only. Please take noted that if you are traveling in winter, you only can catch the sunrise at bright summit and Beginning-to-Believe Peak.
An early wake up to catch the sunrise at Lion Peak or Purple Cloud Peak. Watch this astonishing moment in Huangshan and engrave it into your memory. After this, we will get back to hotel for breakfast before heading to West Sea Grand Canyon. Descent the canyon via stone path attached to the sheer side of mountain. Peer over for some serious butt-clenching views down into the valley. Of course there are handrails at the side. Sometimes, ghostly puffed mist envelope the region, leaving mountain peaks as if floating in the air. A must-see in Huangshan Scenic Area surely makes a great escape for you from the hustle city life. Return from canyon and descent the mountain via Yungu cable. Though almost similar as the ascending route, it's still a lovely perspective to observe pines and granite peaks in another angle. Take a one hour drive to Bishan before checking in at Pig's Inn. It's a boutique hotel inside a restored Qing dynasty home at Bishan, near Hongcun and Nanping.
Meals: Breakfast, Lunch,
Hotels: Pig's Heaven Inn Bishan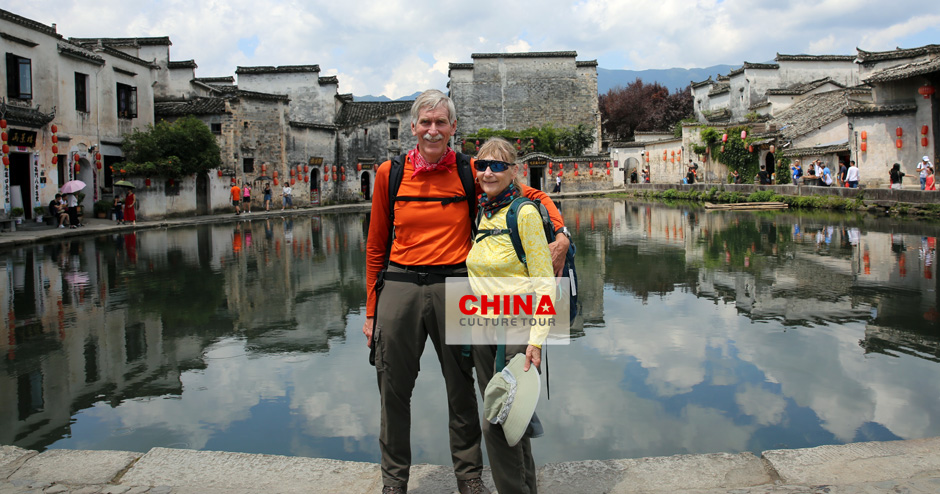 Hongcun Village
Dip your chopsticks into Huizhou cuisine and savour some local breakfast in the hotel before starting our journey. A 17 minutes' drive will bring you to Nanping Village. White-washed residences and black slate roofs amidst backdrop of low-lying hills, this is a village with history of more than thousands of years. Villagers there still practise traditional ways of life. Stroll down the narrow alleys and lanes, you will find yourself lost in beauty of ancient architecture there. Also, you will find yourself lost in direction. But, not to worry, your guide to tell you the history of those buildings while leading your way through this maze-like village. It's time to embrace the vibrant culture and to meet some hospitable people there. You will get to experience traditional rural life in Nanping, for example, picking fresh organic vegetables from field, getting water from well, wheelbarrow driving, and prepare your own lunch using traditional kitchen utensils and stoves. After lunch, we will proceed on to bamboo weaving. Bamboo weaving in Huizhou is a traditional art craft which can date back to almost Tang dynasty. Step by step, teach by local bamboo weaving master, you will learn how to turn those thin strips of bamboo in into artwork. This range of experience may be once in a life time. Afterwards, you will be transfer back to Pig's Inn.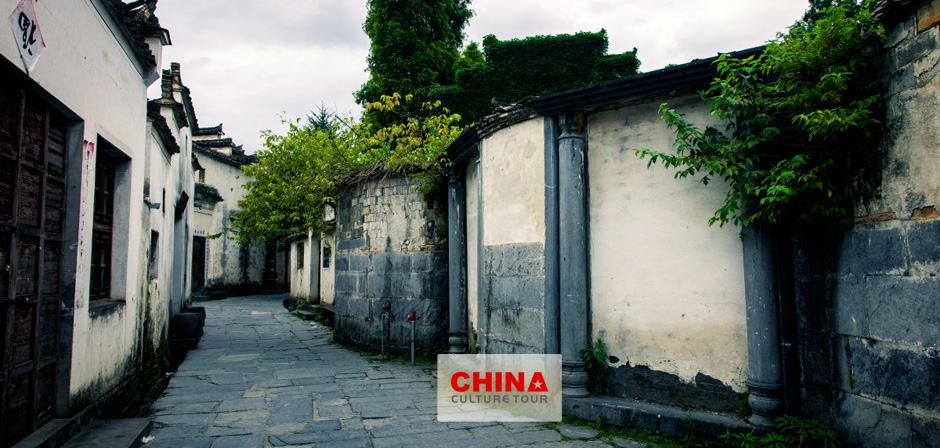 Ancient village near Huangshan
Another day, another village waiting for you to explore. Take a 25 minutes' drive to Hongcun Village, and take a closer look at the buildings here. White-washed walls and black slate roofs, a typical Huizhou style village sets among the low-lying hills. Elaborated buildings with some hospitable people are waiting to tell their stories to you as you find your way through the slender alleys and lanes. Next, we will be going for tofu making at Wan'an Street in Xiuning County. The street has a history of more than thousands of year and the tofu store we will be making tofu in is over a hundred of year. The masters will demonstrate how to make tofu in a traditional way first, then you will participate in tofu production under the guidance of these local masters. In today's modernised society, it's less easy to see people keeping on their traditional ways of lives and cultures. Get to know the history of tofu making and this place as you follow the master step by step in the process of tofu making. Moving on, you will be transfer to Tunxi and check in at Crowne Plaza.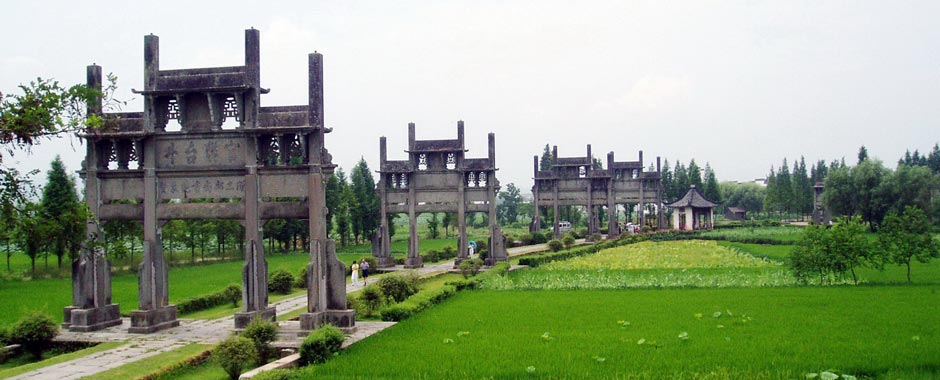 Stone archways in Tangyue
On last day of the journey, we will be going to Tunxi Old Street which is not far from hotel. The old street is lined with restored Ming-style Huizhou buildings. And we will be making Chinese brush here. Anhui Province is well-known for 'Four Treasures in the Study' in China. The four treasures or stationaries namely are the Chinese brush, inkstick, rice paper and ink slab. During the lesson, not only you will learn how to make Chinese brush, but also know the history of it.
At Huizhou Huangshan Cultural Museum, you will have the chance to make your very own incense pendant. These pendants are mostly made from sandalwood incense or agalwood incense and use plant-extract binder to put them into shapes. Incense pendant has some similar function as perfume, which is to give off an aroma. The difference is that it promotes blood circulation, nourishing the heart and soothing our nerves. Very popular among Huizhou merchants and officials during Qing and Ming dynasty, it is suitable for woman and man of all ages. Bring these little souvenirs home, most importantly this unforgettable memory. Our cultural immersion journey ends here. A safe transfer to airport or station will be provided.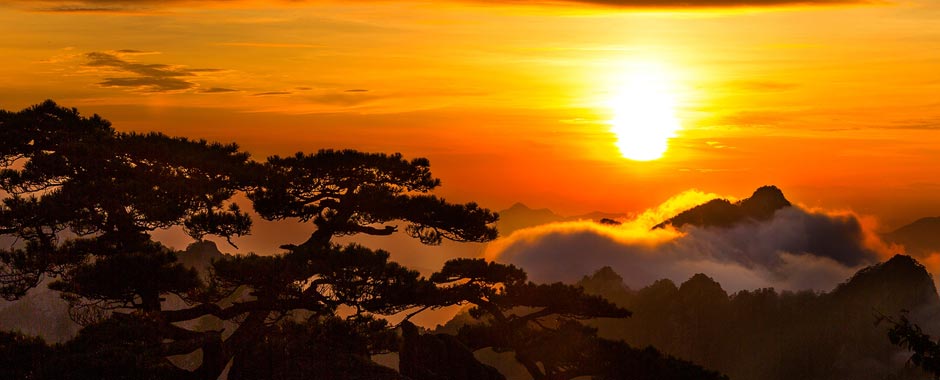 Silhouette of pine tree against golden sunset is one of the highlights in Huangshan Scenic Area
Price Includes
In-country transportationas noted in the itinerary.
Admission fees and activity expenses as noted in the itinerary.
Luxury or boutique hotels centrally located.
Meals in local restaurants as noted in the itinerary with complimentary drinking water.
Your own English-speaking guide service.
Your own chauffeur and vehicle service.
Price Excludes
International transportation.
Chinese tourist visa. (which enquired for most foreign passport holders)
Travel and medical insurance.
Meals, snacks, alcohol, etc. apart from those included in the itinerary.
Excess baggage charges.
Personal expenses.
Sights, excursions and activities not included in the itinerary.
Gratuities to guide and driver.
ANY QUESTIONS?
This tour is tailor-made and we can tailor to meet your reqeusts. Your personal travel consultant will contact you within 24 working hours!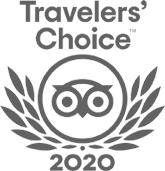 FABULOUS TOUR COMPANY
CHINA OCTOBER - NOVEMBER 2019 We researched several companies and studied reviews on Trip Adviser before contacting who did a very China Culture Tour with an initial query. Right from the outset Grace who owns the company was excellent. She emailed detailed with pictures information and a suggested…read more details
Karen from US
Ready to Create a Unique Dream Travel?