3 Days Huangshan, An expedition through magical Huangshan and exquisite Hongcun Village
Clamber up the peaks of Huangshan (a.k.a. Yellow Mountain) and infuse yourself with the charms of Hongcun on this voyage. Huangshan---a recurring motif of Chinese painting and a famous tourist attraction, never fail to amaze us with its distinctive brushstrokes. Peer into the mist atop towering peaks of Huangshan and soon lost yourself amid of her unearthly natural beauty. Hongcun –a living heritage, was once the home of many Huizhou merchants and scholars. Residences are well maintained and villagers still practise traditional way of life. Wander through the alleys and lanes of Hongcun, immerse yourself in the idyllic atmosphere. Together, let's meet people with different heartbeats, embrace the wonders on this journey.
Trip Highlights
Experience magical landscapes in Huangshan and lovely ancient village nearby
Experience magical landscapes in Huangshan and lovely ancient village nearby
 A short hike down the West Sea Grand Canyon with plenty of twisted pines and curiously shaped rocks on your way
Infuse yourself with the charm of a hundred-years old village not far from Huangshan
Customizable Tour Itinerary
Upon your arrival, you will see your private tour guide waiting for you at the arrival hall with your name written on a sign. After that, a 1.5 hour drive is needed for your private driver to transfer you safely to Huangshan Scenic Area. Shuttle bus at mountain foot will transfer you to Yungu temple. A short walk from the temple, ascent the mountain with cable car from Yungu Cable Car Station, after 15 minutes, you will arrive White Goose Ridge New Station. Travelling by cable car certainly provides you a stunning view of the area.
Now, the journey truly begin. Through staggering peaks, passing twisted pines, Beginning-to-Believe Peak will be your next stop. It has an altitude of 1683meters, a good spot to see the sunrise, and a major bottleneck for most visitors, especially for photographers. On the way to Lion Peak you will pass many natural master piece, also recurring motif in Chinese paintings --- weirdly twisted pines and exotic granite formations. Keep going and see if you can spot the Black Tiger Pine and 'Flower Blooming on a Brush Tip' stone on your way. Passing the Refreshing Terrace, which is a good spot for viewing the sea of clouds, then comes an absurd rock--Stone Monkey Watching the Sea. This rock is said to be look like a monkey sitting on the mountain gazing over sea of clouds. Many peaks will inspire your imagination. The peak may look like a monkey for some and a bird for others. What makes the rock fascinating here is that you get to see different things from different angles.
Finally check in at Xihai Hotel, and restore your energy for the next day's journey. If there is sufficient time, you may want to have a 7minutes walk to Cloud Dispelling Pavilion for breath-taking view of sunset.
Hotels: Banyan Tree Huangshan, Huangshan Beihai Hotel, Huangshan Shilin Hotel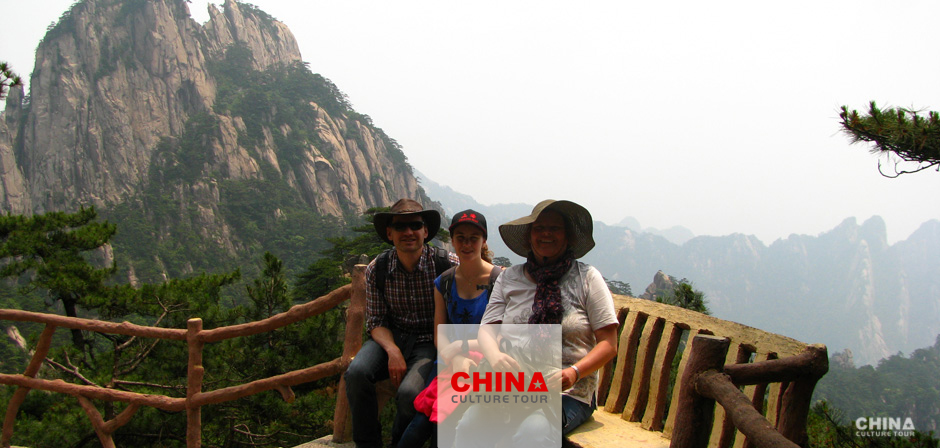 Yellow Mountain
Lion Peak is selected from spring to autumn and Purple Cloud Peak is for summer and autumn only. Please take noted that if you are traveling in winter, you only can catch the sunrise at bright summit and Beginning-to-Believe Peak.
Another day of exciting journey. You will see the sunrise on Lion Peak or Purple Cloud Peak . In order to catch the sunrise, you will need to wake up at around 5-6am early in the morning. Slowly, dawn breaks over a very different landscape, luminous spectacle of sea of clouds envelope the region. However, sea of clouds is a reward only to luck visitors. Hope you are the lucky one to get this extra bonus! Don't be dishearten even if you miss the sea of clouds this time, it is also a great opportunity to hike around the summit area for more breath-taking views.
Return to the hotel for breakfast before continue this journey to the first ring of West Sea Grand Canyon. Silver granite topped with twisted pines, chirping of bird echoing the valley. It will serve you an other-worldly view as you hike along the path. Sometimes, if the weather is humid, idyllic pools of mist will settle over the mountain, filling the canyon with fog. If there is enough time, you can continue the journey down to the bottom of the canyon, take the rail cable car from Paiyun Cable Station to Tian Hai Station. If this is the case, it will take about 3 hours and longer. Then, descent the mountain by Yungu cable car. On the way, you still can view the spectacular and gravity-defying rocks from another perspective. Driver will transfer you safely to Pig's Inn Bishan, a boutique hotel at Yi County. It is inside a Qing dynasty home masterfully restored by Shanghai artist Li Guoyu. Experience the extravagant villas before recharge yourself for the trip tomorrow.
Meals: Breakfast, Lunch,
Hotels: Pig's Heaven Inn Bishan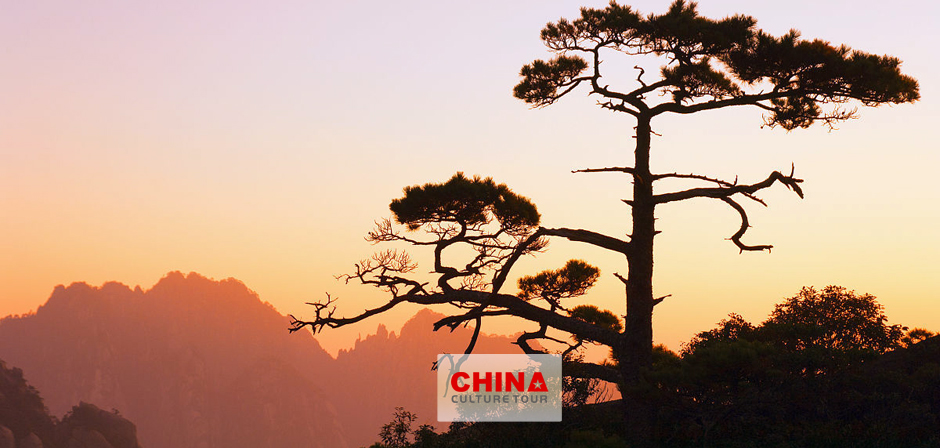 Silhouette of a bizarre pine tree against golden sunset is one of the highlights in Huangshan Scenic Area
Last but not least, we are heading to Hongcun, a UNESCO World Heritage Sites, by private transport on the last day of the journey. Old stone bridges, white-washed ancient buildings and black slate roofs, this once trading town of Tunxi, is ringed by low-lying hills. It can date back to the Song dynasty (around 1131 AD), once home to many wealthy merchants and scholars. Even though it was built in Song dynasty, many of the architectures you will see here are from Ming and Qing dynasty. The lifestyle of locals living here are still in close partnership with nature. Sometimes, you can see many locals washing clothes and vegetables in Yuezhao Lake sets in the centre of the town. Known as the "Village in a Painting" in China, the exquisite Yuezhao Lake with reflection of the buildings around it is a picture you may want to behold. A panorama at Yuezhao Lake would be a lovely perspective. However, to better infuse yourself with the charms of Hongcun, take a stroll through its alleys and lanes. You can experience a moment of tranquillity there in the village. At the same time, you can appreciate Hongcun's ancient buildings as your guide tell you the history and story about Hongcun as well as the structure of the residences there.
At the end of this journey, you will be transferred by our private driver to catch your train or flight to your next destination. Hope this journey is engraved in your memory.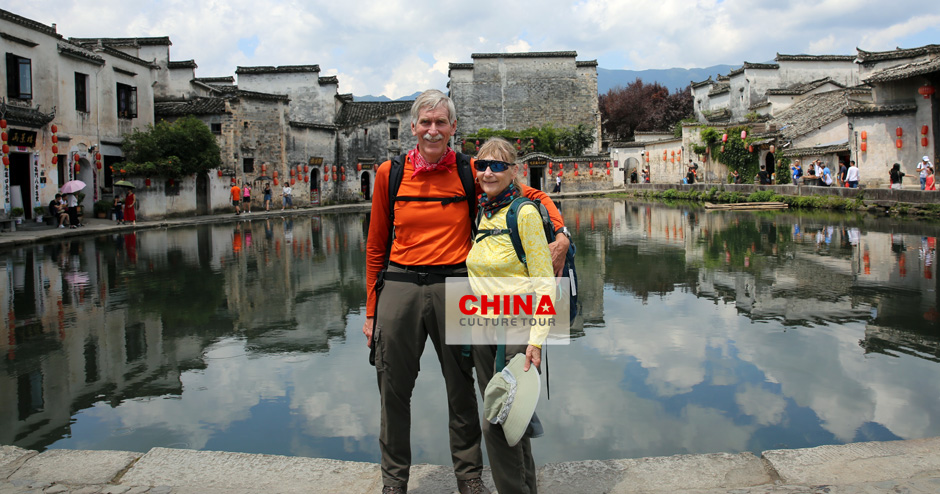 Yuezhao Lake in Hongcun Village
Price Includes
In-country transportationas noted in the itinerary.
Admission fees and activity expenses as noted in the itinerary.
Luxury or boutique hotels centrally located.
Meals in local restaurants as noted in the itinerary with complimentary drinking water.
Your own English-speaking guide service.
Your own chauffeur and vehicle service.
Price Excludes
International transportation.
Chinese tourist visa. (which enquired for most foreign passport holders)
Travel and medical insurance.
Meals, snacks, alcohol, etc. apart from those included in the itinerary.
Excess baggage charges.
Personal expenses.
Sights, excursions and activities not included in the itinerary.
Gratuities to guide and driver.
ANY QUESTIONS?
This tour is tailor-made and we can tailor to meet your reqeusts. Your personal travel consultant will contact you within 24 working hours!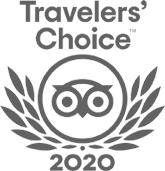 FABULOUS TOUR COMPANY
CHINA OCTOBER - NOVEMBER 2019 We researched several companies and studied reviews on Trip Adviser before contacting who did a very China Culture Tour with an initial query. Right from the outset Grace who owns the company was excellent. She emailed detailed with pictures information and a suggested…read more details
Karen from US
Ready to Create a Unique Dream Travel?