15 Days Beijing Zhangjiajie Xian Guilin Shanghai Romantic Tour for Couples
Planning a romantic tour of China? We craft this magical and all-in vacation for your China honeymoon or romantic getaway. Throughout China, you will experience the best culture, history and natural beauty this mysterious oriental country has to offer. Also you will find tranquility, luxury and romance at our perfect hideaways. The itinerary is laid back, but also with a slash of adventure – helicopter ride over the Great Wall, challenging the world's highest and longest glass bridge, cliffside walkways…
Trip Highlights
Discover the brilliant culture and art of ancient China
Ride a helicopter flying over the Great Wall
Experience the charm of Chinese paper-cutting art
Experience the thrills of walking on Zhangjiajie Glass Bridge
Ride a cool sidecar to explore both the traditional and futuristic Shanghai
Customizable Tour Itinerary
Be met and greeted by your China Culture Tour private guide and chauffeur at Beijing Capital International Airport. Transfer to your hotel in downtown Beijing, with a good location close to the shopping streets, restaurants and famous sites. Spend the rest of the day at leisure. And perhaps enjoy yourselves a romantic dinner.
Hotels: Beijing Fairmont Hotel, Grand Hyatt Beijing, Beijing Aman Summer Palace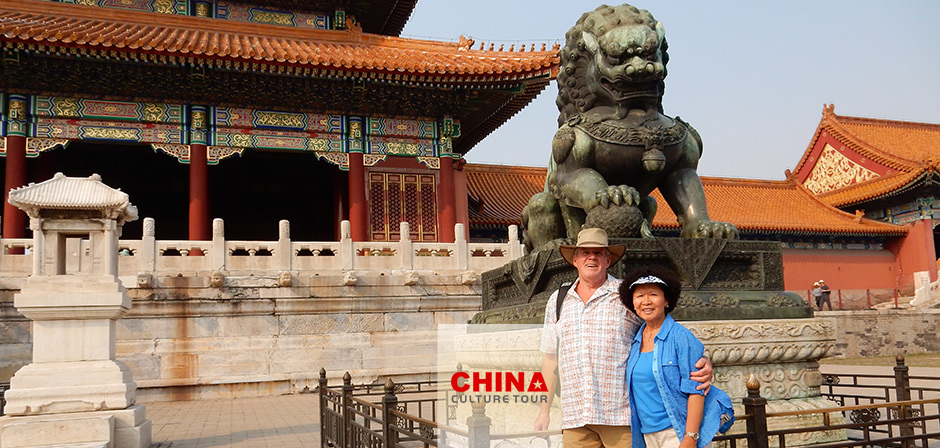 Forbidden City
The 3000-year-old Beijing is shrouded with an exotic romantic atmosphere. Cross Tiananmen Square, you travel through time to visit Forbidden City - the royal palace of ancient China that retains the imperial holiness and dignity. Witness the wonderful displays of art treasures and listen to the legendary stories that happened in Forbidden City.
Summer Palace is the most sophisticated royal garden of ancient China, built based on the superb traditional garden art and beautiful natural environment. The main structure of the palace was built against Wanshou Hill, which is so grand and solemn. Take a royal cruise on Kunming Lake to overlook the palace and the distant picturesque Yuquan Hill.
Are you always interested in Chinese martial arts? Invite him/her to watch a fantastic Shaolin Kung Fu show tonight (optional).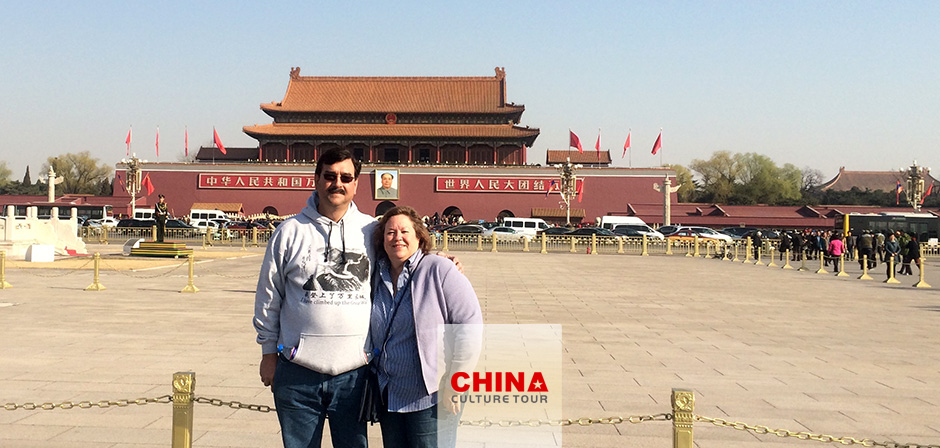 Tian'anmen Square
As long as 21,196km (13171mi), the Great Wall of China is the greatest ancient military defense project in human history's civilization. Take a helicopter flying over the mountains where the seemingly endless Great Wall (Mutianyu or Badaling Section) stretches over looking like a huge dragon. It is definitely a cool yet also romantic experience.
Later experience a snapshot of local Beijinger's life and discover the Old Beijing on a rickshaw hutong tour. And visit a traditional quadrangle courtyard, where you see and learn the amazing skills of paper-cutting – cutting out Chinese characters of "I Love You", the "double happiness" - symbolizing the happiness between the couples, or something else.
Enjoy a special, romantic dinner - dinning on Beijing Roasted Duck (optional).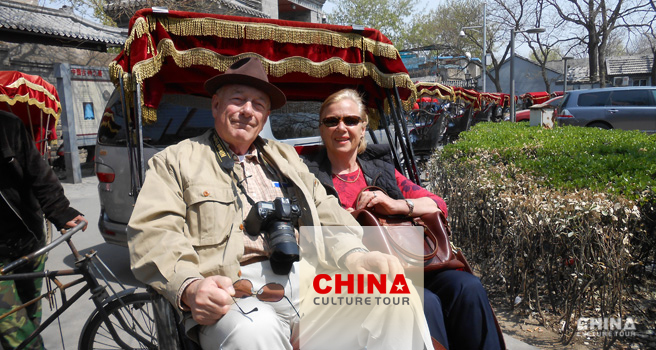 Hutong rickshaw
Temple of Heaven is an ancient architectural masterpiece of unique design and a sacred site built by Ming and Qing emperors to communicate with the gods. By taking a Taichi class in front of Temple of Heaven, following a master to practice Taichi moves, you experience the magic of Chinese Kung Fu.
Fly from Beijing to Zhangjiajie, a hidden paradise for mountain lovers and popular with couples seeking for thrills.
Meals: Breakfast, Lunch,
Hotels: Western Grand Hotel Zhangjiajie, Zhangjiajie Pullman Hotel, Sunshine Plaza Hotel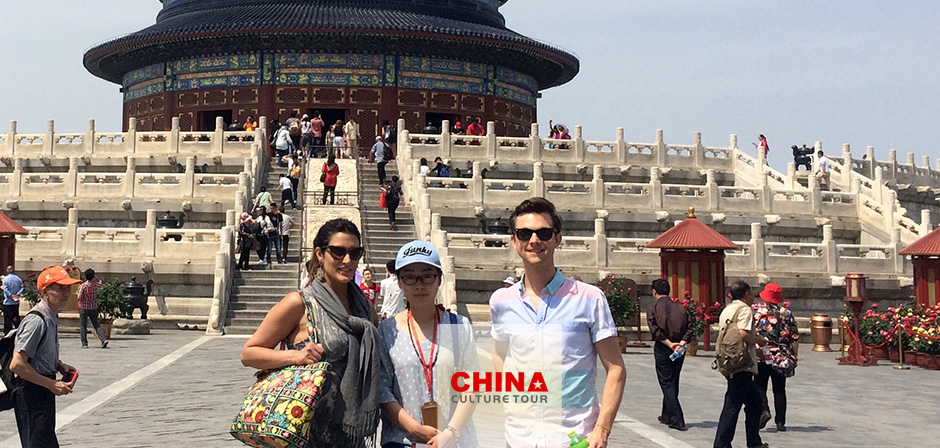 Temple of Heaven
Few places in China compete with Zhangajiajie in terms of mountain views. No wonder many scenes of the movie Avatar was inspired by its mountainscape. Begin your ZJJ National Forest Park adventure.
Take Bailong Elevator, world's highest outdoor elevator, to rise for 326m in 66 seconds and get to Yuanjiajie Scenic Area. See the "floating Hallelujah Mountains" in Avatar with your own eyes, which is the most stunning one of Zhangjiajie's three thousand peaks. And admire the "World's No.1 Bridge". With a height of more than 300 meters, it is the highest natural stone bridge ever found in the world.
Then take in the countless peculiar quartz sandstone peaks of Tianzi Mountain, literally Son of Heaven Mountain.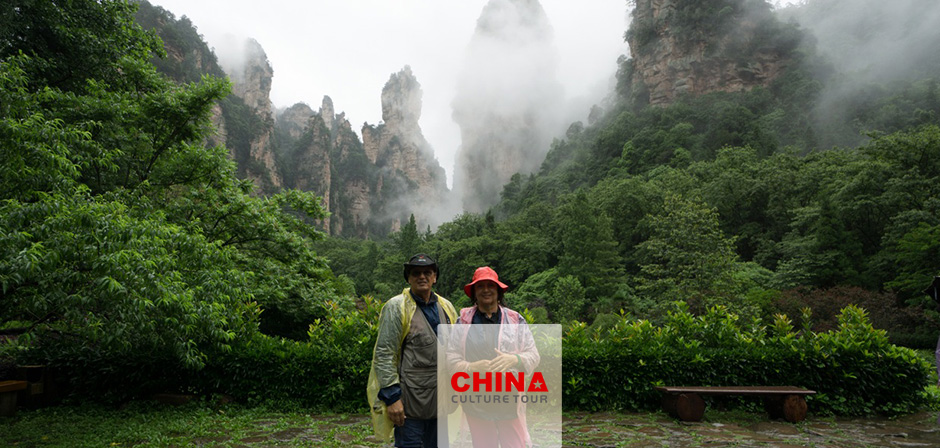 Zhangjiajie
Today walk hand-in-hand through the terrifying Zhangjiajie Glass Bridge. With a length of 488m and a drop of 300m, it is the longest and highest glass bridge in the world. Experience the thrill of skywalk, an unforgettable time of your life, and also enjoy a hike along the streams and mountain paths in Zhangjiajie Grand Canyon.
Later take a relaxing boat cruise through the emerald Baofeng Lake, nestled in mountains. It is quite like a secret tranquil fairyland – a natural place for romantics.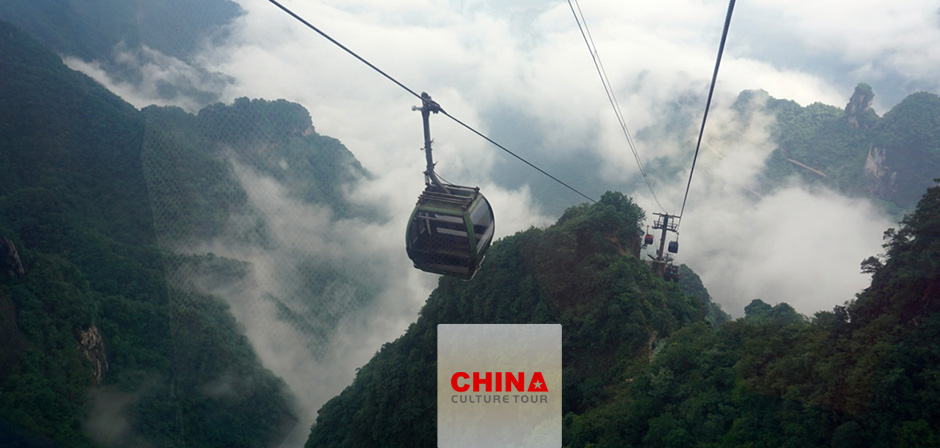 Tianzi Mountain cableway
Tianmen Mountain is another highlight in Zhangjiajie, with many natural splendors and artificial marvels. Ascend the mountain top by taking world's longest cableway. Overlook the 99-bend mountain road, walk the Guigu Plank Road with a section of glass skywalk, visit the mountaintop temples and make your way to the Thanmen Cave – to the stairway to the heaven.
Fly from Zhangjiajie to Xian, where many legendary historical sites await.
Meals: Breakfast, Lunch,
Hotels: Sofitel Legend Peoples Grand Hotel Xian, Wyndham Grand Xian South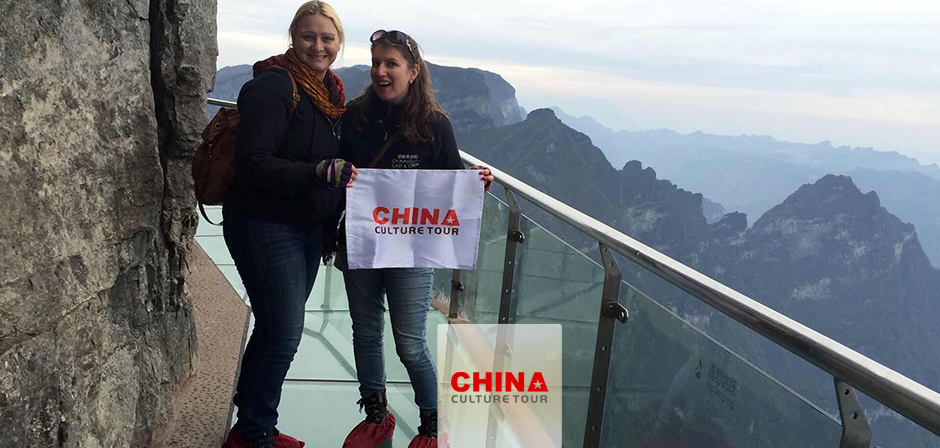 Tianmen Mountain Skywalk
Dream of exploring the ancient tombs around the world with your love? Well then the imposing tomb of Emperor Qinshihuang's Terracotta Army is must-visit in China. Stand in awe before this great army that consist of thousands of armed soldiers, and learn from your expert guide about its legendary history dating back to more than 2000 years ago.
Visit the Big Wild Goose Pagoda, Xian's iconic structure, to admire one of China's first Buddhist pagodas and get to know the history of the great Silk Road that connected Chang'an (ancient name of Xian) and West Asia and even Mediterranean countries.
Tonight, watch the Tang Dynasty Music and Dance Show, indulging in the joys of Chinese classical music and dance (optional).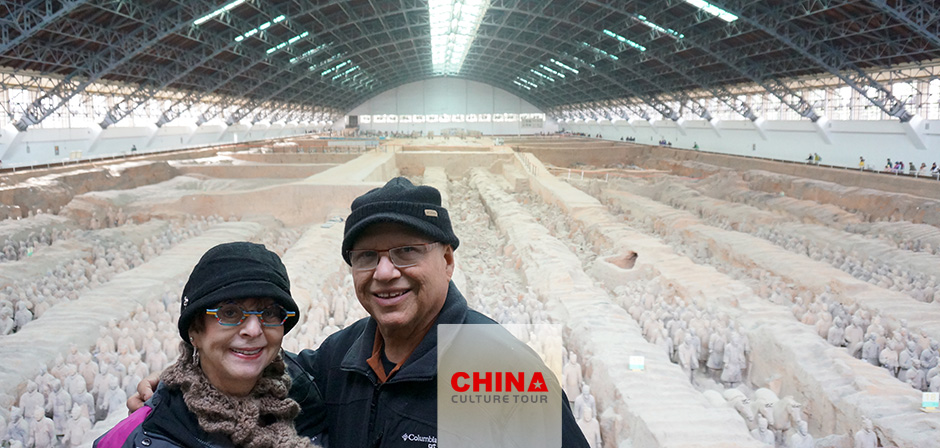 Terracotta Warriors Museum
It will be an active and romantic experience for couples to ride a bike through Xian's Old City Wall. The 13.74-km-long and 12-m-high wall encloses the old city center and connects with the modern Xian. Immerse yourselves in the incredible ambience and charm of Xian.
Then take an interesting foodie trip to the Muslim Quarter - the most popular food street in Xian. See various gastronomic scenes – people hand-pulling noodles, making Chinese hamburger, frying tofu… Later visit a local family and learn from the hosts to make dumplings (or make noodles), which is a traditional food in Northern China.
Fly from Xian to Guilin, the most romantic places in China for couples.
Meals: Breakfast, Lunch,
Hotels: Jolie Vue Boutique Hotel Guilin, Sheraton Guilin, Guilin Shangri La Hotel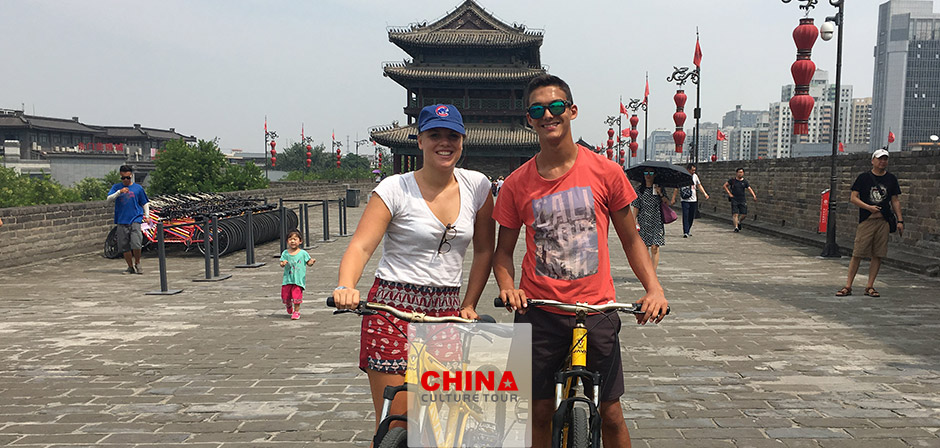 Xi'an Ancient City Wall biking
Escape to the Longji Rice Terraces to breathe the fresh air and take in the immensity of terraced fields, which will be irrigated with water in spring, green in early summer, and of golden color in autumn. Also see the local villages working at the farms, transplanting rice seedlings, ploughing, harvesting… Life here is busy yet beautiful.
Experience the traditional way of living of Chinese mountain tribes by visiting the families of Longji Ancient Zhuang Village. The wooden stilted houses are built on the hallway of mountain surrounded by terraced fields. The people are friendly and retain their own language, dressing, dining etiquette and customs.
Drive back to Guilin.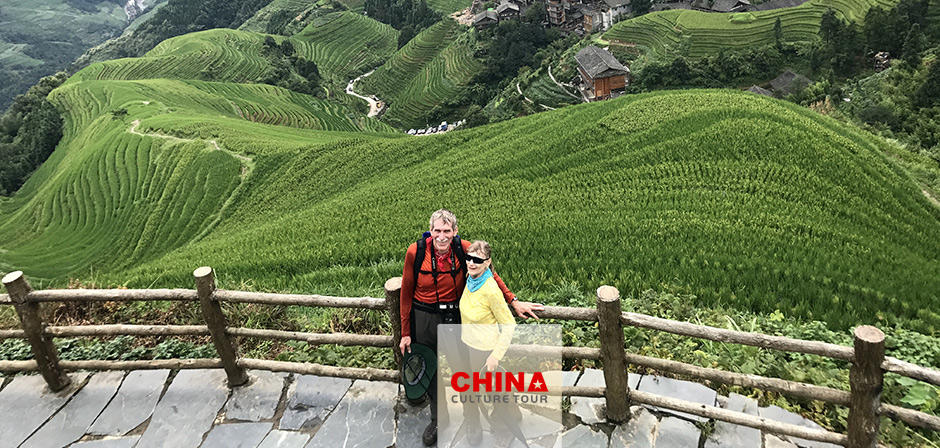 Longji rice terraces
Cruise is always part of a romantic trip. Take a cruise on Li River from Guilin to Yangshuo rewards you with surreal landscape. As your ship floats down the silky streams, passing by dramatic, ever-changing karst peaks, you've slide into a fairyland that you can't find anywhere else on earth.
Go ashore and take a stroll through West Street, the bustling center of Yangshuo town. You may experience the romantic nightlife here at a bar or a café.
The breathtaking natural beauty of Guilin and Yangshuo have always been inspiring painters to create masterpieces of Chinese landscape paintings. And this afternoon, you will create your own brush painting works at a private class, based on what your see, the skills you learn and your inspiration.
Tonight, watch the incredible Impression Liu Sanjie night show (optional).
Meals: Breakfast, Lunch,
Hotels: Alila Yangshuo, Yangshuo Banyan Tree Hotel, Yangshuo Mountain Retreat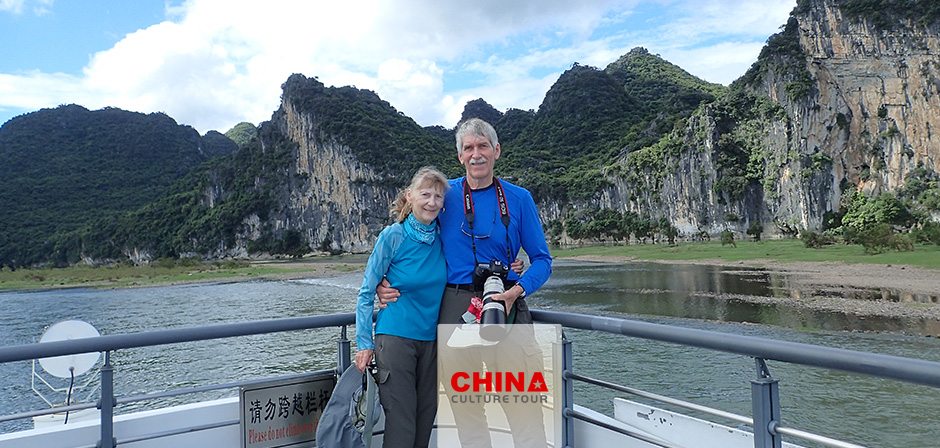 Li River cruise
This morning, enjoy a sweet time to cook Chinese foods together. Chinese cuisine is world famous for its coloring match, appetizing smelling and delicious taste. A private cooking class allows you to learn authentic Chinese cuisine and cook for him/her a special dish, for instance, as beer fish.
Move your feet on two wheels and bike through Yangshuo's idyllic countryside. The paths lead to orchards, rural farmlands, rivers, karst peaks and tranquil villages. You can stop anywhere and take interesting or kissing photos. If the weather is good, you may also take a bamboo raft down Yulong River to relax and unwind.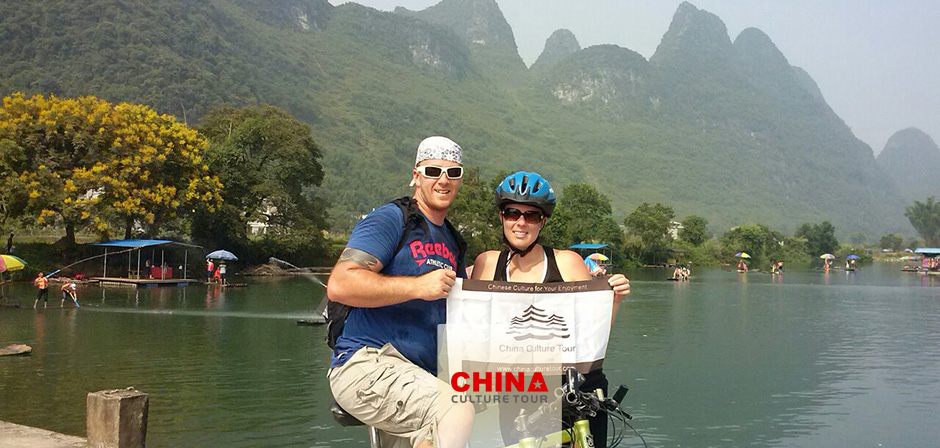 Yangshuo countryside biking
Reed Flute Cave is located at a halfway of a hill in the west suburb of Guilin and filled with various shapes of stalactites and stalagmites that are illuminated by colored lights. You may find "animals", "waterfalls", "towering pillars", "skyscrapers"…
After the visit of Reed Flute Cave, spend about 20 to 30 minutes climbing up Folded Brocade Hill, where you can take a panoramic view of Guilin - Li River wind its way through the city center. In this classic site, you can take photos of memorial significance.
Fly from Guilin to Shanghai.
Meals: Breakfast, Lunch,
Hotels: Four Seasons Hotel Pudong Shanghai, Grand Hyatt Shanghai, Grand Central Hotel Shanghai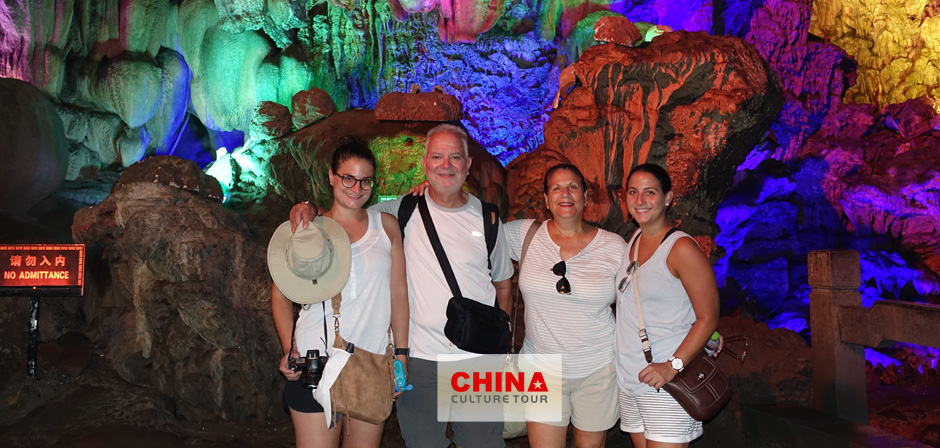 Reed Flute Cave
Enjoy a leisure walk in the heart of traditional Shanghai – the Town God Temple area, where you visit Yu Garden, Shanghai's finest traditional garden, and the bustling food streets, where various steamed bun, dim sum, pancakes, candies, traditional noodles… are worth a taste.
Do you want to experience the old times of Shanghai's? Ride a vintage sidecar with him/her to discover the historic charm and stories of the Bund. And ride through the ornately decorated skyscrapers to the old secret streets to glimpse into Shanghainese's traditional life. 
Later, get in M50 Creative Park, a local base of modern art. Admire the inspiring works of art and savor the cultural atmosphere. Also you may relax at the stylish cafés or bars. 
Tonight enjoy the absolutely fabulous acrobatics show (optional).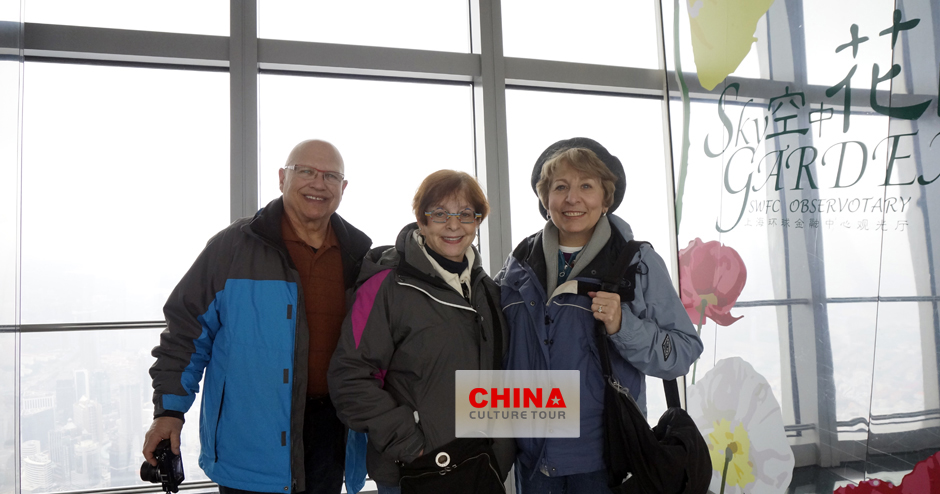 Shanghai World Financial Center
It is the end of your 15 days romantic China vacation itinerary. Hopefully it turns to be an important chapter of your romance epic. Be transferred to Shanghai Pudong International Airport and fly home. China Culture Tour service ends.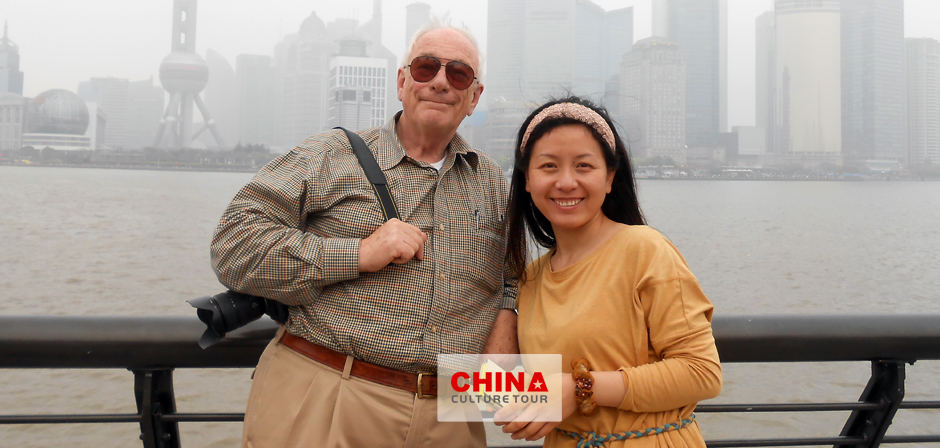 Shanghai Pudong area
Price Includes
In-country transportationas noted in the itinerary.
Admission fees and activity expenses as noted in the itinerary.
Luxury or boutique hotels centrally located.
Meals in local restaurants as noted in the itinerary with complimentary drinking water.
Your own English-speaking guide service.
Your own chauffeur and vehicle service.
Price Excludes
International transportation.
Chinese tourist visa. (which enquired for most foreign passport holders)
Travel and medical insurance.
Meals, snacks, alcohol, etc. apart from those included in the itinerary.
Excess baggage charges.
Personal expenses.
Sights, excursions and activities not included in the itinerary.
Gratuities to guide and driver.
ANY QUESTIONS?
This tour is tailor-made and we can tailor to meet your reqeusts. Your personal travel consultant will contact you within 24 working hours!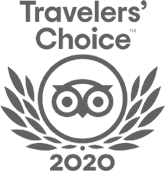 FABULOUS TOUR COMPANY
CHINA OCTOBER - NOVEMBER 2019 We researched several companies and studied reviews on Trip Adviser before contacting who did a very China Culture Tour with an initial query. Right from the outset Grace who owns the company was excellent. She emailed detailed with pictures information and a suggested…read more details
Karen from US
Ready to Create a Unique Dream Travel?