14 Days Chinese Kunf Fu: Beijing Luoyang Xian Guilin and Shanghai
Where the ancient past meets the new future, and the tradition blends the modernity, China offers the world's richest cultural history and the oldest civilization, and is an idea destination for families with children. With 14 days luxurious family itinerary of China, you'll explore Beijing and Xian with site visits of wonders of the ancient world. Learn authentic martial arts in its birthplace. Escape to the fresh countryside air of Guilin, where the beautiful nature awaits, before heading to Shanghai to view the futuristic China.
Trip Highlights
Enjoying the fun cableway and toboggan rides with your kids
Learn traditional Chinese art with children-friendly cultural activities & classes
Follow the accomplished monk masters to practice the real Kung Fu
Witness the river and mountainous beauty of Karst landscape
Customizable Tour Itinerary
Nihao, welcome to China! Be met and welcomed by your private guide and driver at the Beijing Capital International Airport and transferred to your hotel in downtown area. Your guide will help you with hotel check-in procedures. Relax at hotel to get refreshed and your wonderful family journey in China gets started!
Hotels: Beijing Aman Summer Palace, Beijing Double Happiness Courtyard Hotel, Beijing Fairmont Hotel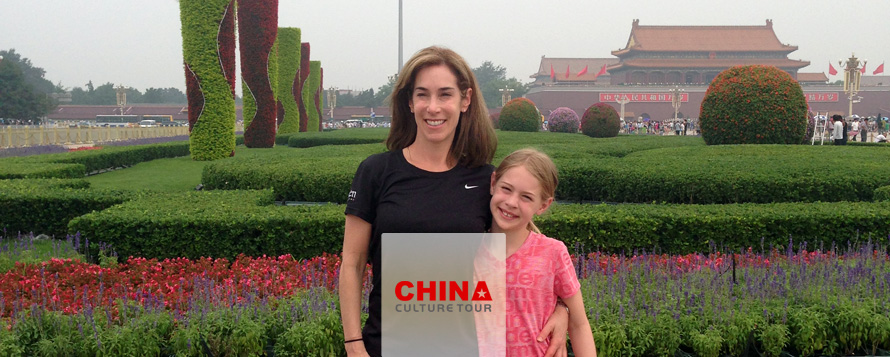 Tian'anmen Square
Walking Tiananmen Square is like traveling through time. Here, in world's biggest city square, China experienced great changes in history and began its new era since 1949. It also connects Forbidden City that allows you to travel back to the past between the 15th and 19th Century.
Learn China's ancient imperial history when touring Forbidden City. Here the world's best-kept ancient wooden royal palace complex was home to 24 emperors and their concubines, and is now converted to a big, bewitching ancient Chinese culture and art museum, named Palace Museum, with numerous precious collections and relics.
Take a hutong tour to witness the traditional lifestyle of Beijing that continues in the quaint quadrangle dwellings. Here you can learn from the local artists on how to draw a Beijing Opera mask, really interesting for the kids.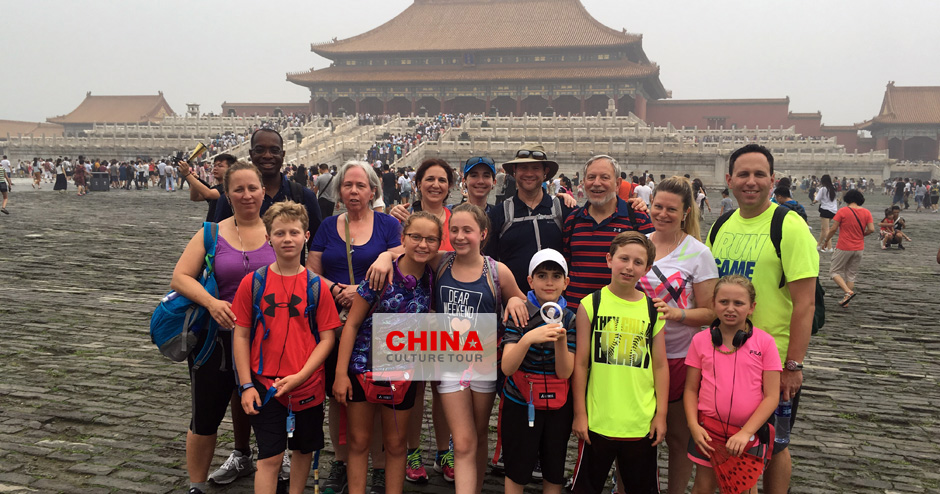 Forbidden City
This morning, visit Tiantan Park, where the Temple of Heaven is located. It was a royal sacrificial altar for the emperors, sons of heaven, to pray for the rain during the dry season and a harvest year. The buildings are pieces of exquisite architectural art, with ingenious design. A Taiji boxing lesson for beginners is arranged for your family to discover the magic of Chinese Kung Fu.
This afternoon, take cable car up and set your foot on the Mutianyu Great Wall, the greatest ancient artificial building in human history was built on the mountaintops and extends to the horizon. See its worn-out beacons and walls, and learn its function as a fortification in ancient times. Slide down the Great Wall with a fun and exciting toboggan ride.
Feast on Peking duck for dinner, the most famous food in Beijing (optional).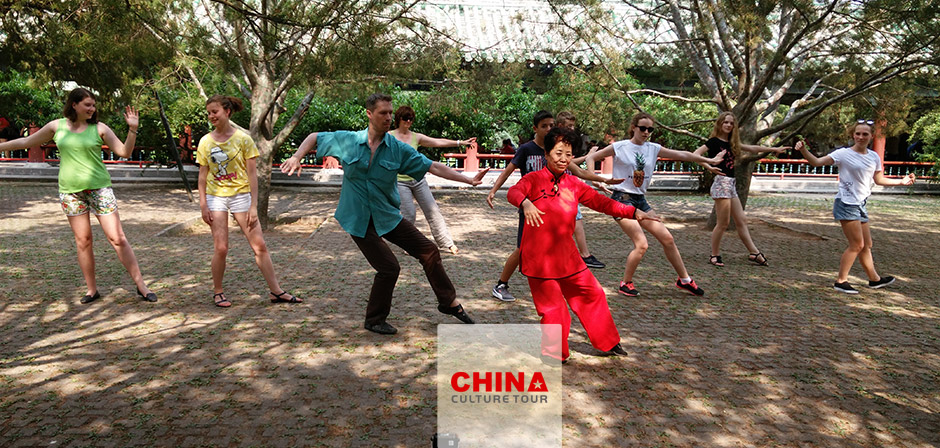 Private Tai Chi lesson
Admire China's best classical garden – the Summer Palace. As an imperial garden of Qing Dynasty, it blends the royal dignity with the delicate and graceful design of garden. A boat cruise on Kunming Lake inside Summer Palace is sure to relax you and the children, and allows you to view Summer Palace from another angle.
Enjoy a high speed train journey, which is fast, convenient and comfortable, to get to Luoyang. Luoyang was one of the four great capitals of ancient China.
Meals: Breakfast, Lunch,
Hotels: Holiday Inn Express Luoyang City Center, Hyatt Place Luoyang, New Friendship Hotel Luoyang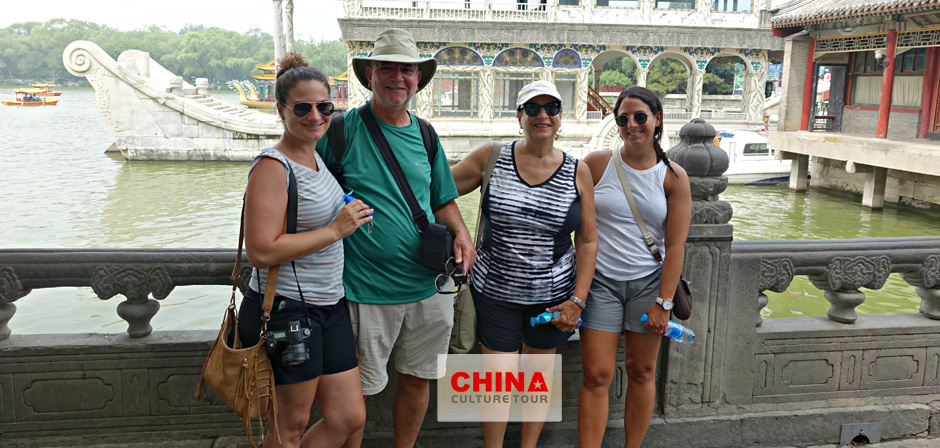 Summer Palace
Today you will tour Shaolin Temple in Dengfeng City, about 1.5 hours' drive from Luoyang. This ancient shrine has been famous for its Buddhist history, Zen culture and being the cradle of Chinese martial arts. Visit the Pagoda Forest of Shaolin Temple. They are the tombs of Shaolin eminent monks from different historical periods.
Then watch an amazing show of Shaolin Kung Fu that will leave your family dumbfounded for sure. And you will then learn from a monk master the basic skills of Shaolin Kung Fu, definitely an interesting and beneficial class.
Drive back to Luoyang.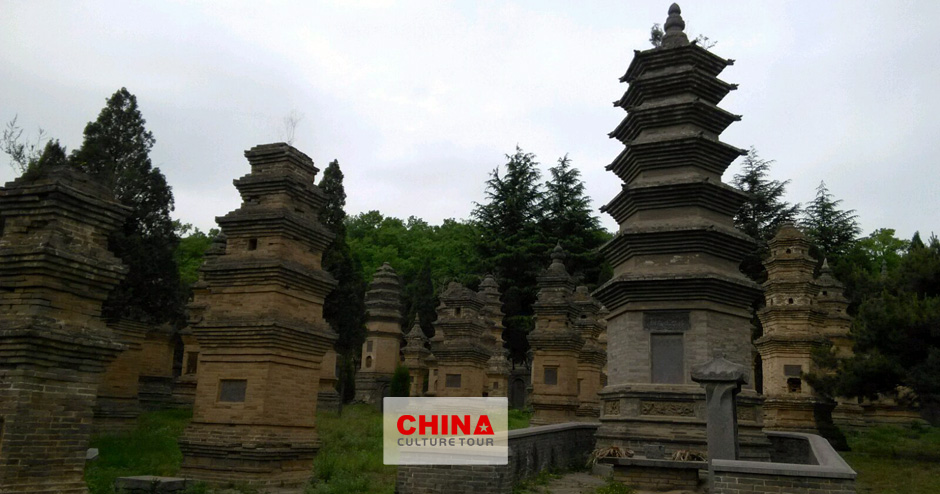 Pagoda Forest at Shaolin Temple
Visit China's earliest Buddhist temple – White Horse Temple, with a history of over 1900 years. Most of the extant Buddha statues and cultural relics are dating to Yuan Dynasty. Then admire Chinese rock carving art achievement at Longmen Grottoes that was continually constructed from the 5th Century to early 10th Century. Today, you can still discover 2,345 grottoes, more than 100,000 statues and 2,800 inscriptions inside Longmen Grottoes.
Take bullet train from Luoyang to Xian.
Meals: Breakfast, Lunch,
Hotels: Sofitel Legend Peoples Grand Hotel Xian, Wyndham Grand Xian South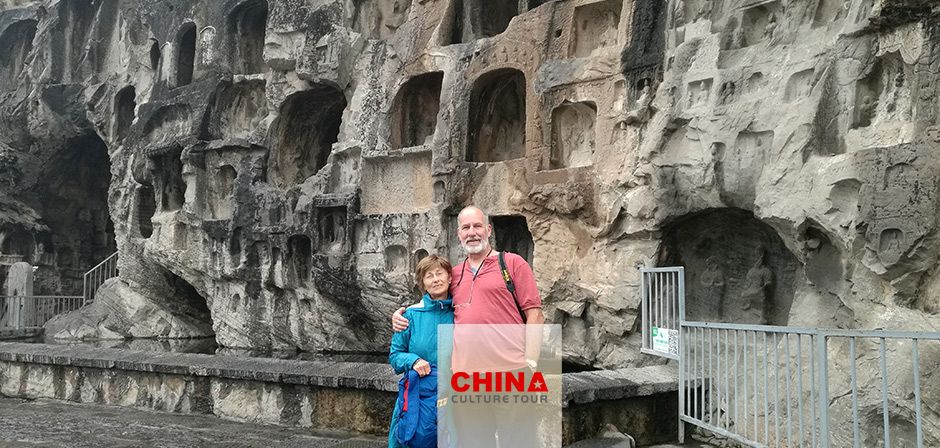 Longmen Grottoes
Today, you are going to visit one of world's most legendary ancient tombs – the tomb of Terracotta Army - nothing horrible but magnificent, impressive and interesting. You will meet thousands of life-sized Terracotta warriors, along with their horses and chariots. The entire army was built over 2000 years ago to protect Emperor Qinshihuang in his afterlife.
You may feel that you have crossed the time to return to the 3rd century BC of ancient China's Qin Dynasty. And then at a traditional dwelling house, you exercise your hands to make a mini terracotta warrior yourself. The entire making process keeps the children focused, and finally then they get themselves the unique Chinese souvenir.
Biking on the Old City Wall of Xian – the longest and most massive of its kind in China – is a very special experience and a fun activity in the outdoors. Bike through the ancient gate towers and view Xian's modern urban landscape.
Important notes: the family-friendly activities in Xian including mini terracotta warrior making and City Wall biking are not available in winter.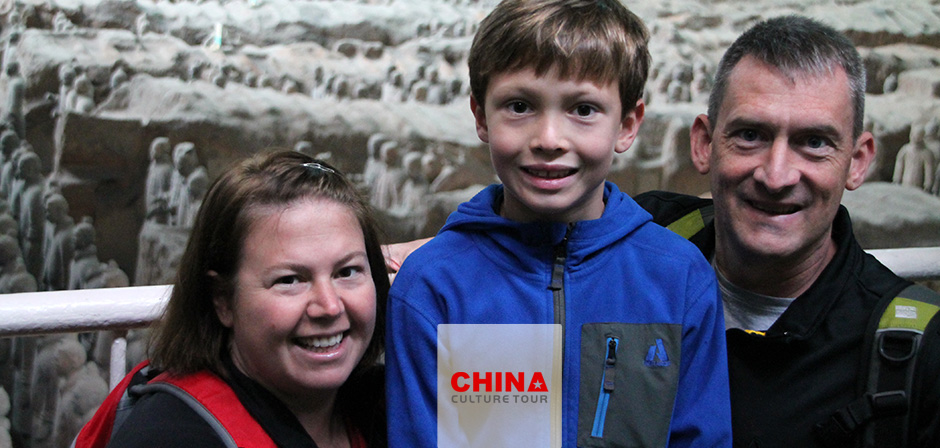 Terracotta Warriors Museum
Enjoy a relaxing and refreshed morning walking around the Muslim Quarter. Here you will be dazzled by all kinds of street foods and snacks, and see how Chinese Han people and Muslim Hui people live together peacefully. Enjoy the happy and harmonious atmosphere.
Then visit the scenic area of Small Wild Goose Pagoda, an 8th-century Buddhist architecture heritage. Enjoy watching the Shadow Play and Puppet Shows, two valuable intangible culture heritages of China and very interesting art shows that always amuse its audience, especially the children. (The shows are not available on every Tuesday or in winter, when we'll arrange you another similar show in Gao Grand Courtyard).
Want to experience the typical Chinese family life? Go visit a local family and join the friendly hosts to make dumplings, the most popular Chinese food. With the willful imagination, the kids can make various shapes of dumplings.
Fly from Xian to Guilin.
Meals: Breakfast, Lunch,
Hotels: Guilin Shangri La Hotel, Jolie Vue Boutique Hotel Guilin, Sheraton Guilin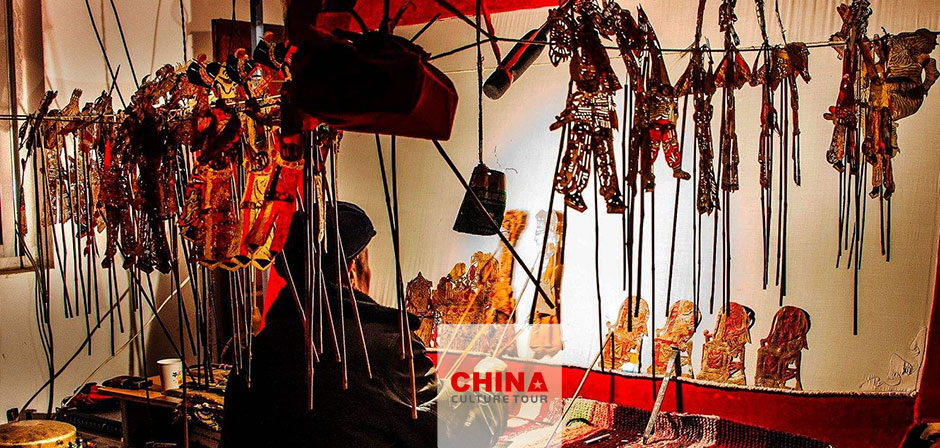 Chinese shadow puppet show
Head for Longji Rice Terraces that stretch over the mountain slops creating an extraordinary sight. Hike up to get to the viewing platform and enjoy the best views. See local villagers working on the terraced farms - this is how Chinse farmers cherish and make full use of the blessed lands.
Also visit the Longji Ancient Zhuang Village, a traditional hamlet nestled in the terraced fields and inhabited by Zhuang tribes for hundreds of years. Appreciate their wooden stilted houses and see people dressed in traditional clothes.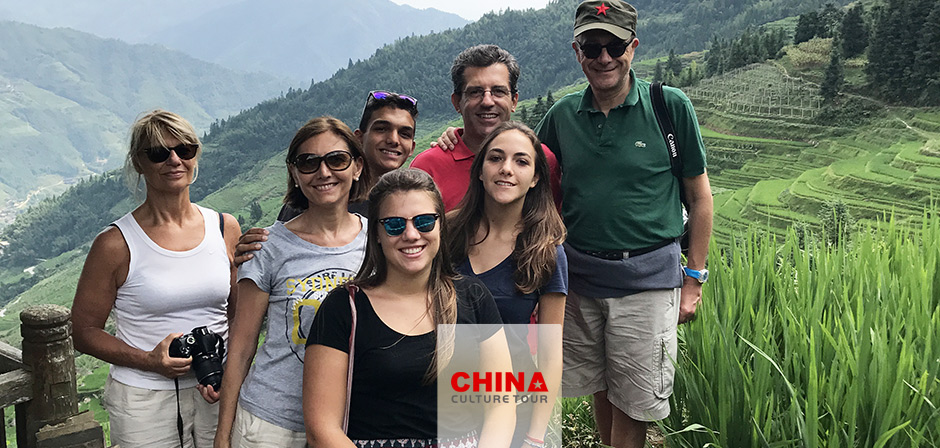 Longji Rice Terraces Day Tour
Today, cruise Li River to view the dramatic Karst scenery. This is the best section of Li River, surrounded with picturesque scenery that has inspired numerous painters and poets to create artist works ever since the ancient times. You and your kids can try to figure out what the limestone peaks on the shore look like, maybe a "horse" or "fingers".  
Join the locals to walk through the West Street, the town center of Yangshuo from the past till the date. It is especially favored by international travelers, thus named "Foreigners' Street".
In the afternoon, take a Chinese fan-painting class in Fuli Ancient Town. This old quaint town is serene and beautiful with a history of over 1000 years, and famous for its art traditions of painting. Your family will learn from a teacher to paint on a fan, with the inspiration of the local landscape.
Enjoy Impression Liu Sanjie night show (optional).
Meals: Breakfast, Lunch,
Hotels: Alila Yangshuo, Yangshuo Banyan Tree Hotel, Yangshuo Mountain Retreat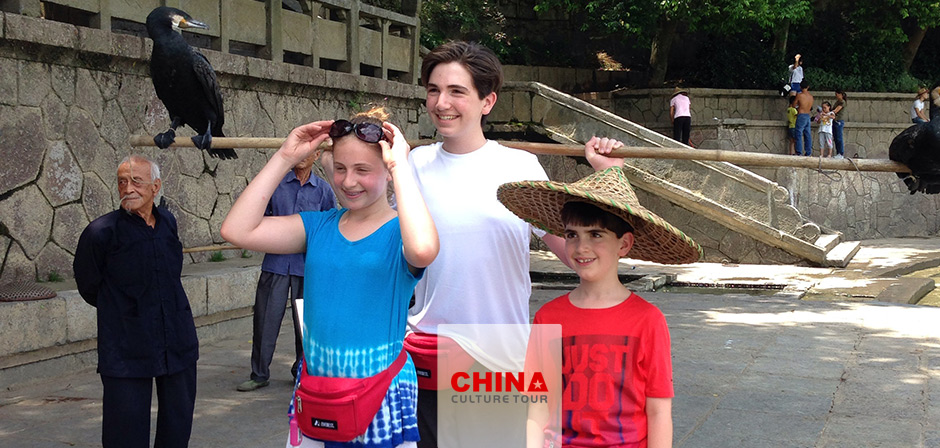 Taking photo with cormerants in Yangshuo
Explore Yangshuo Countryside by bike. Flee away from the tourists and crowds and get close to the nature. It is a pastoral world of traditional villages, liquid rivers, endless farmlands, flower fields, limestone hills… You can experience a relaxing, worry-free life here.
Wave goodbye to China's countryside life and fly from Guilin to Shanghai.
Meals: Breakfast, Lunch,
Hotels: Four Seasons Hotel Pudong Shanghai, Grand Central Hotel Shanghai, Grand Hyatt Shanghai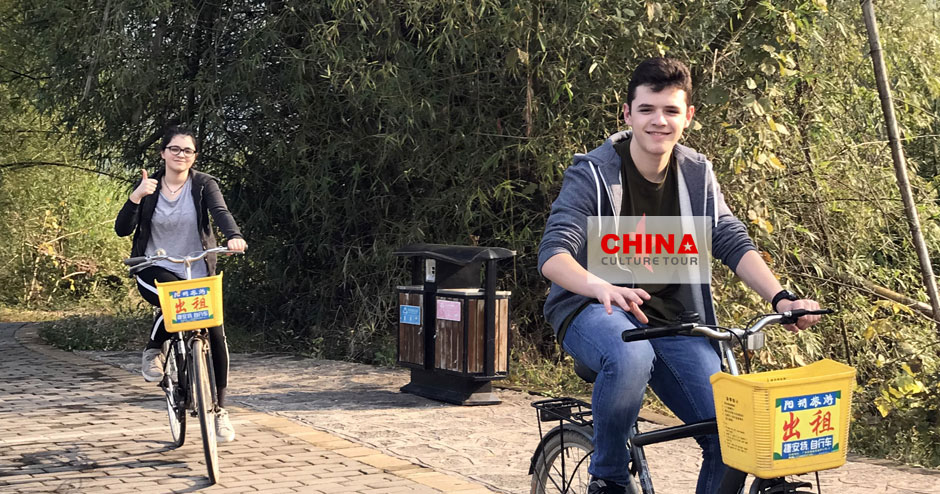 Yangshuo countryside biking
Experience Shanghai's traditional vibe and cultural essence when rambling the Yuyuan Market District. Visit Yu Garden, a traditional Chinese garden with outstanding design and refined layout. Walk through the Yuyuan zig zag bridge and see a shoal of lovely golden fish on the pond. Then discover rows of beautiful old buildings with a wide spectrum of local specialty shops on Shanghai's old streets.
Thereafter, learn Shanghai's modern history on the Bund, where there are over 50 colonial buildings of different classical Western architectural styles that have become important historical sites of modern China. Across Huangpu River lie Shanghai's skyscrapers, including Shanghai Tower. You will ascend Shanghai Tower by world's fastest elevator and reach world's highest observation deck, for incredible views.
Later feel amazed at the artistic world of M50 Creative Park, where there are various bold, peculiar and bizarre contraptions created by artists around the world.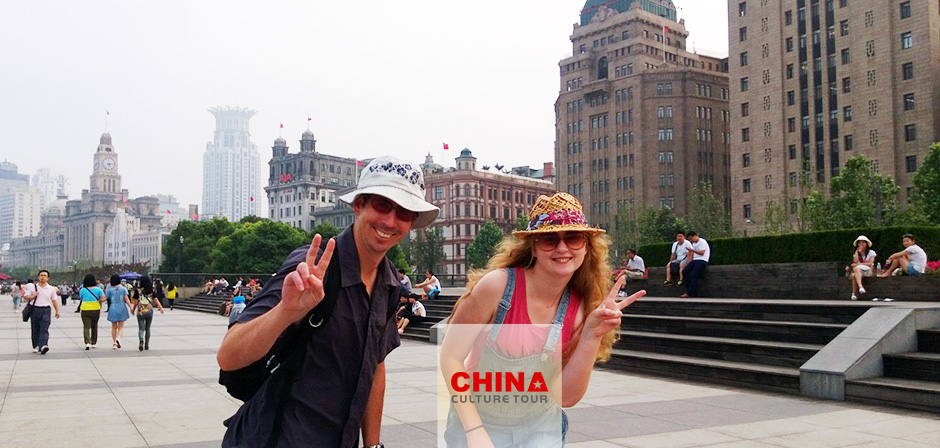 The Bund, Shanghai
Soak up the traditional culture of Nanxun Water Town. Take a boat cruising the town and see ancient l dwellings of black roof-tiles and white walls ranged neatly and elegantly on both sides of the river. Visit Mansion of One Hundred Rooms (Baijian Lou), the highlight attraction, and learn about local folklores and history of Nanxun.
Enjoy the best Shanghai acrobatics show at night (optional).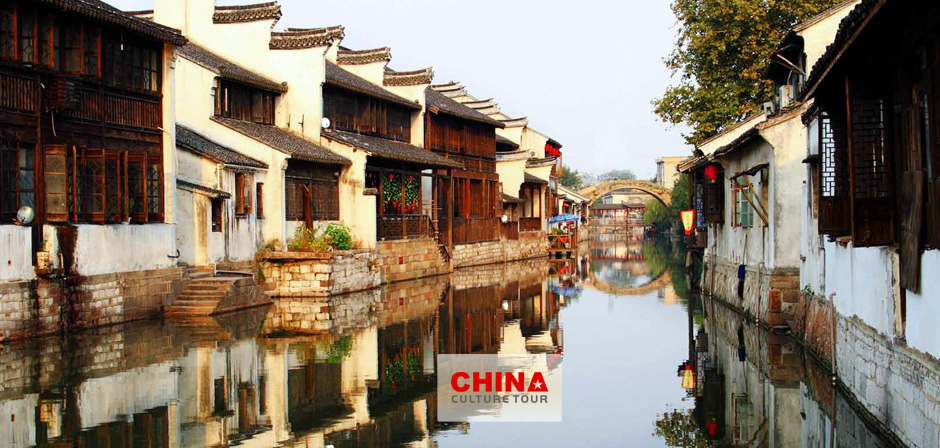 Nanxun Water Town
Relax at hotel, until your guide and driver come and pick you up, and transfer you to Shanghai Pudong International Airport for your flight back home. It is the end of your 14 days China family tour.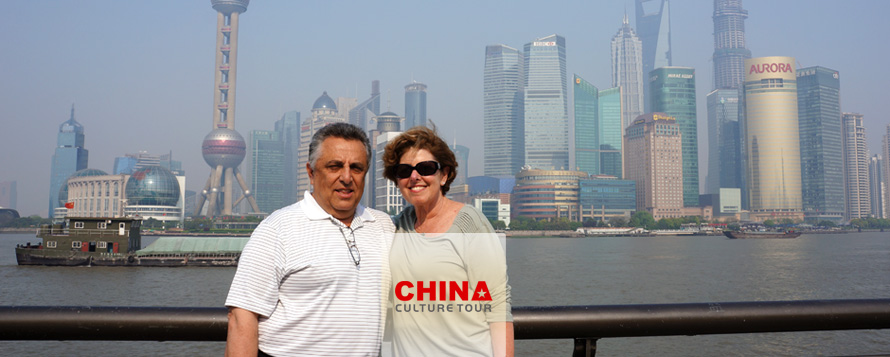 Shanghai Pudong area
Price Includes
In-country transportationas noted in the itinerary.
Admission fees and activity expenses as noted in the itinerary.
Luxury or boutique hotels centrally located.
Meals in local restaurants as noted in the itinerary with complimentary drinking water.
Your own English-speaking guide service.
Your own chauffeur and vehicle service.
Price Excludes
International transportation.
Chinese tourist visa. (which enquired for most foreign passport holders)
Travel and medical insurance.
Meals, snacks, alcohol, etc. apart from those included in the itinerary.
Excess baggage charges.
Personal expenses.
Sights, excursions and activities not included in the itinerary.
Gratuities to guide and driver.
ANY QUESTIONS?
This tour is tailor-made and we can tailor to meet your reqeusts. Your personal travel consultant will contact you within 24 working hours!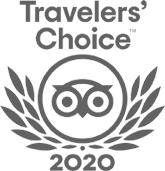 FABULOUS TOUR COMPANY
CHINA OCTOBER - NOVEMBER 2019 We researched several companies and studied reviews on Trip Adviser before contacting who did a very China Culture Tour with an initial query. Right from the outset Grace who owns the company was excellent. She emailed detailed with pictures information and a suggested…read more details
Karen from US
Ready to Create a Unique Dream Travel?