Sichuan Cuisine Museum
Sichuan Cuisine Museum is located in the ancient town of Pidu District, 33 kilometers northwest of Chengdu. It was opened on May 18, 2007. It is the only themed museum in the world that displays cuisine culture. With an area of about 40 acres and more than 6,000 collections the museum is divided into collection hall, raw materials hall, Interaction and demonstration hall and Kitchen God hall etc.
What to see
Collection Hall: More than 3,000 pieces of Sichuan food utensils from the Warring States Period (475 - 221 BC) to modern times are exhibited, including: cooking utensils, tableware, tea utensils, wine utensils, drinking utensils, etc. The materials are bronze, tooth bone, pottery, porcelain, iron, wood, bamboo and so on. In addition, the collection also includes text introductions, books and artworks related to Sichuan cuisine.
Raw Materials Hall: More than 200 tanks of exclusive hand-brewed Pixian bean paste are the essence of the raw materials hall. Pixian bean paste is known as the "Soul of Sichuan Cuisine". Visitors will experience the craftsmanship of making Pixian bean paste - flipping, sun-burning and dewing, which has a history of more than 300 years.
Kitchen God Hall: It is the largest ancestral hall in the world to worship the Kitchen King. Worshipping Kitchen God at Kitchen God Hall is a part of Sichuan's traditional folk culture. The Kitchen God is known as the ancestor of the kitchen industry. In folk, the Kitchen God is in charge of 'saying good things to the lord of heaven and safeguarding the mundane'. Visitors will experience the sacrifice ceremony there and try to understand the hard-won of every meal.
Interaction and demonstration Hall: Visitors will put on professional chef clothes and make 3 classic Sichuan dishes by themselves under the guidance of bilingual teacher. During the whole process, visitors are able to experience the knife skills, duration and degree of heating and cooking process in an all-round way. Afterwards, the chief culinary master will comment on the cuisine and teach the authentic way of eating Sichuan cuisine in person. Visitors will enjoy their own works with friends and family. The Sichuan Cuisine Museum provides free drinks, including wine, beer, freshly squeezed fruit and vegetable juice, coffee, mineral water, Gaiwan tea, etc. At the end, visitors will get the recipes of the dishes made on that day; get the certificate of "New Chef" and take a group photo.
In addition, visitors can experience various raw materials processing tools, like using the stone husks of the Qing Dynasty to make chili powder, making hand-made bean curd with stone mill and tasting the spicy or sweet bean curd as well as other Sichuan snacks there.
Half/One day tour suggestion
If there is no suitable tour for you, contact us and create your own Chengdu tour!
How to get to
Bus: Take bus No. 727 from Chengdu Jiulidi bus station to Gucheng bus station and walk for 5 minutes.
Railway: Take Metro Line 2 and get off at Xipu Station, walk across the road and take bus P22, and then walk for 5 minutes.
Useful Info
Admission Ticket: RMB60
Take the cooking class at interaction and demonstration hall: RMB360 (including the admission ticket and the cooking class)
Where: No. 8, Ronghua North Lane, Ancient Town, Pidu District, Pixian County, Chengdu, Sichuan Province
When is it opened: 9:00-18:00
Tel: 028-87918008
Recommended Time: 2 hours. Cooking Class: 3 hours
Recommended Seasons: All year round
Recommended Restaurants Nearby
Zizi Roast Fish (Hongwa branch): Add: No. 200, Hongwa Street, Pitong Town, Pidu District, Chengdu (near Wangcong Middle Road). Tel: 028-86557902
Dezhuang Hot Pot: (Pixian branch): Add: No. 29, Yili Sunshine Street, Pitong Street, Chengdu. Tel: 028-86553388
Recommended Hotels Nearby
Wyndham Grand Plaza Royale Palace Chengdu: Add: No. 1088, Wangcong Middle Road, High-tech West District, Pidu District, Chengdu. Tel: 028-8789 0888
Atour Light: Add: 3rd Floor, Building 3, Phase 4, Henengcheng Center, No. 169 Lianghe West Road, Pidu District, Chengdu. Tel: 028-8173 2999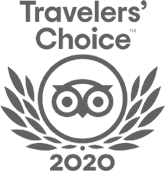 FABULOUS TOUR COMPANY
CHINA OCTOBER - NOVEMBER 2019 We researched several companies and studied reviews on Trip Adviser before contacting who did a very China Culture Tour with an initial query. Right from the outset Grace who owns the company was excellent. She emailed detailed with pictures information and a suggested…read more details
Karen from US
Ready to Create a Unique Dream Travel?