Mount Qingcheng
Mount Qingcheng is located 68 kilometers northwest of Chengdu and 16 kilometers southwest of Dujiangyan Irrigation Project. Mount Qingcheng is one of the birthplaces of Taoism. The scenic area covers an area of 200 square kilometers, surrounded by undulating peaks and lush green trees. Mount Qingcheng is a national 5A-level scenic spot and a world cultural heritage, roughly divided into two parts: the anterior of Mt. Qingcheng and the posterior of Mt. Qingcheng.
The anterior of Mt. Qingcheng: It is the main body of Qingcheng Mountain Scenic Area. Taoist culture, cultural relics and historical sites are mostly concentrated in front mountain. Most tourists go to the front mountain. Main attractions: Jianfu Palace, Yuecheng Lake, Tianshi Cave, Zushi Palace, Shangqing Palace, etc. The highest peak of front mountain, Laojun Pavilion, is 1260 meters above sea level and is known as the first peak in Qingcheng.
Jianfu Palace: It was built in 730 in the Tang Dynasty and has been repaired many times since then. It was built in 730 in the Tang Dynasty and has been repaired many times since then. Now there are only two halls and three courtyards, which were rebuilt during the Guangxu period of the Qing Dynasty (1888), and were dedicated to Taoist celebrities and gods. In the palace, there are also the Weixin Pavilion, the ancient wooden rockery, the ruins of the dressing table of Princess Qingfu of Ming Dynasty, as well as couplets, murals and other cultural relics. In addition to ancient buildings and cultural relics, you can also see towering ancient trees and beautiful environment.
Yuecheng Lake: It is a piece of water area that you need to pass through before hiking up to Front Mountain. Next to it is the Yuecheng Mountain and Qinglong Hilllock. You can take a boat through the lake (the ticket is RMB5), or walk along the lakeside plank road for about 15 minutes, and you can reach the Buyun Gallery cableway station up the mountain.
Tianshi Cave: From Jianfu Palace, go north for 2KM, that is the main Taoist Temple, Tianshi Cave in Qingcheng. Tianshi Cave was built in the Sui Dynasty (581-618), and the existing temple was built in the late Qing Dynasty, whose scale is magnificent, carvings are exquisite. Besides, there are many precious cultural relics and ancient trees. According to legend, during the Eastern Han Dynasty (25-220), Daoling Zhang preached here. He founded Taoism and was honored as Taoism master Zhang. The main hall of the temple is the Sanqing Hall, and there are historical sites such as Huangdi ancestral hall and Tianshi Cave in the back of the hall. There is a small hall in the lower right corner of Tianshi Cave, called the Three Emperors Hall, which houses the statues of Xuanyuan, Fuxi and Shennong.
Zushi Hall: After leaving the Tianshi Cave, you will arrive at the Zushi Hall after crossing the Fangning Bridge. The Zushi Hall was built in the Tang Dynasty (618-907), with a quiet environment. Inside the hall are the statues of Zhenwu Patriarch, Lv Dongbin, Tieguai Li and other gods, murals of the Eight Immortals, and stone inscriptions.
Shangqing Palace: Located halfway up the mountain, near the top, The Shangqing Palace was built in the Jin Dynasty (265-420), and the existing temple was built during the Tongzhi (1856-75) period of the Qing Dynasty. There are Laojun Hall, Sanqing Hall, Wenwu Hall and other ancient architectural relics and cliff stone carvings in the palace. Behind the Shangqing Palace is Laoxiaoding (also called Laojun Pavilion), which is an excellent place to watch the sunrise, holy lanterns and the wonders of the sea of clouds.
The posterior of Mt. Qingcheng: It is a natural scenic area with clear water, secluded forest, magnificent mountains and peculiar stones. It has maintained a fairly primitive appearance. Though it is not such a busy and crowdeded place of worship as the anterior of Mt. Qingcheng, it is quieter and suitable for mountaineering enthusiasts. It takes about 4 hours to hike up to the mountain top and 3 hours down. Mount Qingcheng is also a famous place of origin of Shu tea, which was listed as tribute tea in the Qing Dynasty.
Shooting location of Kung Fu Panda: The whole scene of 'Kung Fu Panda 3' was shot in Mt. Qingcheng in Sichuan Province. Before shooting the film, the film director led the Hollywood DreamWorks production team to the Chengdu Giant Panda Breeding Research Center and Mount Qingcheng to collect landscape materials. The rich green, yellow, dense mists of Mount Qingcheng, and even the green moss growing on the roof, have been directly used in the design of the panda village in "Kung Fu Panda 3".
How to tour
Hiking plus cableway is suggested.
Hiking Route: The anterior of Mt. Qingcheng - Jianfu Palace - (to the left) Tianshi Cave - Fangning Bridge - Zushi Hall - Shangqing Palace - Laojun Pavillion - Ciyun Pavillion - Buyun Gallery Cable Car Station, go down by cable car - Yuecheng Lake - Go down the mountain
Half/One day tour suggestion
If there is no suitable tour for you, contact us and create your own Chengdu tour!
How to get to
Chengdu to Mount Qingcheng
Shuttle Bus:
Take the shuttle bus directly to Mount Qingcheng at Chengdu Chadianzi Bus Station. The departure time is 8:00-10:00, and the fare is RMB28 yuan pp.
Take the shuttle bus to Mount Qingcheng (the posterior) at Chengdu Xinnanmen Passenger Station. The departure time is 7:30-14:30 with 30 minutes/shift. It takes about 2 hours and the fare is RMB22 pp.
Train: There are 16 intercity expresses to Mount Qingcheng at Chengdu North Railway Station between 6:32-20:17 every day. The fare is RMB15 pp and it takes about 40 minutes. After exiting the train station, take bus No.101, 102 to Mount Qingcheng directly.
Qingchengshan Town to Mount Qingcheng
Bus: There are bus No. 101 and 102 from Qingchengshan Town to Mount Qingcheng and Dujiangyan, etc. You can get on the bus by asking the driver in advance whether the terminal is the anterior of Mount Qingcheng. The fare is about RMB10 from the anterior to the posterior of Mount Qingcheng by taxi.
Useful Info
Admission Ticket: the anterior of Mount Qingcheng: RMB80; the posterior of Mount Qingcheng: RMB20
Cable way of the anterior mountain: One way (Yuecheng Lake to Siwang Taoist Temple): RMB35; round ways: RMB60
Boat ticket of Yuecheng Lake: RMB5
Jinli Cable at the posterior mountain (Feiquanfang - Stalagmite Hall): RMB30 for one way and RMB55 for round ways
White Cloud Cable at posterior mountain (Youyi Village - Baiyuan Temple): RMB30 for one way and RMB60 for round ways

Tips: Seniors under the age of 65 are exempt from tickets on non-national statutory holidays, and enjoy half-price tickets on national statutory holidays.

Where: Qingcheng Mountain Road, Southwest of Dujiangyan City, Chengdu City, Sichuan Province
Tel: 028-87111907; 028-87288159
When is it opened: March to November: 08:00-17:00; December to February: 08:00-18:00
Recommended Time: Anterior: 3 hours. Posterior: One day for hiking (4 hours up and 3 hours down)
Recommended Seasons: All seasons, but spring and autumn are the best.
Specialties of Mount Qingcheng: Qingcheng old bacon, Taoist old kimchi, tribute tea, Dongtian milk wine (made from fresh kiwi fruit juice produced in Qingcheng Mountain, with mashed glutinous rice juice, rock sugar water and a little wine koji).
Recommended restaurants nearby
Liang Chicken·chicken cooked by firewood in Mount Qingcheng (Chinese food; average cost: RMB60 pp): Add: No. 8, Group 12, Xinyi Town Village, Qingchengshan Avenue, Chengdu. Tel: 15223019546; 18040306059
Qingcheng Plateau Yak Soup (Main Store): Add: No. 8-10, Shuangzhong Street, Qingchengshan Town, Dujiangyan City, Chengdu. Tel: 13880166311; 13551298129
Recommended hotels nearby
Howard Johnson Conference Resort Chengdu: Add: No. 33, Haosheng Road, Qingcheng Shan Town, Dujiangyan, Chengdu. Tel: 028-88988888
Qingyuan International Hotel: Add: No. 6 Qingyuan Road, Qingchengshan Town. Tel: 028-87199999
Six Senses Qing Cheng Mountain: Add: No. 2 Dong Ruan Road, Qingcheng Mountain Town, Dujiangyan. Tel: 028-87126666
Nearby Attractions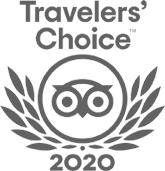 FABULOUS TOUR COMPANY
CHINA OCTOBER - NOVEMBER 2019 We researched several companies and studied reviews on Trip Adviser before contacting who did a very China Culture Tour with an initial query. Right from the outset Grace who owns the company was excellent. She emailed detailed with pictures information and a suggested…read more details
Karen from US
Ready to Create a Unique Dream Travel?