14 Days Honeymoon Package: Hanoi/Ky Son/Halong Bay/Hoi An/Danang/Nha Trang/Ninh Van Bay/Ho Chi Minh City
Romantic trips to Vietnam can be taken from north to south, from Hanoi and Halong Bay to Ninh Van Island to Ho Chi Minh City, each of which offers a different kind of romantic experience.
Trip Highlights
Visit Ky Son and Duong Lam ancient village to experience the traditional life and authentic culture in the countryside of Vietnam.
Take the overnight cruise trip, Admire Bai Tu Long Bay's majestic beauty
Explore the weaving laneways of historic Hoi An ancient town on the banks of the Thu Bon River by a bicycle ride. Join exciting basket boat activity in Cam Thanh village
Enjoy a day of snorkeling in the waters around Cham Island and discover its amazing sea life
Experience and relax in a spectacular setting in a dramatic bay that gives the feeling of being on an exclusive private island resort in the East Vietnam Sea, "hidden" Ninh Van Bay
Visit Ho Chi Minh City landmarks: War Remnant Museum, Notre Dame Cathedral, Reunification Palace, and Ben Thanh Market…etc.
Take a day trip to the Mekong Delta to discover the hidden waterways.
Customizable Tour Itinerary
Xin Chao! Welcome to Hanoi, Vietnam.
After the madness of all the wedding preparations and of course the big day itself you'll hopefully have slept on the flight(s) and will arrive Vietnam feeling ready for some honeymoon fun.
A hostess will be waiting for you with a beaming smile, holding a welcome signboard with your married names on it who will help you through the fast-tracked (VIP) process to get your visa stamped. Once you have obtained a stamp for your visa and collected your luggage, your hostess will happily take you to your waiting guide and driver who will transfer you directly to the hotel.
Your knowledgeable guide will be happy to answer any questions along the way regarding your 14-day Honeymoon Vacation.
Arrive and check into the luxury boutique La Siesta Central Hotel & Spa, an exclusive oasis in the heart of Hanoi Old Quarter. You will have the Balcony Suite for your two lovely nights, which features stunning panoramic views of the legendary Hoan Kiem Lake, just a short walk away.
Since you'll have had a busy few weeks and a long journey, we have left today free for you to get your bearings, settle into Vietnamese time and simply enjoy the fact that the honeymoon has officially started. You may take a stroll around the Old Quater seeing the local life in close up. For your dining experience, your tour guide will recommend some of our favourite restaurants.
Please note: Your travel documents contain a Visa-on-Arrival letter (unless otherwise arranged). Please ensure to pack this in your carry-on luggage. Your Visa-on-Arrival letter must be presented to Customs upon entry into the country.
Overnight in Hanoi: Sofitel Legend Metropole Hanoi / La Siesta Premium Hang Be / La Siesta Central Hotel & Spa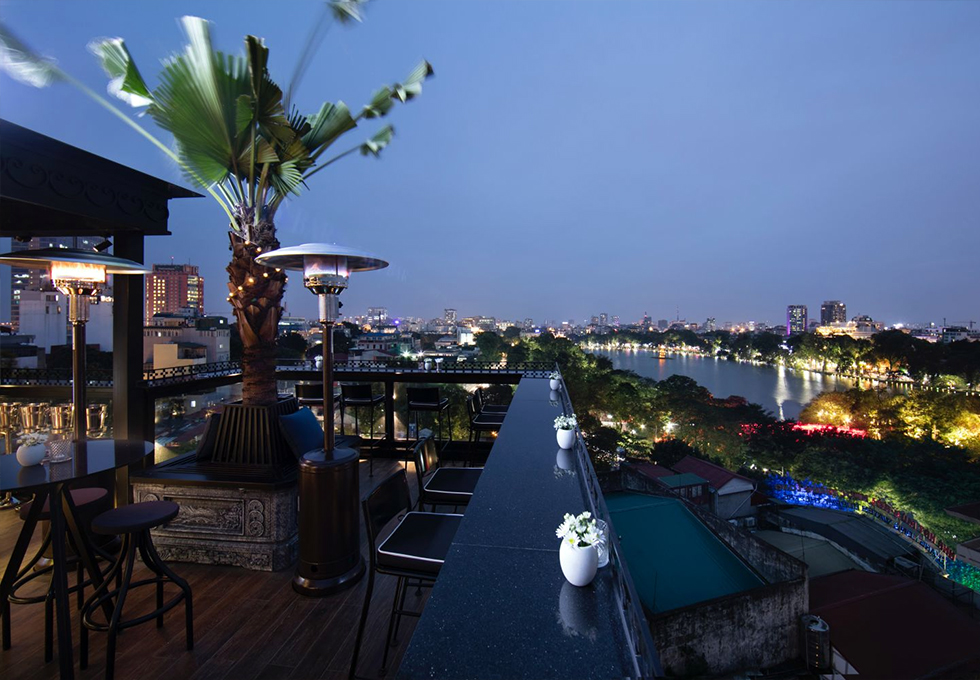 River View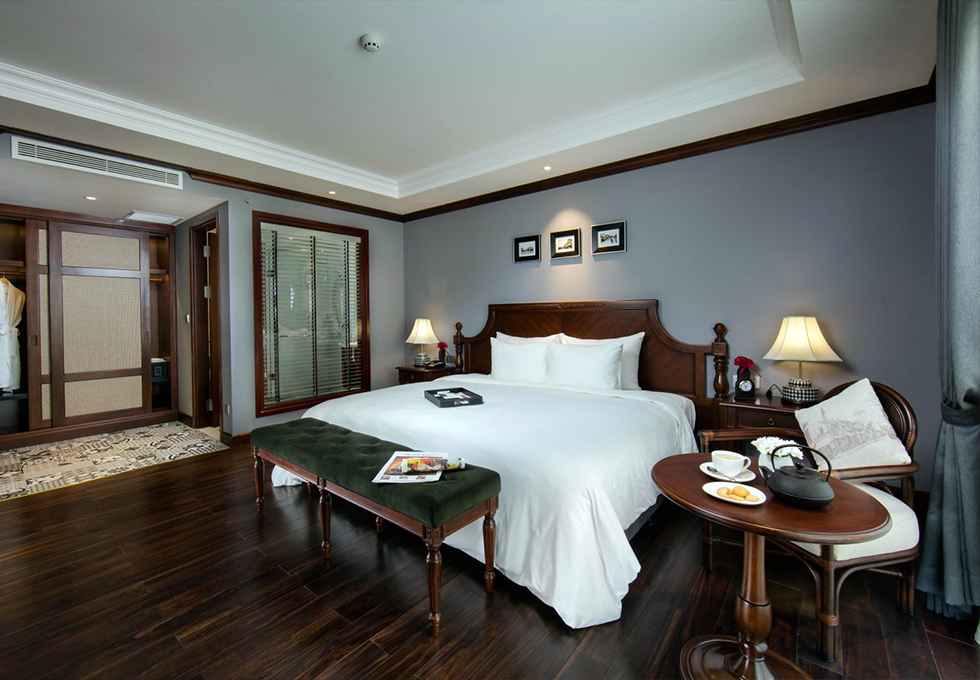 La Siesta Central Hotel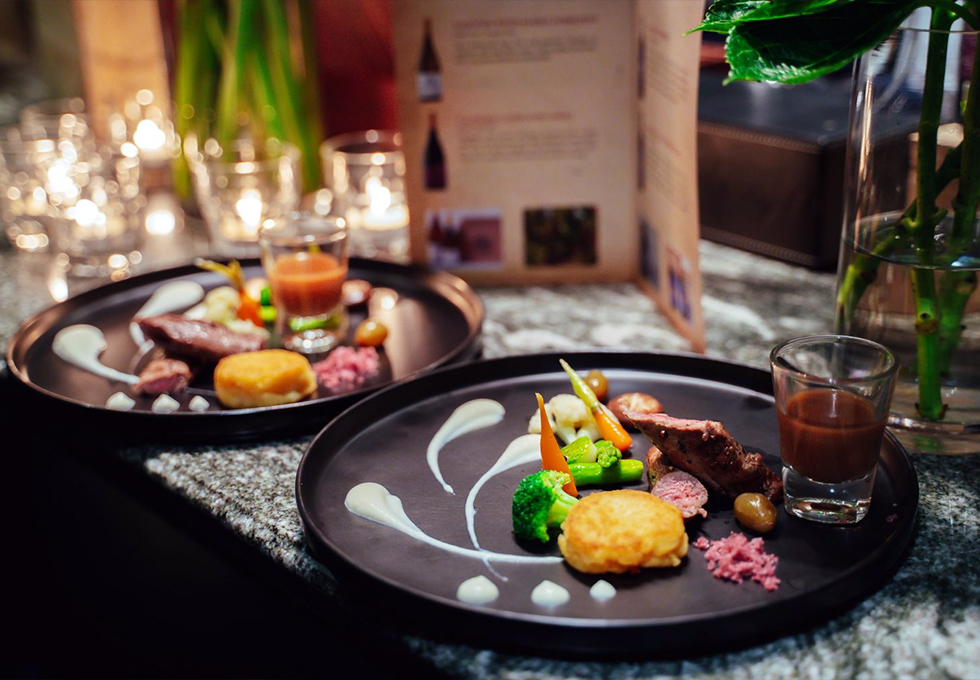 La Siesta Central Hotel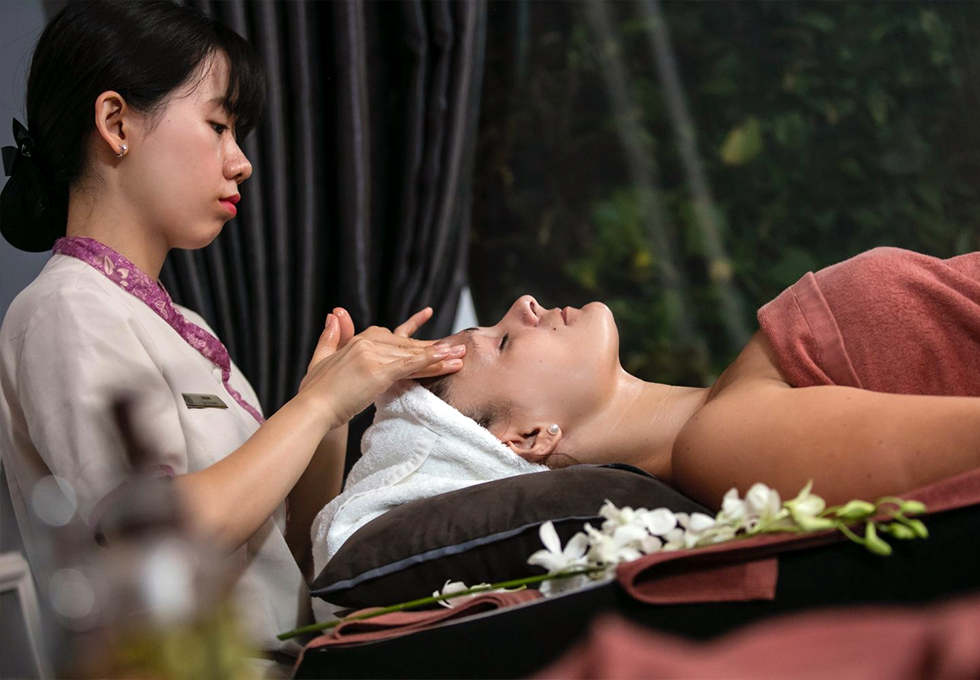 La Siesta Central Hotel
Hanoi is a bustling and fascinating city – a whirlwind of colours, smells and sounds and a wonderful place to get a real flavour of life in Vietnam.
Morning: After breakfast your private guide and driver will meet you at the hotel lobby and take you on a half-day tour to discover the city, taking in sights including the Ba Dinh Square, Ho Chi Minh Mausoleum, the Presidential Palace, Ho Chi Minh's house-on-stilts and the iconic One Pillar Pagoda.
Continue to visit the historic Temple of Literature (Vietnam's first university, built in the 11th century), the charming Hoan Kiem Lake and Ngoc Son Temple.
A delicious French fusion lunch will be served at La Verticale, an elegant fine-dining restaurant that's housed in a French colonial-style villa.
Afternoon: After lunch, return to the hotel for your free time. You may pamper yourself at La Siesta Spa, enjoy its attractive combination of Vietnam's ancient spa traditions with the modern-day Spa model.
Later, your guide will meet you again and take you on a fun cyclo (rickshaw) ride for one hour through the French colonial architecture of the precinct known as the French Quater, past the French-style villas, the Vietnam History Museum, the heritage Metropole Legend Hotel and the Opera House, name to a few.
Enjoy a cup of unmissable Egg coffee at Pho Co Café with a stunning view of Hoan Kiem Lake and the surroundings.
Evening: Your guide and driver will meet you again and take you to a local home, where you are warmly welcomed in by a local family. After an inviting cup of tea and a short introduction, step into the family's main hall to learn more about their traditions and beliefs. Next, head to their kitchen for an entertaining demonstration of secret recipes. Finally, gather round the table for dinner with your family hosts, on this exclusive experience. Return to your hotel with a deeper understanding of local life.
After dinner options: The driver can drop you at Hanoi Night market or have some drinks at Diamond Sky Bar (our favorite) with sublime 360-degree panoramic views of Hanoi. Enjoy some cocktails while witnessing evocative Hoan Kiem Lake in its entirety and take in five bridges spanning the mighty Red River.
Overnight in Hanoi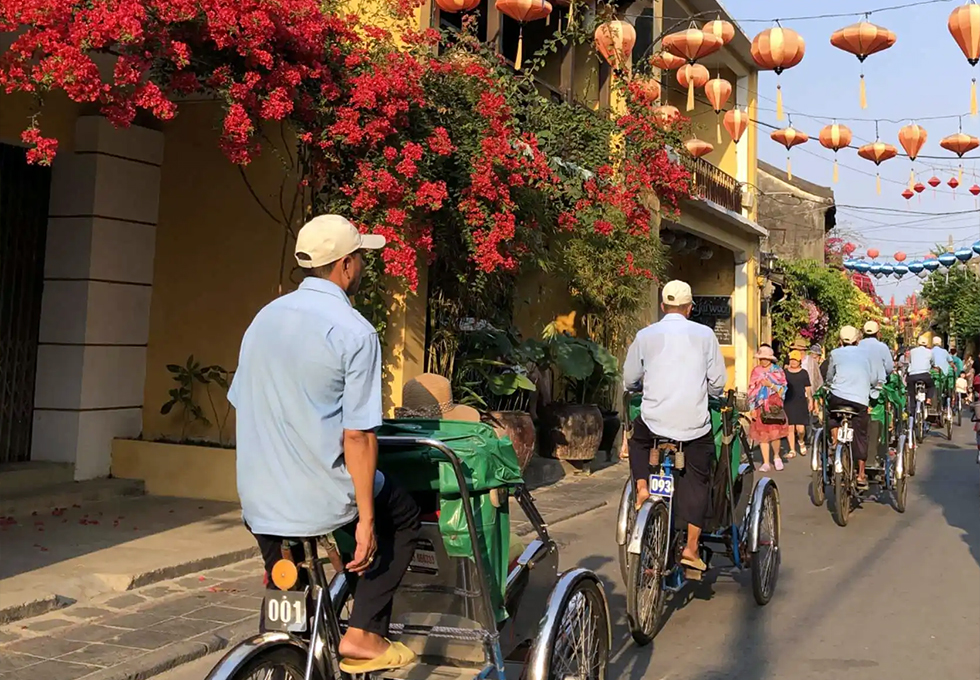 Cyclo Tour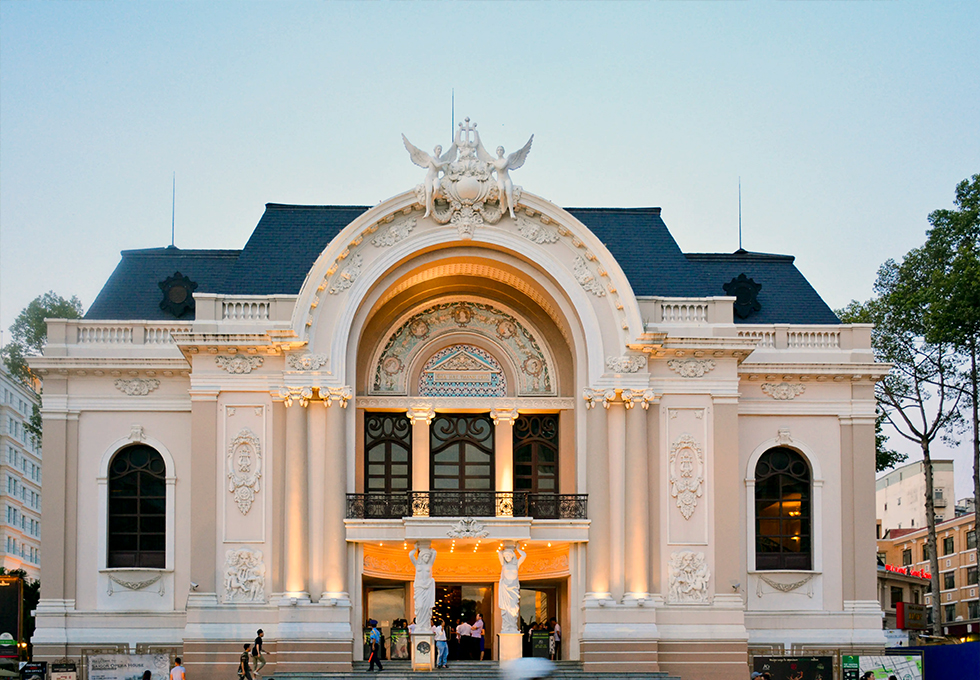 Opera House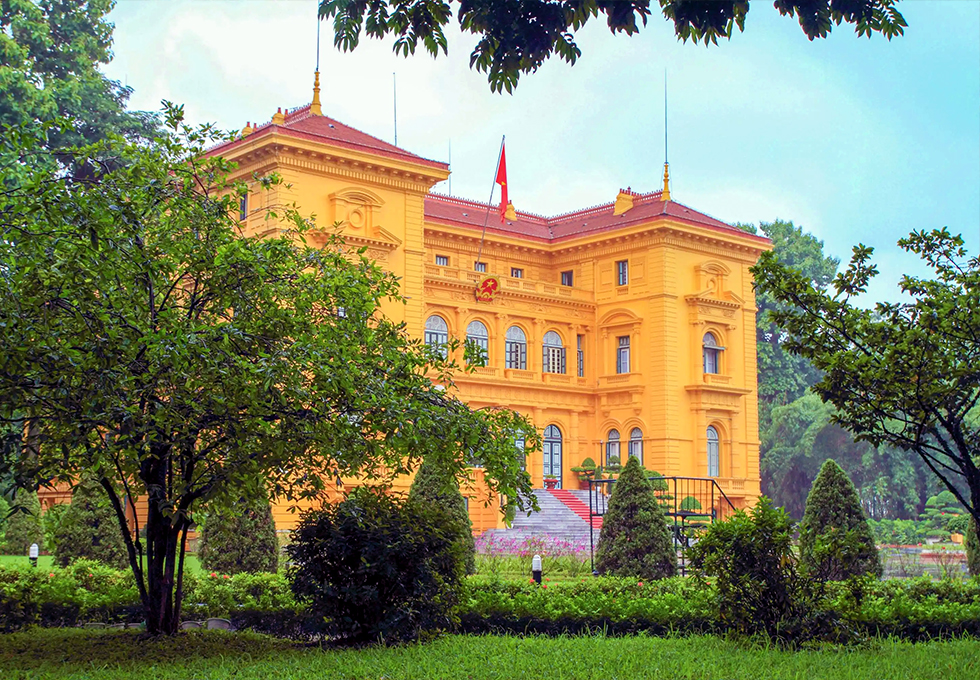 Presidential Palace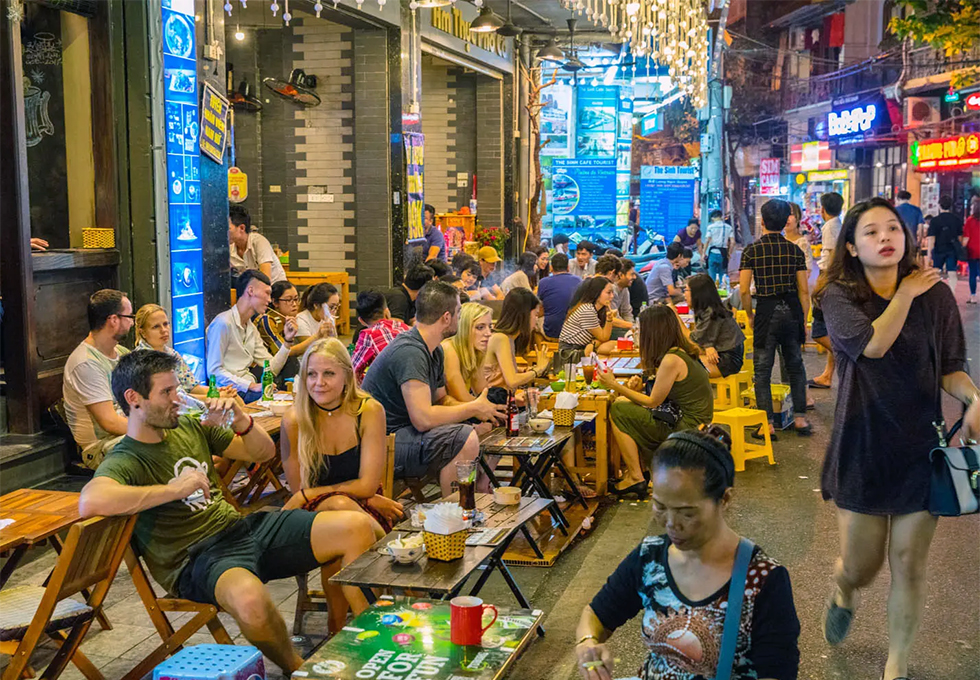 Hanoi Night market
Morning: After breakfast and check out, you are picked up by your private guide and driver then transferred to the Luxury Moon Garden Homestay in the historic Village of Ky Son, about 50 kms (30 miles) from Hanoi. The village was designated a 'National Cultural-Historical Relic'. On the ground, it is a sensory delight, full of colour, unique sights, and the sound of villagers conversing amongst themselves – and with visitors.
On arrival at the homestay, you will be greeted with a refreshing drink and followed by a brief introduction. Originally the summer home of a Hanoi based family, the Moon Garden has since expanded into several other buildings to accommodate its growing popularity. Blending delightfully restored, traditional architecture with a few home comforts, the Moon Garden ensures you romantic experience Ky Son and neighboring villages in an authentic manner, whilst wanting for nothing.
After checking in you will have some free time to explore the beautiful grounds of the homestay then participate in a cooking class to learn more about Vietnamese cuisine. You have lunch here and then enjoy a hand-spa treatment with traditional herbs.
Afternoon: Take a leisurely bicycle ride to discover the paths of Thang Thac Village and follow a local guide to explore the ancient village of Duong Lam and Mia Pagoda.
Return to the Moon Garden, you will be treated to a traditional foot bath. After that, you can choose to participate in a Vietnamese prayer ceremony.
Evening: Enjoy a romantic candlelight dinner in the garden and spend the rest of the time at your leisure. Perhaps you sip on some more cocktails under the stars.
Overnight at Moon Garden Homestay
Meals: Breakfast, Lunch, Dinner,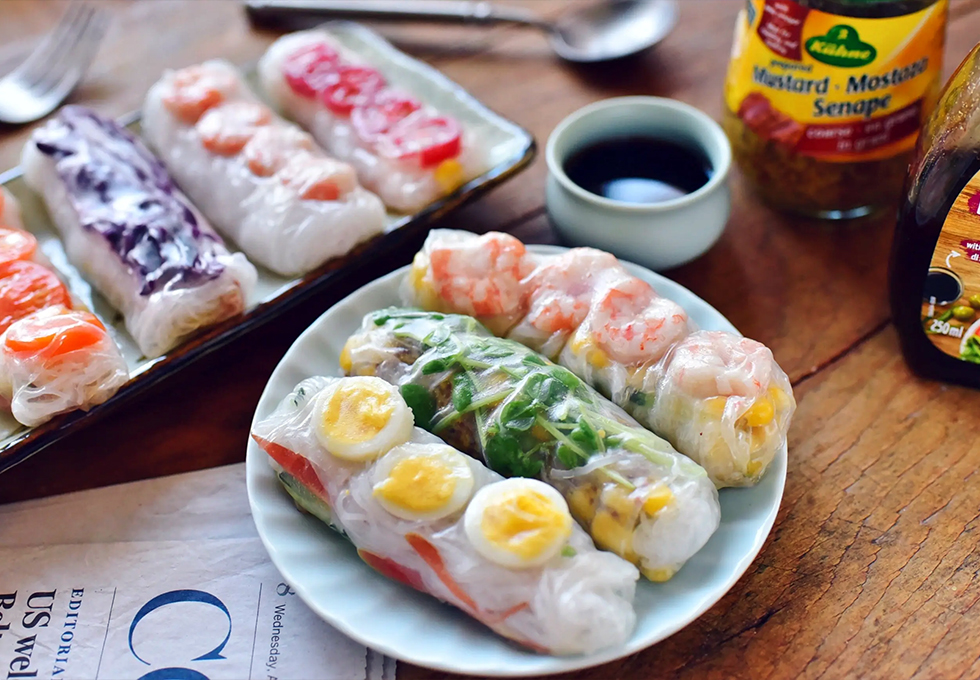 Vietnamese Cuisine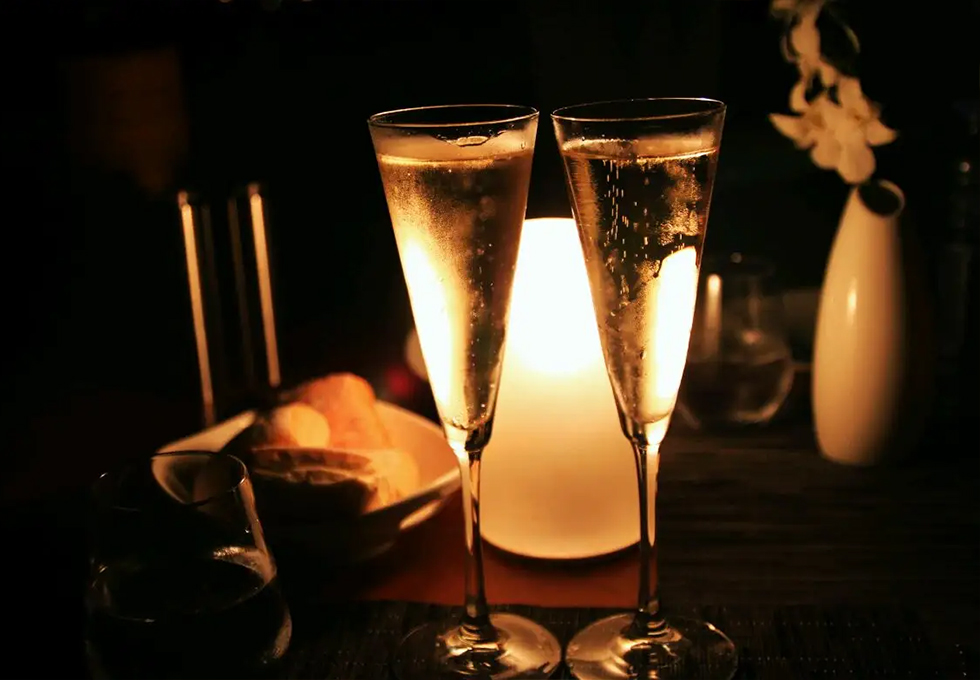 romantic Dinner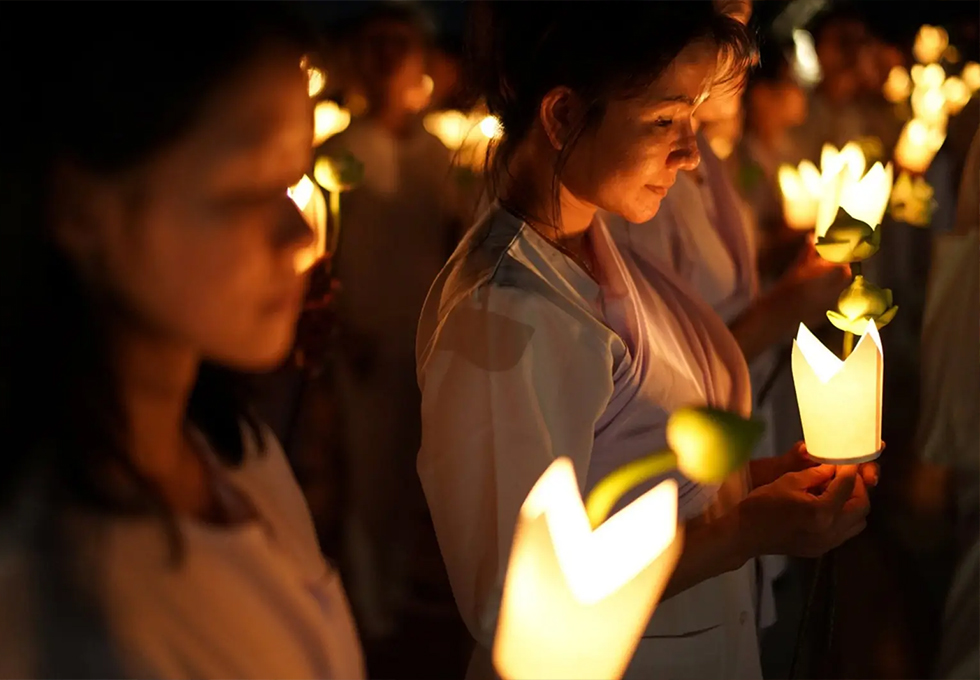 Vietnamese Prayer Ceremony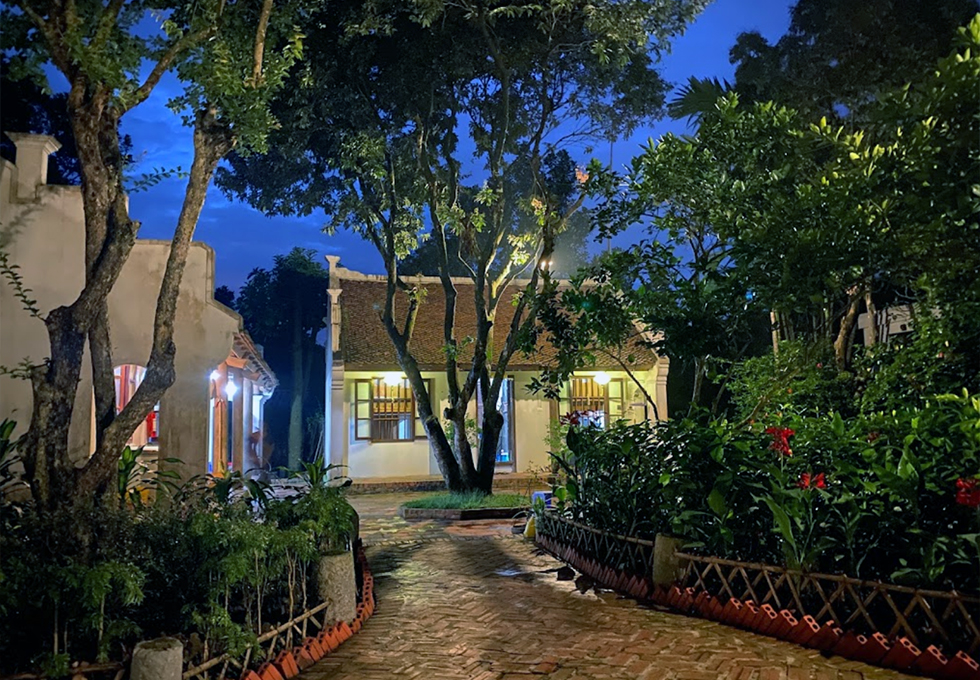 Moon Garden Homestay
Morning: As soon as you've downed your first cuppa of the day, join in with some traditional Yi Jin Jing exercises to wake up body and mind. It's then followed by a delightful breakfast.
Check out of the Moon Garden you will leave the peaceful village behind, bound for the serenity of Ha Long Bay where you will board your private chartered L'Amour Junk that provides an intimate, romantic experience visiting quieter parts of Halong Bay, where you can soak up the impressive vistas of the unique karst scenery away from the majority of other cruise vessels.
Upon arrival at the pier, you will be welcomed by your friendly crew. From the moment you step onboard the 17-metre L'Amour Junk, you'll feel like you're being treated like royalty – almost as if you were the only guests.
Afternoon: After settling in you will begin your cruise toward the magnificent Bai Tu Long bay; admire the fascinating karst formations on the way. A scrumptious lunch will be served on board.
Later the boat will arrive at Cong Do Island. You will get off the boat and hike up the least visited Thien Canh Son Cave. The path of around 60 steps follows the forest canopy along a sandstone cliff with spectacular views of the Bay
Back on the boat and continue to cruise to Hon Co island where you will spend time relaxing on a white sandy beach. You can also go for a refreshing "bay swim" or explore this captivating marine landscape via kayak. The cliffs stretch vertically out of the water and you feel a sense of freedom while meandering through this green medley of water and tree-topped islets.
As the sun sets, you will arrive at a tranquil anchor spot for the night. In this hidden spot, you can revel in the memories of the day's adventures with a cocktail under the stars.
Take part in a cookery class with the chef and help prepare the freshly caught catch of the day for your dinner. Afterward, simply just relax and enjoy the views. Curling up on the deck with a drink and the stars shining down on you is a wonderfully romantic way to spend one of your first nights together as a married couple.
Overnight on board in Bai Tu Long Bay: Premier Village Ha Long Bay Resort / Vinpearl Resort & Spa Ha Long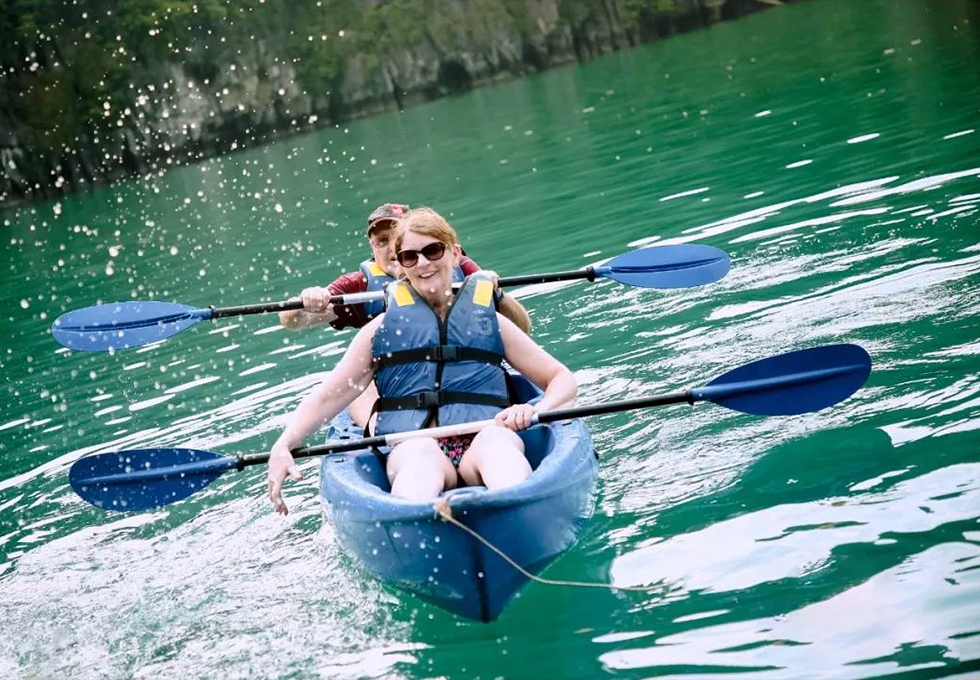 Kayaking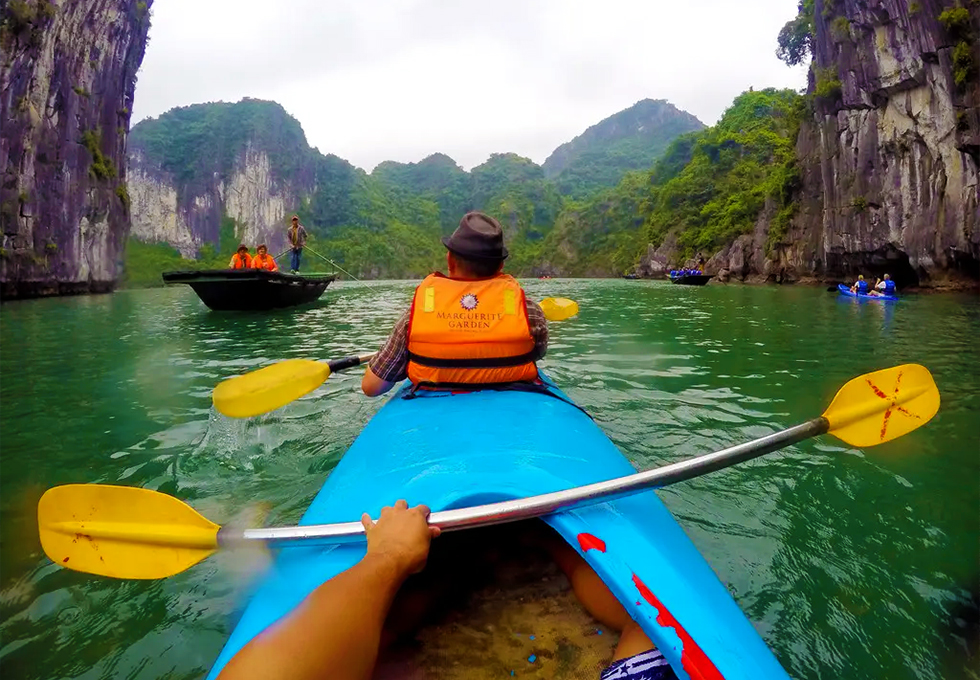 Kayaking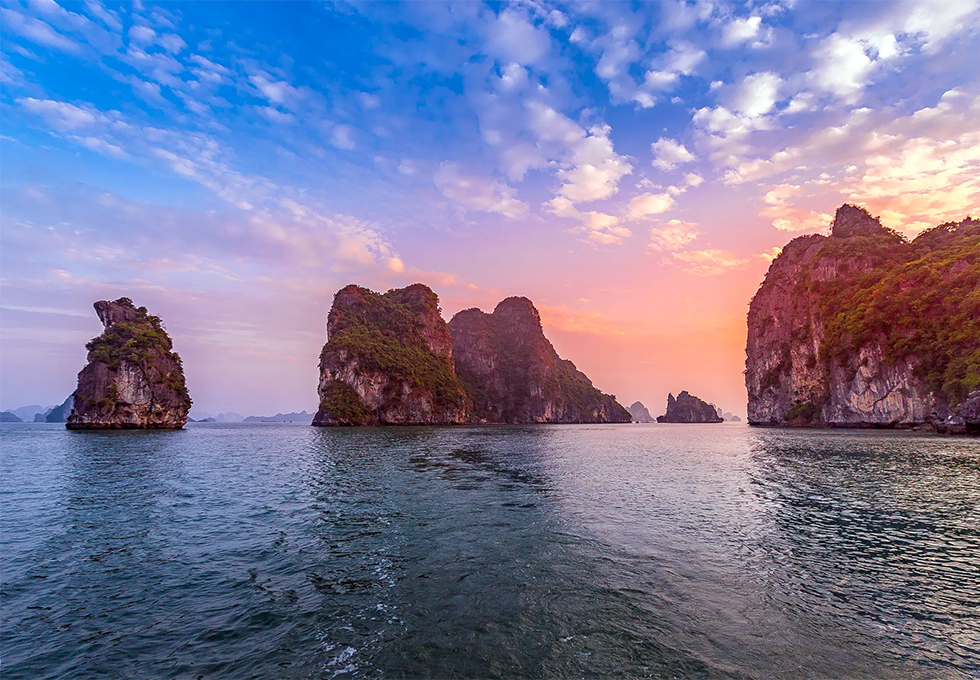 Sunset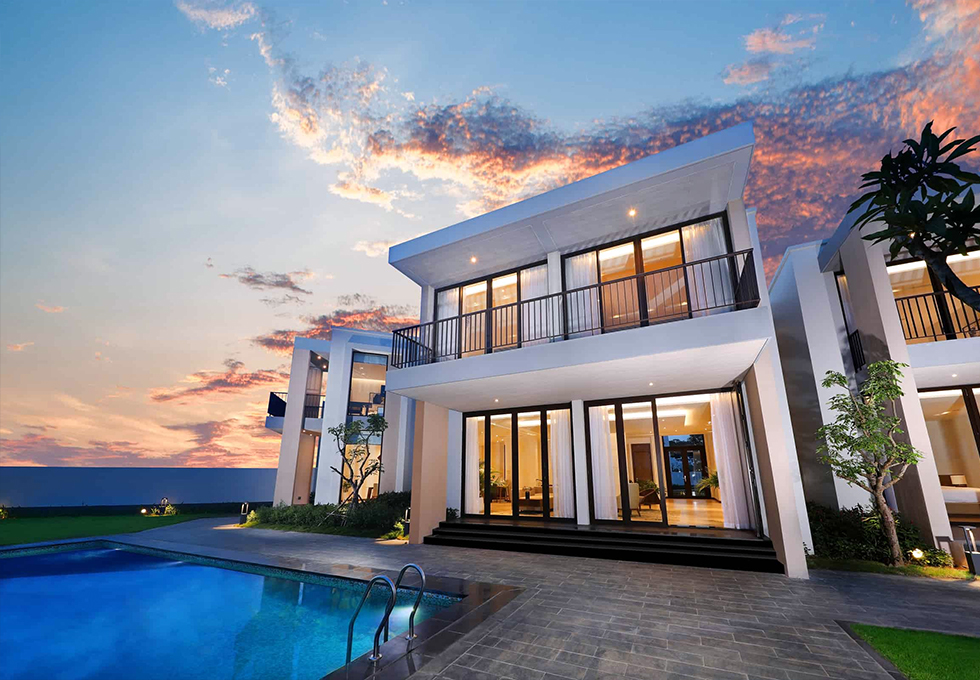 Premier Village Ha Long Bay Resort
Morning: You wake to the fresh air of the bay with a chance to relax on the sundeck or to enjoy some more swim in the emerald waters. After breakfast, your boat will lift her anchor and continue to cruise to Vung Vieng fishing village where you will explore the village and the hidden lagoon in a rustic rowing boat.
Get back to the boat for your leisure time. Take in the stunning scenery while the boat cruises back to where you started. Check out of the cabin then enjoy an early lunch on board.
Upon returning to the pier your waiting driver will pick you up and transfer you to Hanoi Noi Bai airport to board a short flight to Da Nang, in the central of Vietnam.
Afternoon: On arrival, you will be picked up by your private guide and driver and taken to the nearby Hoi An where you will check into the Club Suite at the boutique Hoi An Ecolodge and Spa or stay in a better hotel. Spend the rest of the afternoon and evening at your leisure. Tucked away in a quiet village a couple of kms from the Old town and the beach, the Ecolodge is a heavenly oasis in Hoi An. The lodge provides free bikes so you can ride around.
Dining and drink options: we highly recommend dinner at the Morning Glory Restaurant. After that, you can walk to the Quiet American Bar for some drinks. Set in a wooden house that is over 200 years old, The Quiet American Cafe and Bar is modeled after a 1950's movie set. Both the title and the interior pay homage to the fact that the movie, The Quiet American, with Michael Caine was filmed in the historic building.
Overnight in Hoi An: Four Seasons The Nam Hai / Boutique Hoi An Resort / Anantara Hoi An Resort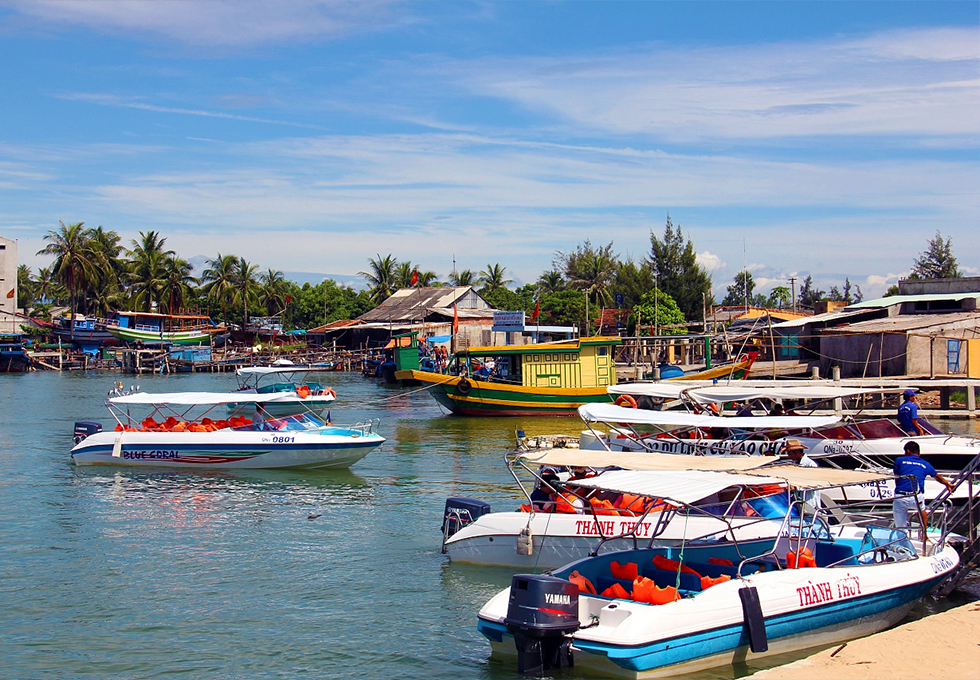 Da Nang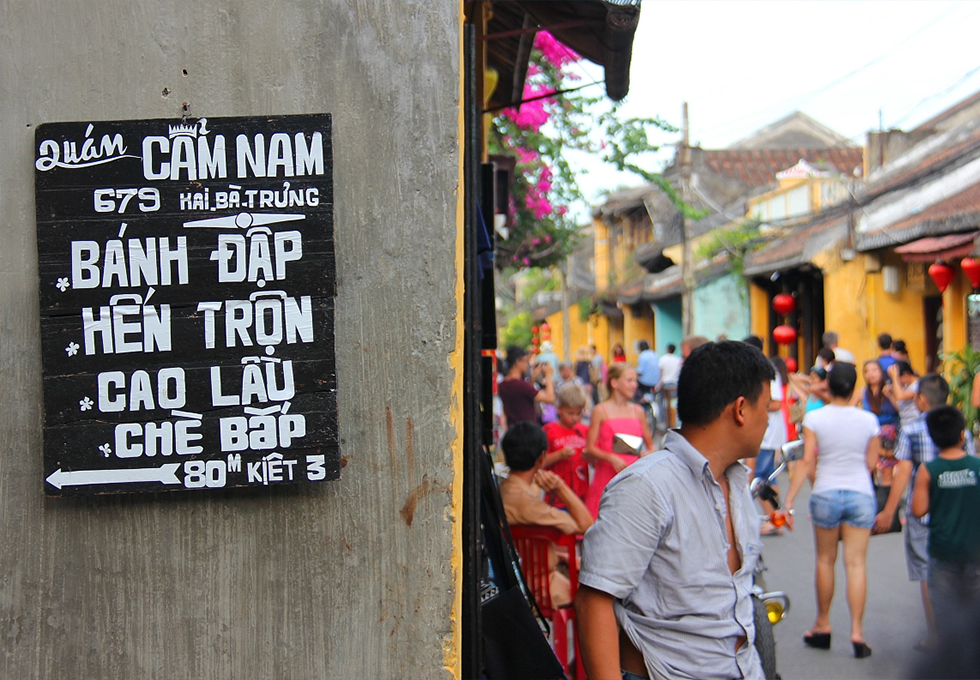 Da Nang Old Town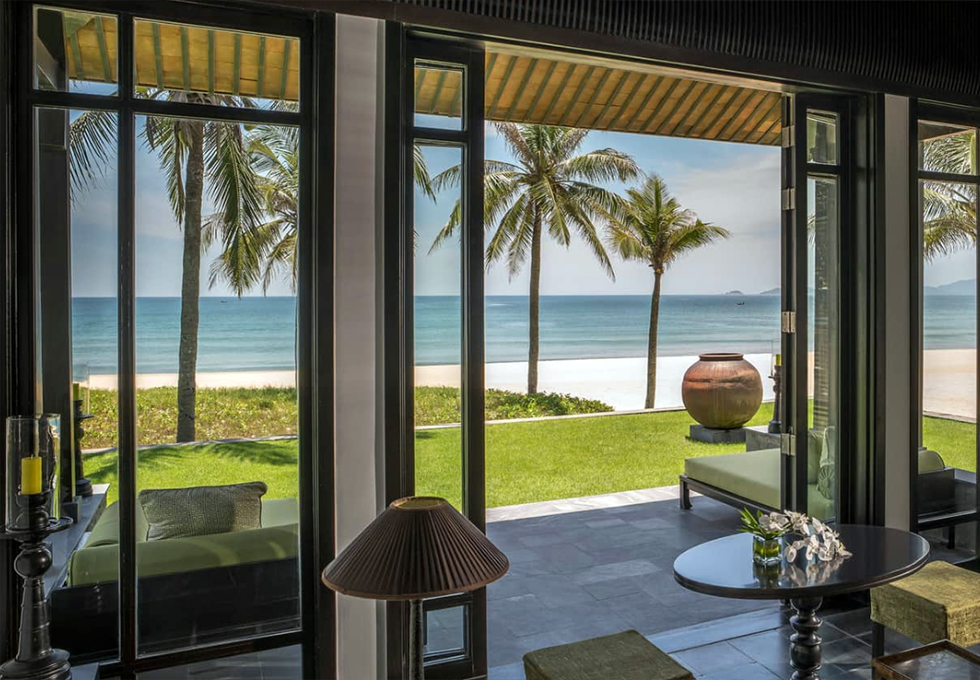 Four Seasons The Nam Hai
The historic and quaint nature of UNESCO World Heritage Site Hoi An is perfect for exploring. As a former fishing village set on the banks of the Thu Bon River and strategic trading port for Southeast Asia, centuries of French, Chinese and Japanese influence have left their unique mark on this town.
Morning: After breakfast, meet your private guide and take a leisurely bicycle ride along the bank of the Thu Bon River toward Hoi An Ancient Town. Follow your guide you will explore the town's historical sites including Chua Ong Pagoda, Tan Ky Ancient House, Fujian Assembly Hall, and the Japanese Covered Bridge.
Continue to visit the Precious Heritage Museum, home to the permanent exhibition of Réhahn's Precious Heritage Collection. While transporting you to the furthest reaches of Vietnam, the collection will unveil the rich cultural tapestry of the ethnic tribes.
The highlight of the day is the visit to the Reaching Out Tea House, a welcome little oasis of calm in the busy, vibrant Old quarter, owned and operated by the mute and deaf people. Here you will be treated with delicious cakes and incredible tea in the Eastern style.
Afternoon: Finish the tour and ride back to the Ecolodge where you will spend the rest of the afternoon at leisure. Enjoy the swimming pool or pamper yourself at the Lodge's spa.
Evening: Meet your guide again and ride the bicycle to Cam Thanh Village, nestled in the peaceful countryside of Hoi An, a riverside farming community that is a major supplier of seafood, and produce for the town. On arrival, take a bamboo basket ride along the river to admire the beautiful sunset. Arrive at the bamboo watch-tower where you will find a cozy tent with a table set up and ready for your dinner. Savour an unforgettable dinner with local fresh foods and vegetables. Relax and take in the tranquil feeling being surrounded by rice fields and the river.
Overnight in Hoi An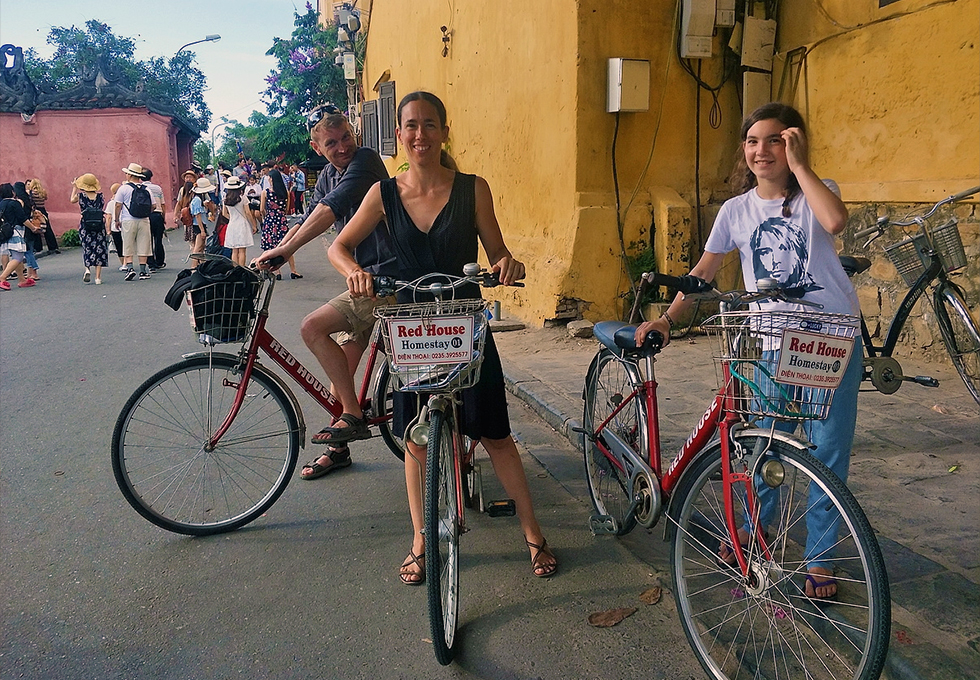 Bicycle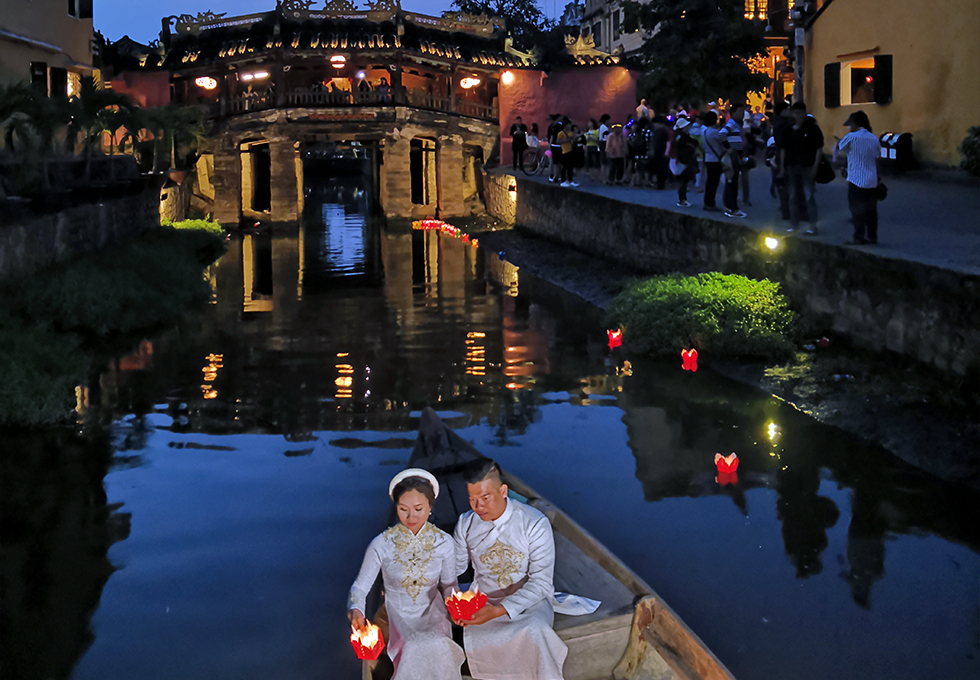 Hoi An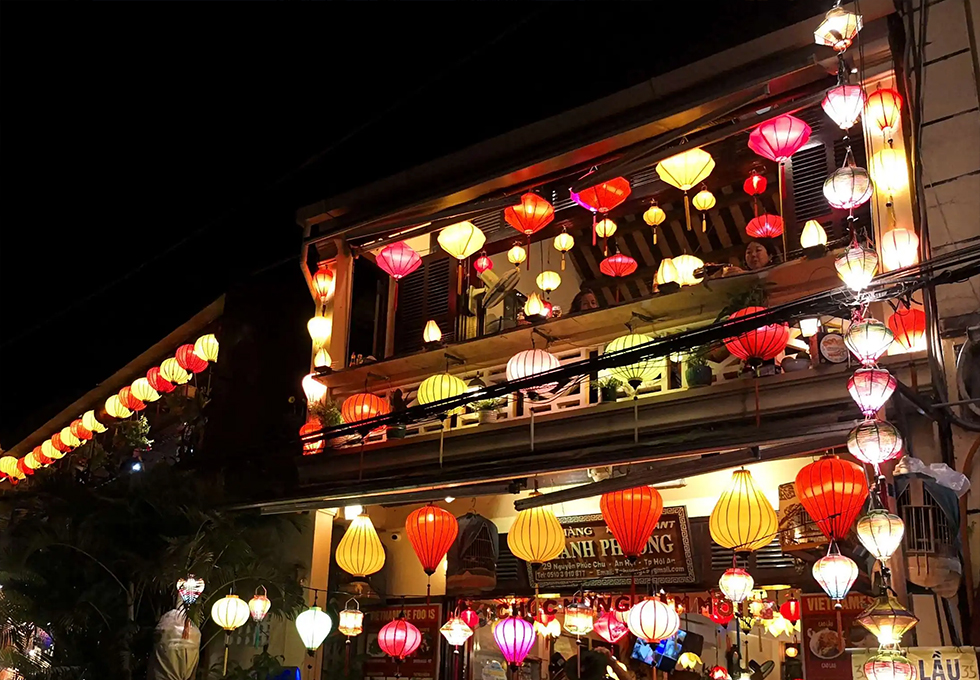 Night of the Town
Today you will spend your time drifting around the Cu Lao Cham Marine Protected Areas. The pretty coral reefs formed around the outer islands include around 135 species of corals and over 200 species of tropical fish.
Morning: After breakfast, you will be picked up and transferred to Cua Dai Wharf to board a traditional Vietnamese wooden boat towards the Cham Islands.
On arrival, you will set out to explore the island. Pay a visit to Cu Lao Cham museum and Au Thuyen. Walk along the rice field to the over-200-years-old temple of Hai Tang, dedicated to whales and whale sharks, once abundant in these waters.
Proceed to Xep Beach where you will enjoy snorkeling marveling at the soft and hard coral and teeming colorful fishes. Enjoy lunch at spectacular Bai Chong beach in a bamboo style restaurant under the coconut trees.
Afternoon: After lunch, you will have free time on Bai Chong with more swimming, frisbee, volleyball, or just relax in a hammock or deck-chair with a cool drink and a sensational view. It's a selfie heaven.
Finish the perfect day with a slow cruise back to the Wharf where your driver takes you back to your Ecolodge. Spend the remainder of the afternoon and evening at leisure.
Dining and drink options: we would highly recommend the Mango Room for dinner and Corner Corner Sky Bar for some drinks, if you are a night Awl.
Overnight in Hoi An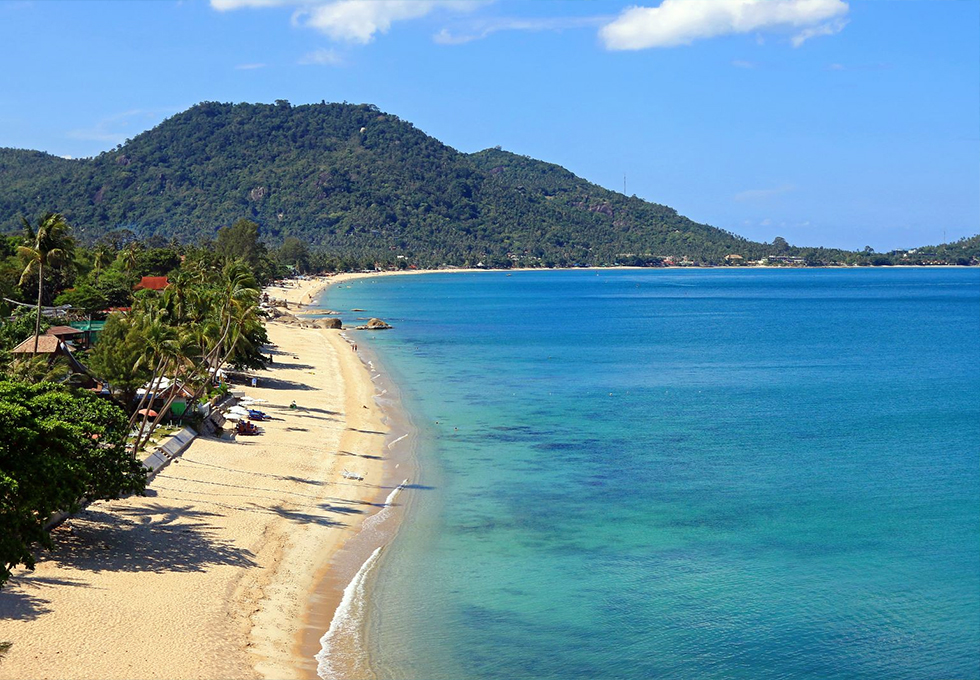 Cham Islands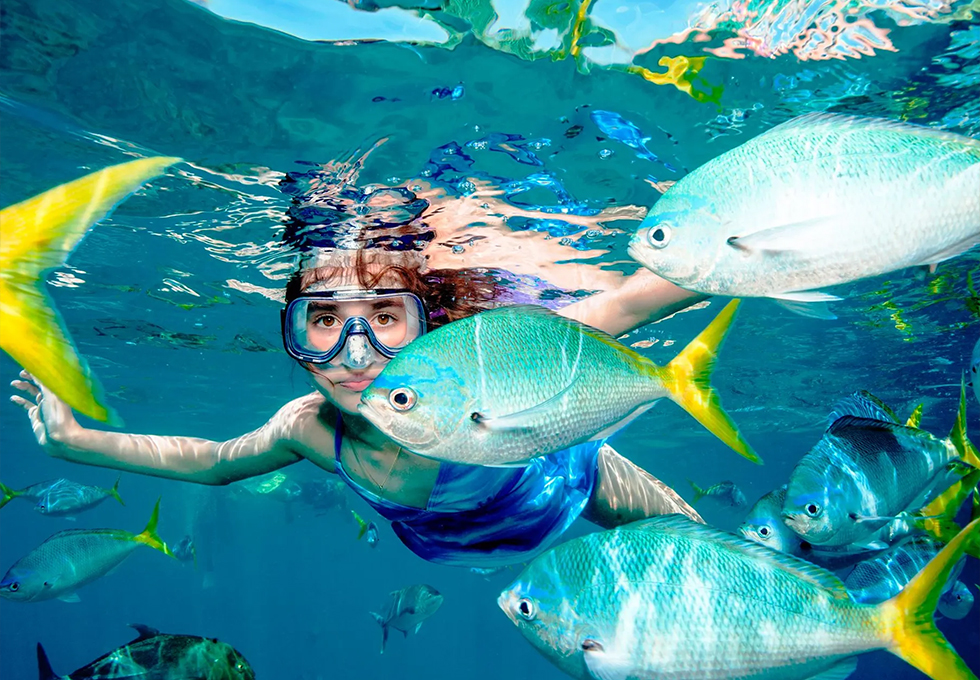 Snorkeling
Morning: After breakfast and check out of the Ecolodge you will be picked up and driven back to Da Nang airport to catch a short flight south to Nha Trang.
On arrival at Nha Trang airport, your private driver will greet you and transfer you to your honeymoon L'Alya Resort where you will check into your Hill Rock Pool Villa. Situated along charming and romantic Ninh Van Bay, the L'Alya Resort is natural, pristine, and surrounded by picturesque sceneries. At the place where time is forgotten, you will be pampered in the openness of tranquil woods, blue natural sea, and spectacular settings under the sunset. The extremely private space here makes you feel the serenity and peace of mind. This is a perfect spot for your honeymoon vacation.
Afternoon: After checking into the resort you will spend the remainder of the day at your leisure.
Ever since the day you got married, don't ever stop dating your wife, don't ever stop flirting with your husband. And remember a honeymoon is always an opportunity to connect with one another and lose yourselves in the blissful romance of love. May the time you share be memorable in every way, the naivety of local people and top-notched service at the L'Alya will help you cherish each and every moment together in such a heaven on earth island.
Lunch and dinner can be taken at the resort.
Overnight in Ninh Van Bay: Six Senses / An Lam Retreats / L'Alya Resort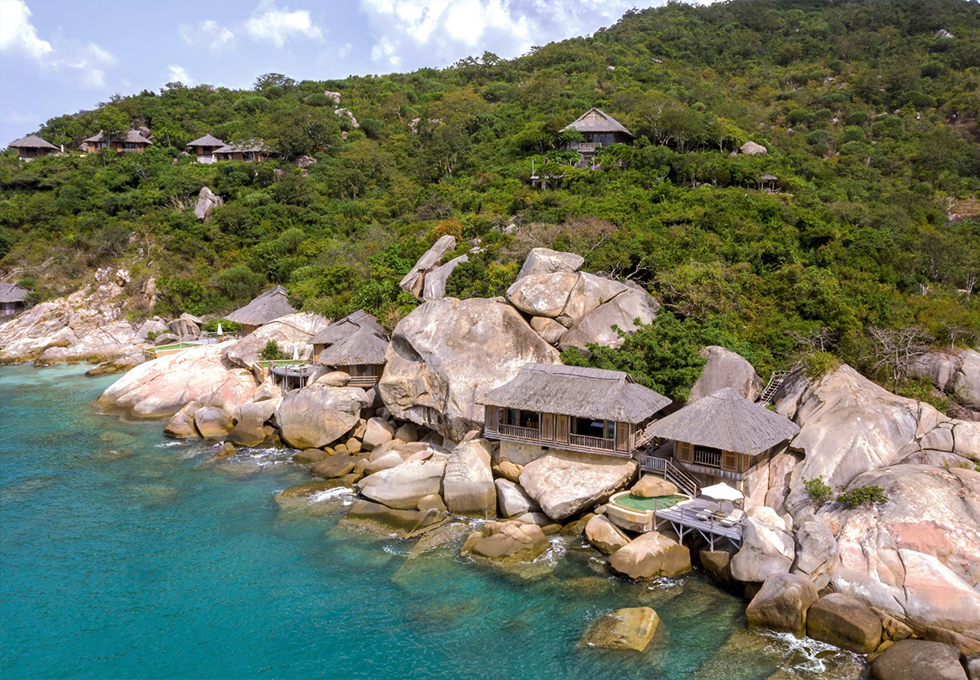 Six Senses Ninh Van Bay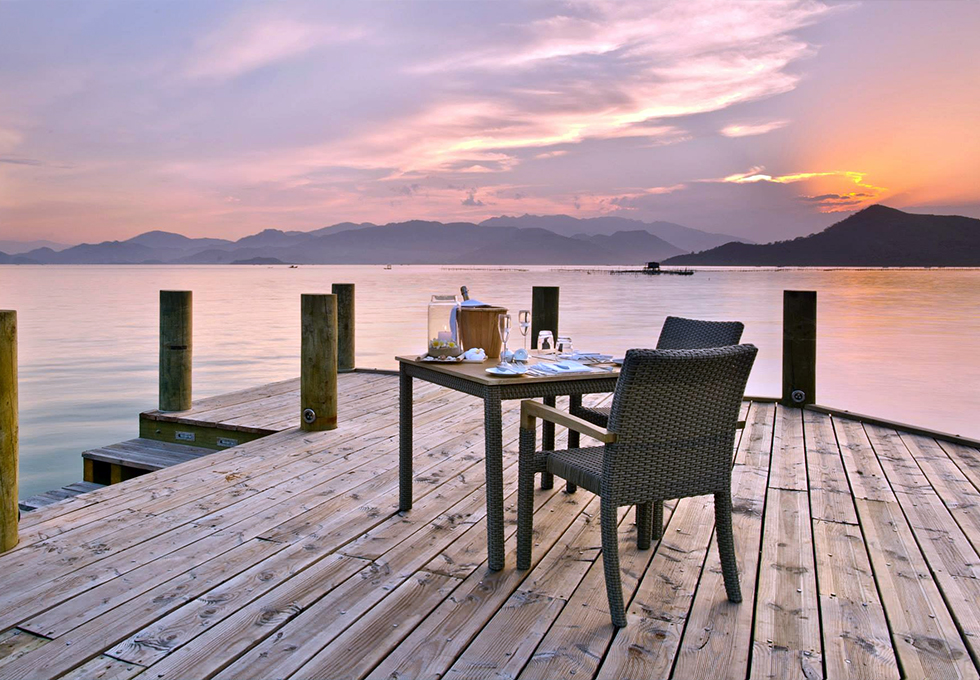 L'Alya Resort
Today is completely a free day for you to enjoy your leisure time. While taking the opportunity to get stuck into a good book or two, catch up on some sleep and spend plenty of time soaking up the sun, you may also want to make time to enjoy pampering yourself in the resort spa so that you leave feeling fully rejuvenated.
Overnight in Ninh Van Bay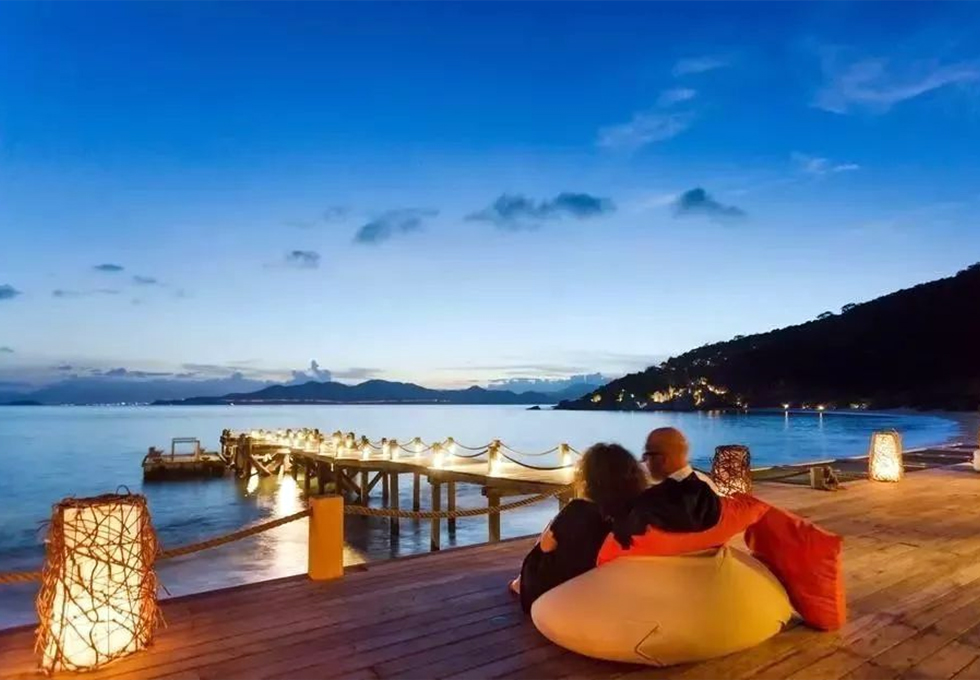 Romantic Time
Another day at leisure. Relaxing is easy when you're in this paradise, but maybe you want a little something else in your day to put your body and mind in harmony. The cooking class, yoga and meditation class, kayaking and sunset cruise are available at the resort.
Overnight in Ninh Van Bay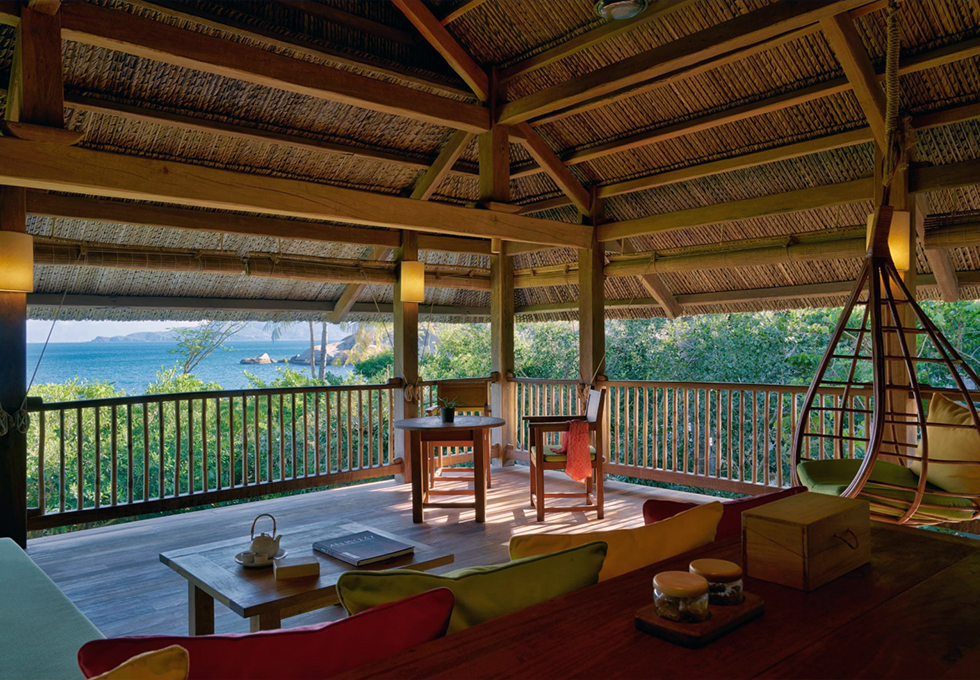 Leisure Time
A honeymoon staple, a beach break is a perfect way to relax into married life and spend some time simply enjoying each other's company before heading back to reality.
Enjoy your last free day in this paradise.
Overnight in Ninh Van Bay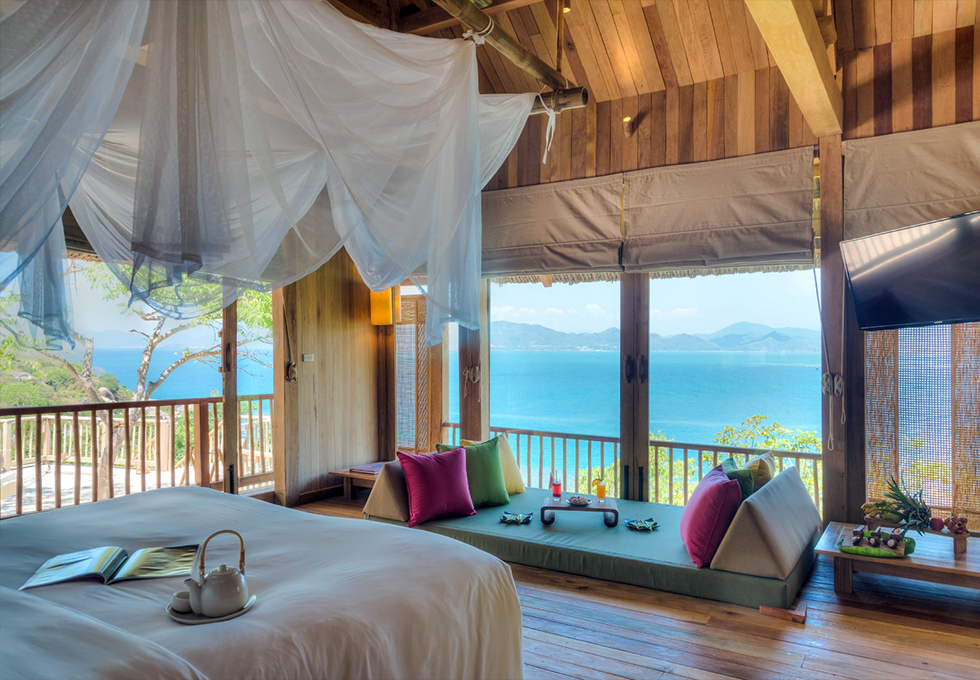 Best View
Morning: After breakfast, you will be picked up and taken back to Nha Trang Airport for a short flight to Ho Chi Minh City, one of the most vibrant and 'alive' cities in all of South East Asia. Fast-paced, frenetic, 7 million motorcycles, historical, artist hub, shopping haven and foodie's paradise all rolled into one.
On arrival, your private driver will meet you and transfer you to your final honeymoon hotel, the Villa Song. Located on the banks of the romantic Saigon River, Villa Song showcases unique pieces of art and photography. This property is a sanctuary for the soul, away from the 'organized chaos' of downtown HCM City.
Afternoon: Spend the rest of the day visiting some of Ho Chi Minh City's key highlights. We'll tailor your tour to suit you, but we particularly recommend visiting the Notre Dame Cathedral, the historic Rex Hotel, the General Post Office, renowned for its architecture, and Ben Thanh Market.
Later stop at the Reunification Palace and the moving War Remnants Museum to learn more of Vietnam's turbulent past.
Proceed to the atmospheric Jade Emperor Pagoda before finishing in fine style with a sundowner at the top of the Bitexco Tower, the tallest building in Vietnam.
Evening: Embark on a romantic sunset cruise along the Saigon River, aboard a boutique-style vessel inspired by 1920s-era Indochinese riverboats. Enjoy Indochinese-contemporary-inspired dining experience with fusion shows and interactive buffets. While onboard, sipping on cocktails or a glass of fine wine, glide past a fascinating contrast of historic and modern buildings as the sun fades away.
After dinner options: explore Saigon Night market or have some drinks at the historic Rex Hotel's roof-top bar.
Overnight in Ho Chi Minh City: The Reverie / Park Haytt Sigon / Villa Song / Le Méridien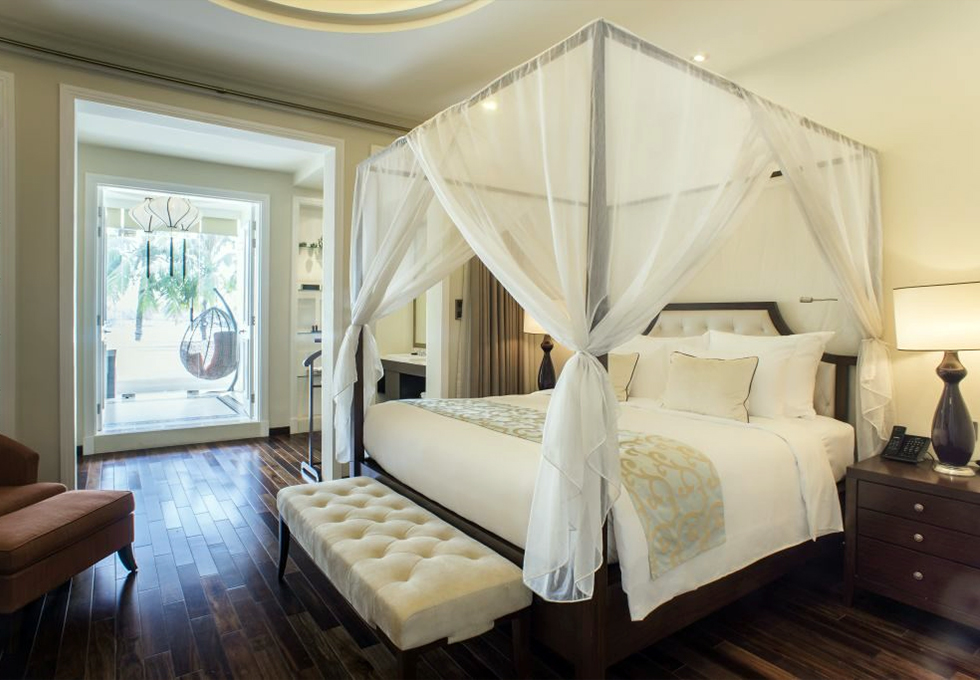 Villa Song
Morning: After breakfast, your private guide and driver will take you out of HCM City in a private vehicle and onto some beautiful country roads to Cai Be Town, the heart of the Mekong Delta. This town is famous for its vast rice fields, numerous waterways, and beautiful landscapes.
After two hours driving through numerous towns, lush orchards and green rice fields you will arrive at Cai Be pier. The crew welcomes you aboard with cold towels and a refreshing drink while your private Cai Be Princess Sampan sets off for its leisurely cruise on the busy waterways of the Mekong Delta. On the river, all sorts of boats ply the water, from small fishing boats to cargo barges loaded with fruit and vegetables.
Observe from the comfort of your sampan life as it plays out on the riverbanks the people, the stunning landscapes while your attentive crew serves you tea and seasonal fruit.
Later you will arrive at Tan Phong Islet where you will board a small rowboat to better explore the canal's hidden mangroves.
Go ashore to visit an ancient house built in the 19th century. You will also have an opportunity to explore local cottage industries including the making of coconut candy and puffed rice (the local equivalent of popcorn).
Afternoon: Your cruise ends at Le Longanier Restaurant where your lunch is served in this exquisite colonial-style villa. Set in a lush tropical garden by the river and surrounded by fruit trees, the restaurant gives you a sense of privileged life during Indochinese times.
After lunch, take a short walk along a small canal towards the Ba Bon Bridge where your personal vehicle awaits to take you back to HCM City.
Evening: Spend the remainder of the day at your leisure. For your dining experience, we would highly recommend the top-notch Noir Restaurant where you can embark on a culinary journey like no other: Dining in the Dark. Experience a different world in which you savor exquisite tastes and textures in complete darkness.
After dinner option: have some drinks at Chill Sky Bar which sits on the 25th floor of Saigon's AB Tower.
Overnight in HCM City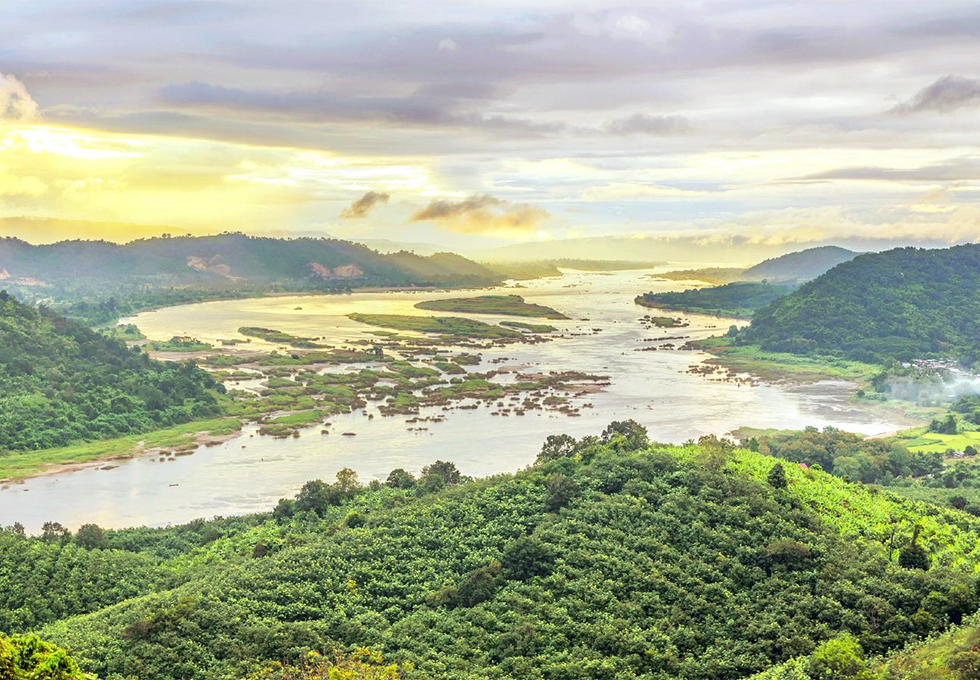 Mekong Delta
Unfortunately, the honeymoon has come to end and it's time to return to reality.
After breakfast and check out your private transfer greets you at the hotel and escorts you to HCM City International Airport where you board your flight home.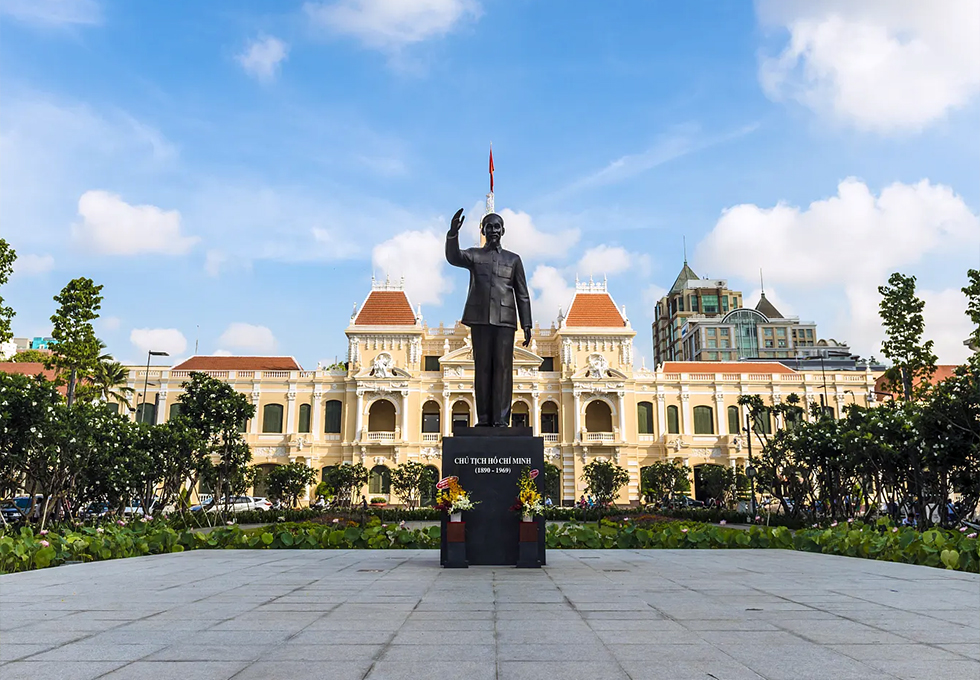 Ho Chi Minh City Hall
Price Includes
In-country transportationas noted in the itinerary.
Admission fees and activity expenses as noted in the itinerary.
Luxury or boutique hotels centrally located.
Meals in local restaurants as noted in the itinerary with complimentary drinking water.
Your own English-speaking guide service.
Your own chauffeur and vehicle service.
Price Excludes
International transportation.
Chinese tourist visa. (which enquired for most foreign passport holders)
Travel and medical insurance.
Meals, snacks, alcohol, etc. apart from those included in the itinerary.
Excess baggage charges.
Personal expenses.
Sights, excursions and activities not included in the itinerary.
Gratuities to guide and driver.
ANY QUESTIONS?
This tour is tailor-made and we can tailor to meet your reqeusts. Your personal travel consultant will contact you within 24 working hours!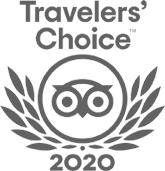 FABULOUS TOUR COMPANY
CHINA OCTOBER - NOVEMBER 2019 We researched several companies and studied reviews on Trip Adviser before contacting who did a very China Culture Tour with an initial query. Right from the outset Grace who owns the company was excellent. She emailed detailed with pictures information and a suggested…read more details
Karen from US
Ready to Create a Unique Dream Travel?