12 Days Best Laos: Luang Prabang - Phonsavanh - Vientiane - Champask
This 12-day best Laos tour itinerary is customizable. We arrange the best attractions, hotels, food, cultural experiences and outdoor experiences, while giving you more time to walk the streets and blend in with the locals to make your trip to Laos one to remember for a lifetime. Create my own Laos tour >>
Trip Highlights
Visit various temple and museum in Vientiane, Luang Prabang to learn about the culture of Laos
Walk around the evergreen nature of Kuang Si waterfalls
Cruising along the might Mekong river to visit the mysterious Pak Ou caves
The highlighted activities of the tour is the exploration of Elephant Conservation Center, interact with Elephant, and learning the efforts to re-enforce our friends back to nature
The panoramic view from the top of Phousi Hill over the town of Luang Prabang; from the top of Wat Phou over the area
Stroll around exciting 4000-island area and admire the life of local peaceful village
Customizable Tour Itinerary
Saibaidee! Welcome to Luang Prabang, Laos.
Upon arrival at Luang Prabang Airport, your private guide and driver are waiting to meet you, holding up a welcome signboard with your names on it and take you directly to your hotel.
After checking-in, you will have time to relax and adjust to the pace of Luang Prabang. There will be a short tour briefing this evening with your guide followed by a welcome dinner at Friends Restaurant, KhaiPhaen. It's a social enterprise based restaurant that empowers disadvantaged youth with vocational training amongst other support.
Please note: You must have both a passport and a visa to enter Laos. And your passport must also have at least six months' validity remaining beyond the date that you enter Laos. You can get a visa on arrival in Laos. Make sure you have two passport-sizes photographs.
Overnight in Luang Prabang: Amantaka/Avani/Pullman/Sofitel
Sofitel Hotel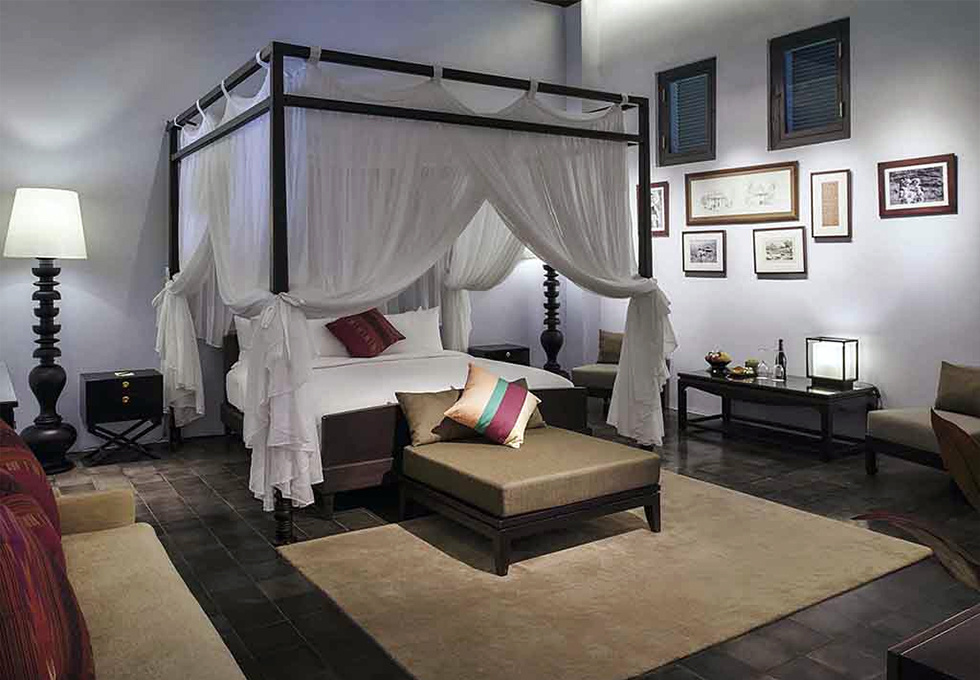 Sofitel Hotel
Start your day with a visit to the Morning Market, a lively street where locals shop for everything from colorful vegetables and exotic fruits to live frogs.
From the energy of the market, you'll step into the serene calm of one of the city's most elaborate monasteries, Wat Mai, and then to the former King's Palace, where you'll discover the history and present life of Luang Prabang. Next, head to the ancient Wat Xieng Thong temple, which features a spectacular low sweeping roof. It's Luang Prabang's most distinctive and recognized monastery.
After lunch at a local restaurant, you will visit the UXO Visitor's Centre to get an incredible insight into the horrific bombings endured by the Lao people and the effect it still has today. The UXO centre is an amazing NGO that does fantastic work, yet just scratches the surface of this little known issue.
Continue to explore the 16th century Wat Visoun temple, best known for its enormous stupa and its collection of old gilded Buddhas.
Pay a visit to the Traditional Art and Ethnology Centre (TAEC)**, the only independent resource center in Laos dedicated to the country's many and diverse ethnic groups. If time permits, you can visit the Ock Pop Tock Living Craft Center, set serenely close to the Mekong, this beautiful, traditionally styled workshop, where weavers, spinners and batik makers produce top-quality fabrics, offers free tours every half-hour.
Feeling suitably enlightened, end your day with a climb to the top of Mount Phousi, the city's highest point where you'll enjoy sweeping views of the city and the Mekong River below. After that transfer back to your resort where the rest of the evening will be at your leisure.
Overnight in Luang Prabang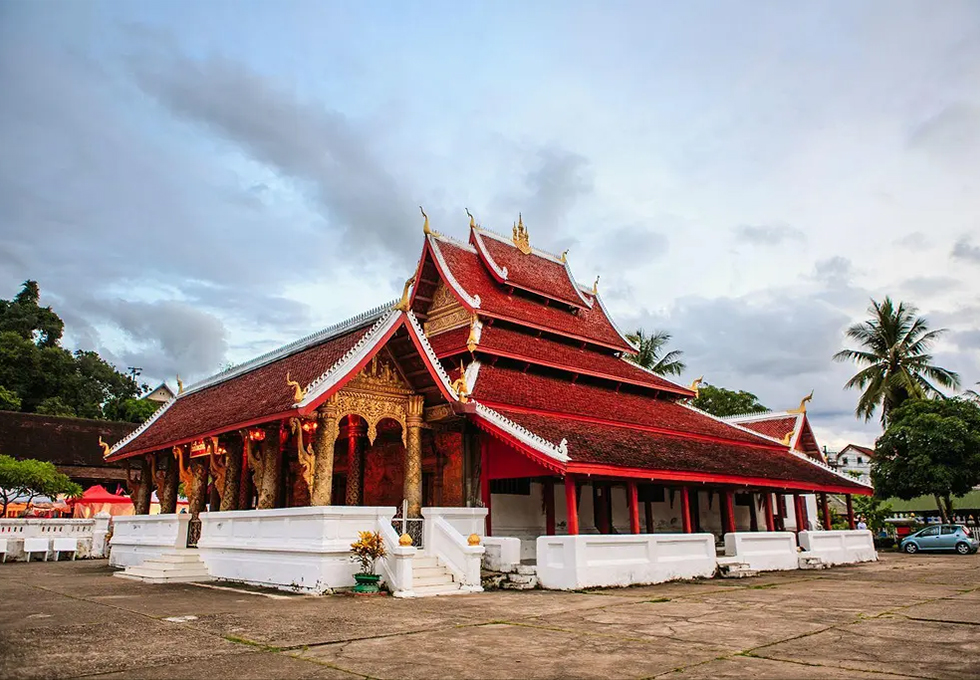 Wat Mai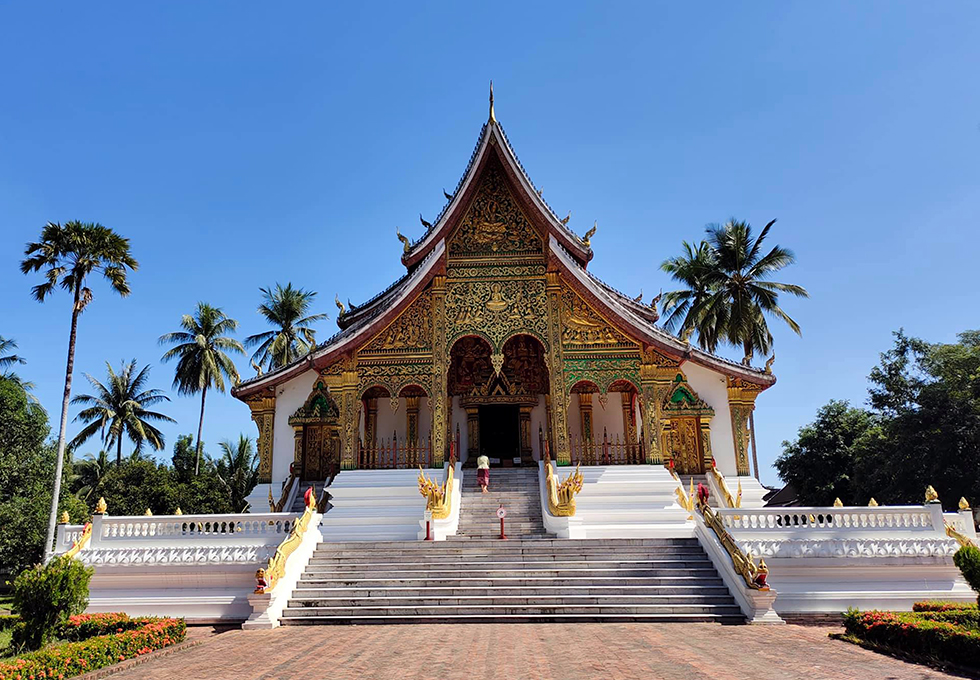 Wat Xieng Thong temple
Rising early to join the most sacred tradition of Laos, the daily morning almsgiving, which dates back to the 14th century. Every morning, hundreds of monks from the various monasteries walk through the streets collecting alms.
After breakfast, meet your guide for a forty-minute drive to the Pak Ou Village where you will explore the many crafts that the locals make before crossing the mighty Mekong River by small boat to the base of a limestone cliff, the site of the Pak Ou Cave. The lower cave is impressive and filled with Buddhist statues and relics. Take your time to explore the reverent scene scented with burning incense and overlooking the impressive Mekong landscape. Up a winding series of stairs, grab a flashlight and you'll find another fascinating and easily navigated cave to explore with its ancient Buddhist relics.
After having lunch at a local restaurant, you will cross the Mekong River again by boat and continue with a drive downriver for 1.5 hours to the famous Kuang Si Waterfall, one of the most spectacular swimming holes on the continent. The jungle around the waterfall remains lush and beautiful year-round. The waterfall cycles between placid, turquoise waters during the dry season to the impressive, roaring falls during the rainy season.
Before taking a dip in the beautiful Kuangsi Falls, you will get a behind the scenes experience with the team from Free the Bears. This sanctuary rescues and rehabilitates sun, moon, and sloth bears from bile farms.
Transfer to an organic farm where you experience the new Lao Buffalo dairy that produces cheese and a range of delicious dairy products. The diary provides income and a sustainable future for the Lao people involved. Learn how to milk a Buffalo, cuddle a Buffalo for the perfect selfie and try some incredible ice cream.
You will end this full day with a return drive to Luang Prabang late afternoon. Stop en route to see the popular Whiskey Village and sample the locally made Lao Lao.
Overnight in Luang Prabang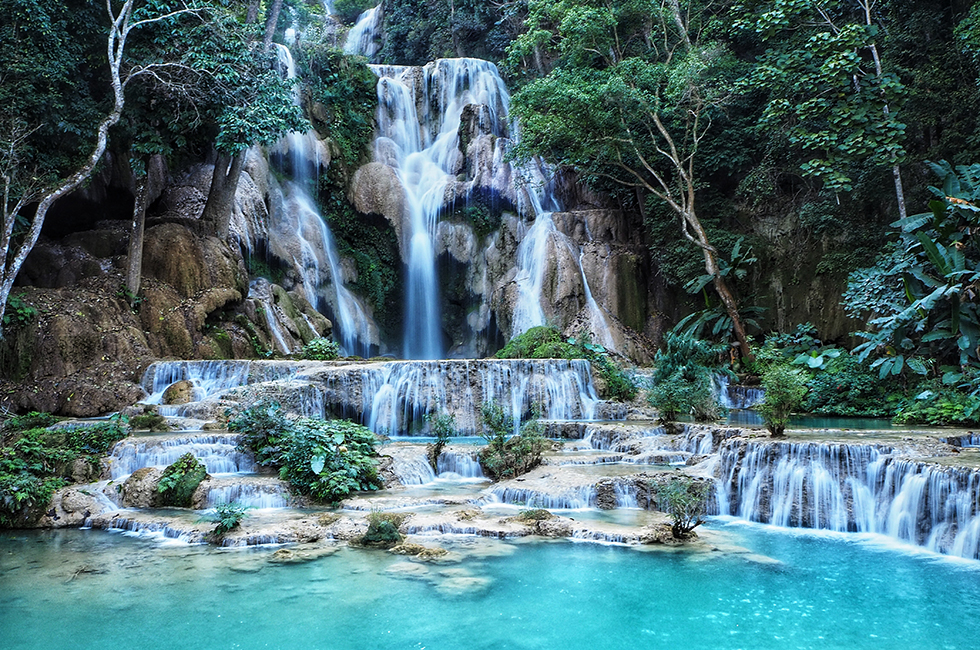 Kuangsi Falls
Today you will pay a visit to the Elephant Park Project located on the banks of the Khan River 15km from Luang Phabang, where you will get an interesting introduction to another part of history. The "land of a Million Elephants" as Laos was called for many years before is slowly losing its biggest animals, the Elephants.
The Elephant Park Project is investing in community-based eco-programs in Luang Prabang to give Lao Elephants a new home. As forests disappear, the elephants used to log them can become neglected. The aim of the project is to give these elephants a brighter future!
At the Elephant Park, if you wish you can go out for a ride, enjoy the natural scenery and go on a short boat ride to visit the Tad Sae waterfalls.
Your visit does help Elephant Conservation in Laos and this experience promises a wonderful day.
Overnight in Luang Prabang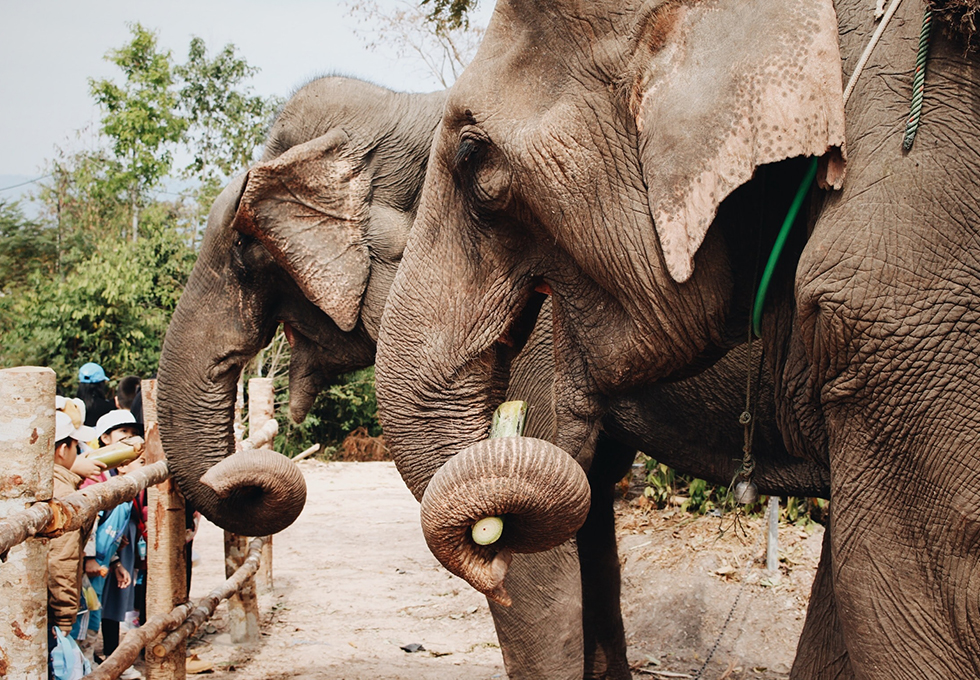 Elephant Park Project
After late breakfast and check out of the hotel, you will be picked up and driven back to Luang Prabang Airport to board a short flight (30 minutes) to Xiengkhouang, home to the mysterious "plain of jars."
Upon arrival, you will be met by your private guide and driver and transferred to the famous Plain Of Jars, a vast area extending around Phonsavanh from the south-west to the north-east. Mysterious and ancient, over 300 huge stone jars apparently carved out of the solid rock are scattered around the plateau. The jars vary in size from 1 to 3.25 metres high and weigh up to six tons each. There are several different theories as to the purpose of the jars, which are estimated to be 2,500 to 3,000 years old.
You will explore the Sites I and II, out of the many sites so far discovered. Also, make a stop at Ban Na Pia (War Spoon Village) before transferring to your hotel in Phonsavanh for check-in. The remainder of the day will be at your leisure.
Overnight in Phonsavanh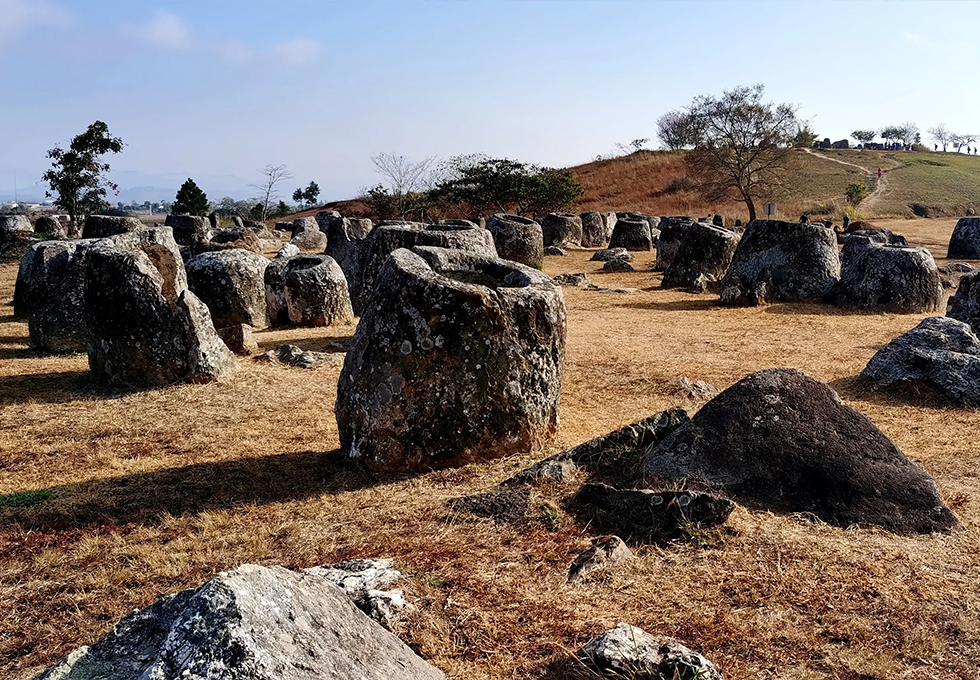 Plain Of Jars
Morning: Rising early to visit the local markets and then explore the ruins of the old capital of the Phuan kingdom. Here, you enjoy a Lao noodle soup breakfast and visit a Buddha statue at Wat Piawat and an old stone stupa.
Late morning, transfer to the airport for the 30-minute flight to the capital of Laos, Vientiane. Upon arrival at Wattay Airport, you will be picked up by your private guide and driver and taken to the hotel in the city centre for check-in.
Take a short sightseeing tour of Vientiane. Begin with a visit to Patuxai Monument, also called Anousavari, and enjoy a panoramic view over the city from the top. It is Vientiane's own Arc de Triomphe that is located at the top of Lan Xang Avenue, the Champs Elysees of the Lao capital.
Next, pay a visit to
COPE Visitor Centre
, a non-profit organization in Laos which provides prosthetic limbs, mobility assistance and rehabilitation for Lao people who can't afford it. The war is still heavily present in Laos, the country that experienced the most bombings by the Vietnam War. Still today, a good deal of those unexploded ordnances (UXOs) explode as people work their fields and children play in the countryside. Laos is actively fighting the use of these cluster bombs and the COPE centre will depict and inform visitors on these issues.
Your visit to COPE Visitor Centre will open your minds and your hearts.
Finish the tour and get back to your hotel where the balance of the day is at your leisure.
Overnight in Vientiane: Settha Palace/Landmark Mekong River/La Seine Hotel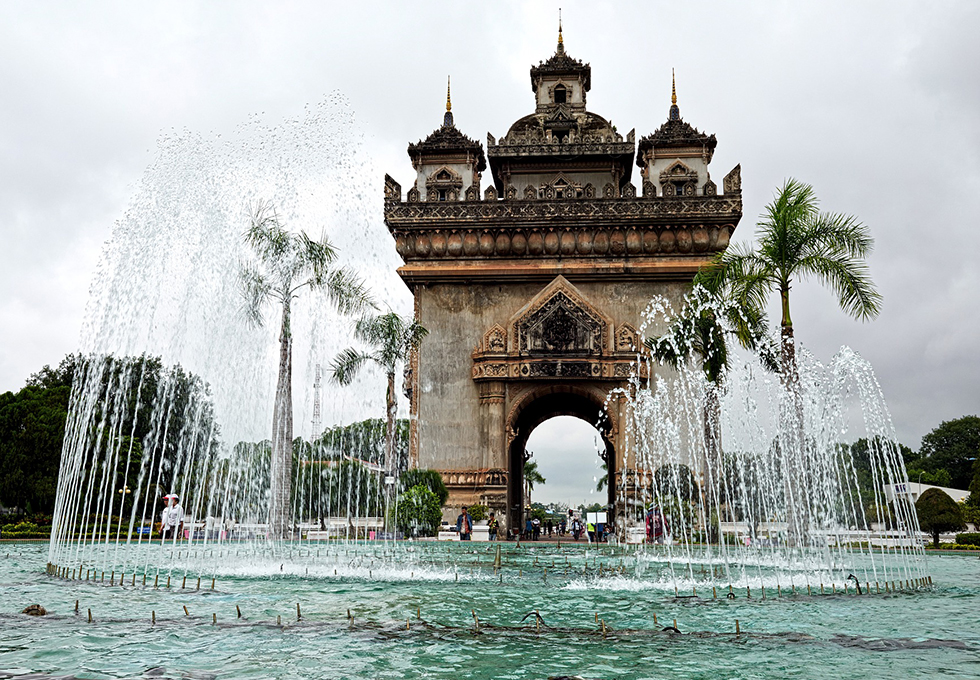 Patuxai Monument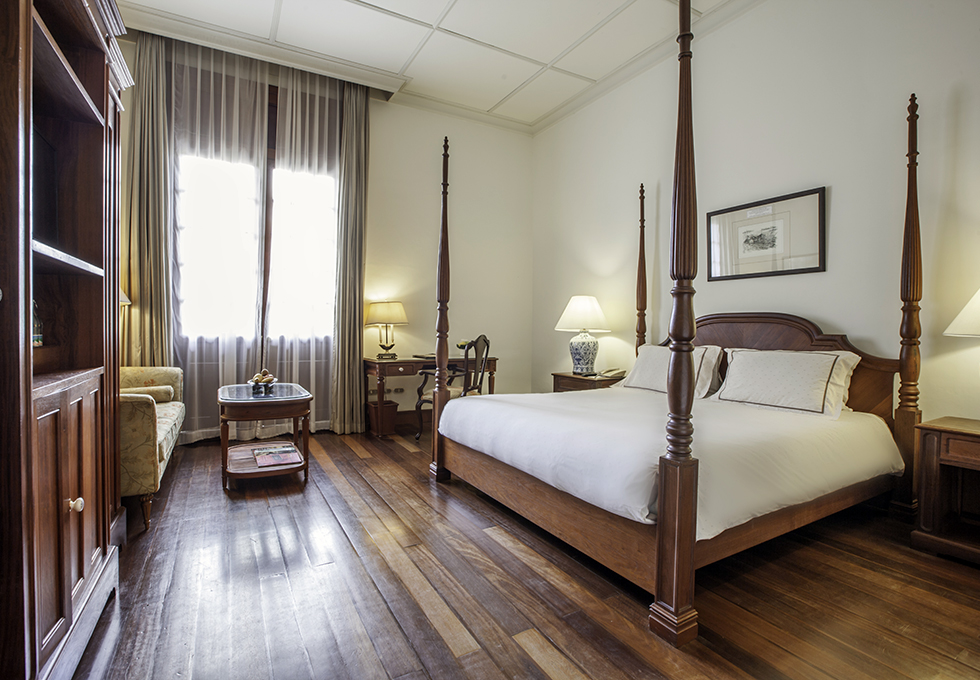 Settha Palace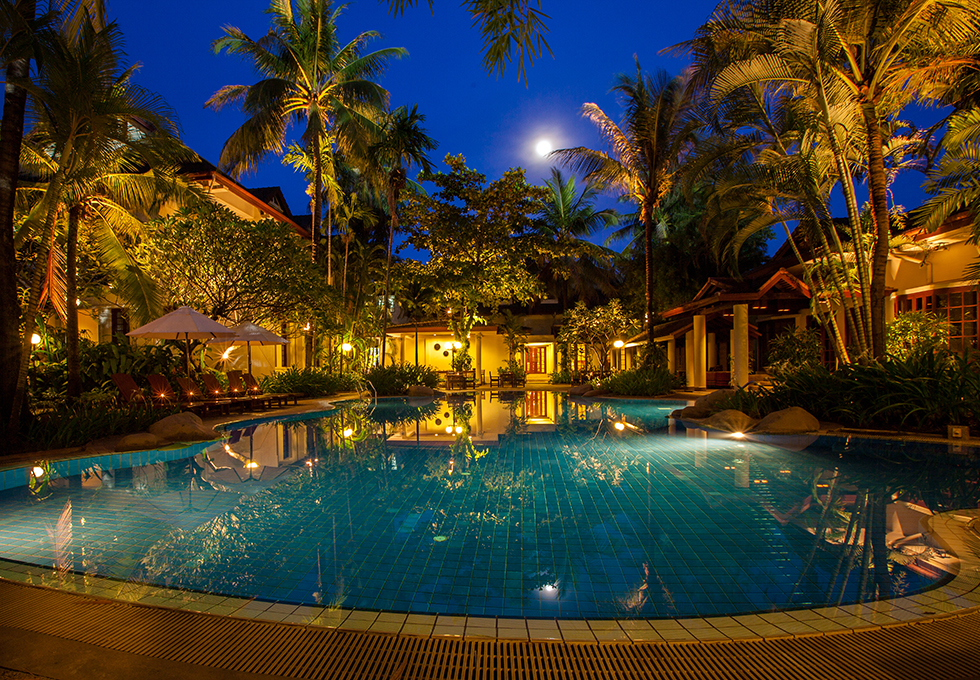 Settha Palace
The capital city of Laos, Vientiane, still feels like a sleepy city with relaxed charm, tree-lined boulevards, fascinating temples, and colorful markets. This city conjures up exotic images, with the curious mix of Lao, Thai, Chinese, Vietnamese, French influences.
After breakfast, your guide and driver will pick you up for the further exploration of this charming city. Start with Vat Sisaket, the only temple left intact after the Siamese invasion in 1828. It shelters hundreds of statues of Buddha within its walls.
Continue with Wat Prakeo, now used as a religious museum where you can see Lao and Khmer works of art. It used to host the "Emerald Buddha" that is now on display at Bangkok's Royal Palace.
Continue to visit the iconic Pha That Luang, a gleaming golden stupa which is perhaps the most important national monument in Laos.
After lunch at a local restaurant, you will uncover other important sites including Buddhist monasteries of Wat Ong Tue and Wat Haysoke. Next, visit Lao National Museum, the charming French Colonial Architecture building, and Wat Si Muang, a Khmer temple with a fascinating legend that still holds great significance among the Laotian community.
End your day at the Vientiane Central Market of Talat Sao and Talat Kouadin, where major goods are traded, including fresh food, household, textiles, gold, and silver. You may even see ancient souvenirs on display.
The rest of the day will be at your leisure. You may take a stroll along the Mekong Riverside, have a cold beer Lao while enjoying the cooling weather at sunset.
Overnight in Vientiane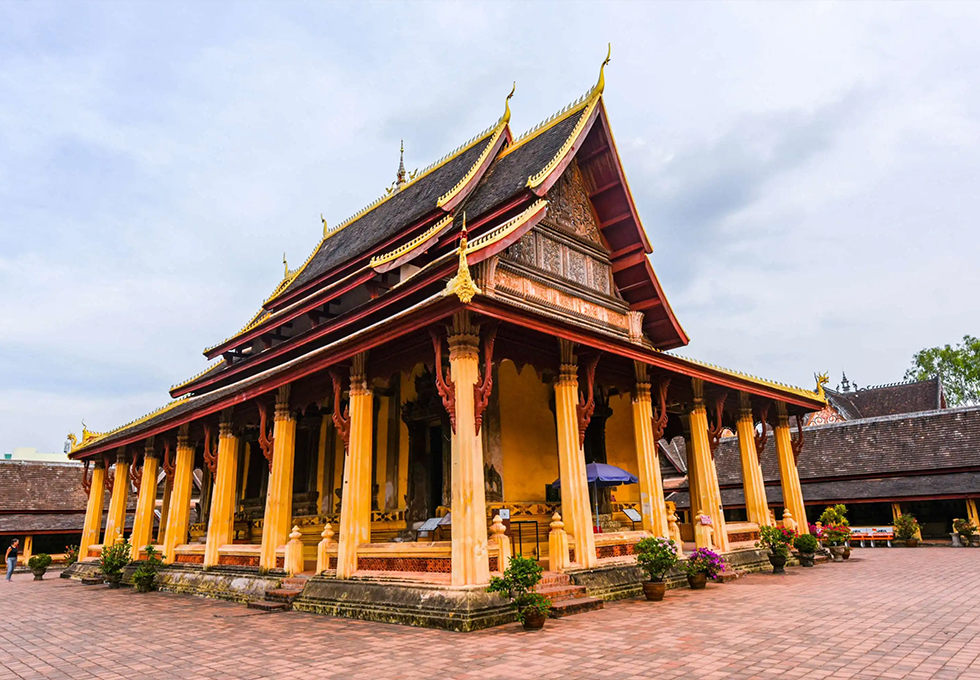 Vat Sisaket
After breakfast and check out, transfer to the airport for a short flight to Pakse in the southwest corner of Laos, home to some of the most beautiful waterfalls, jungles, and islands in the entire country. This region is a rarely unexplored part of the country, where tourists seldom visit and life moves at a much slower pace.
Upon arrival, you will be met by your private guide and driver and transfer to explore the Bolaven Plateau. Start with an excursion to the agricultural village of Ban Katuu, home to the Katu ethnic minority. The village is within a coffee plantation surrounded by beautiful nature. Here, you will get a glimpse of local coffee production and sample fresh Lao coffee.
Go on to visit Talat Dao Heung Market near the Japanese Bridge, where you can bargain for coffee and browse colorful stalls of spices, dried fish, fresh fruits, and Lao sweets.
After enjoying lunch at the coffee plantation, you will continue to explore the Bolaven Plateau's famous features: Tad Fane waterfall. Situated in dense rainforest, this waterfall has twin streams that plunge from an impressive height of 800 feet. Next, you will drive to Tad Yeung waterfall and the surrounding coffee plantation and enjoy a swim in its cool, clear waters.
Finish your excursion and transfer to your hotel in Champasak. After checking in, spend the remainder of the day at your leisure.
Overnight in Champasak: Residence Bassac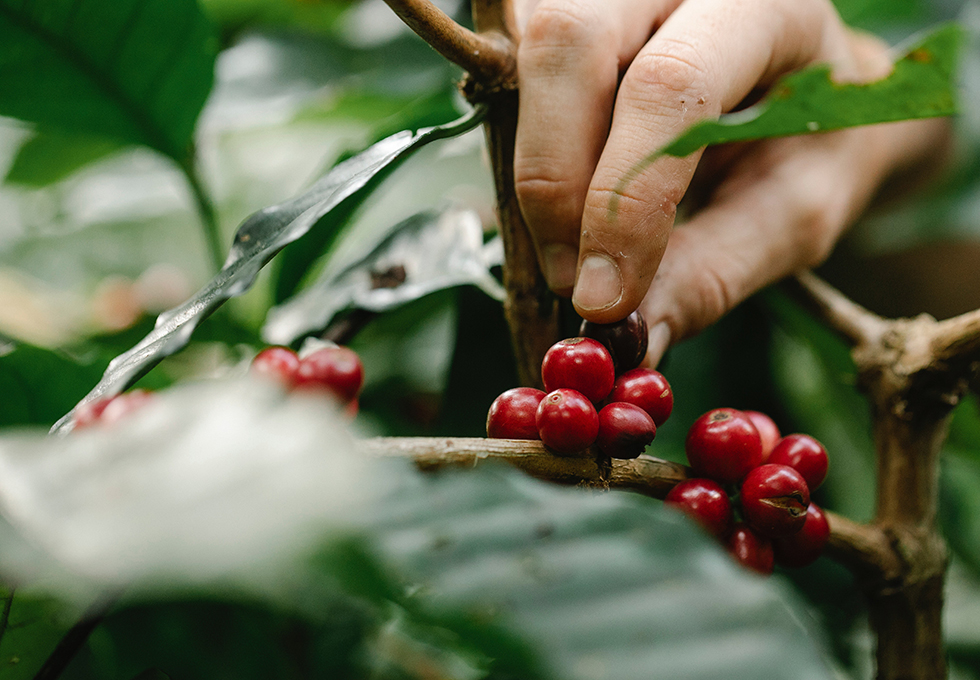 Coffee Plantation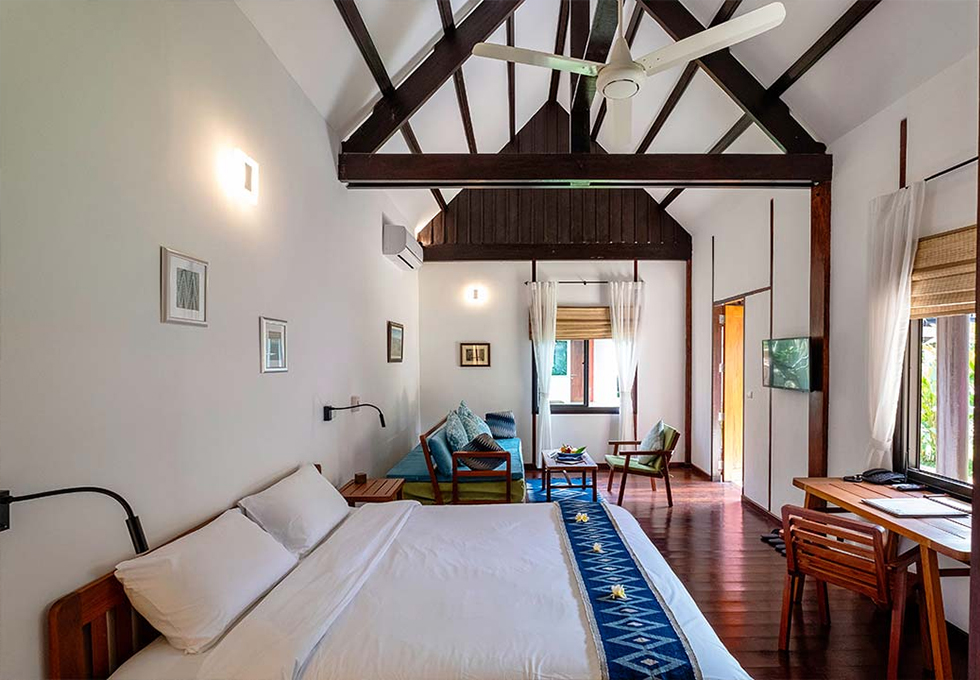 Residence Bassac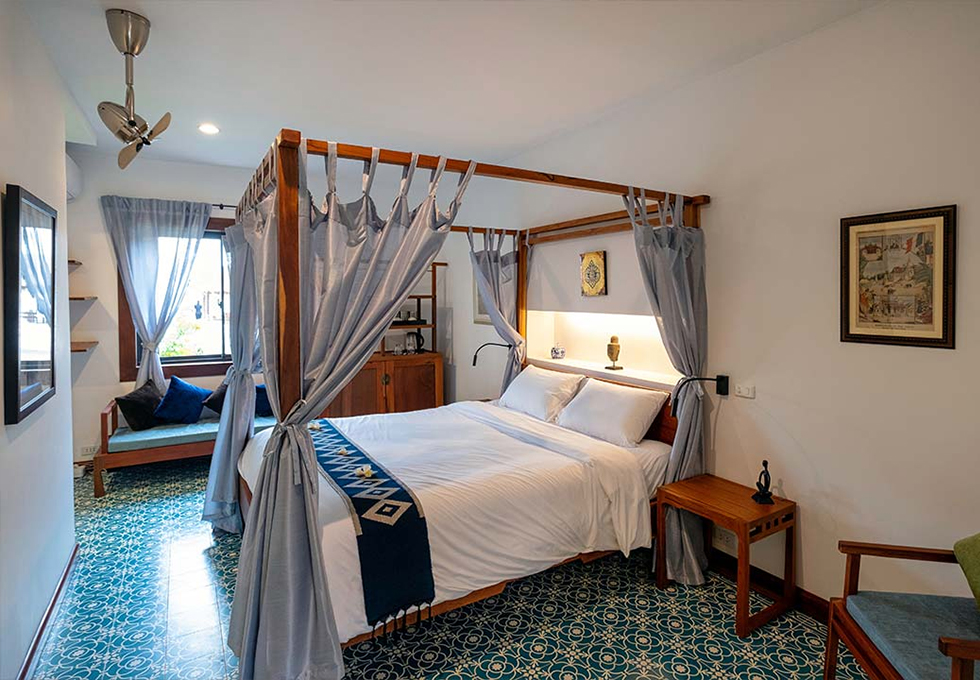 Residence Bassac
After breakfast, you will be met by your guide and driver and transferred to Wat Phou, a UNESCO protected temple where you will commence your explorations of the remains of Khmer history in the region.
Upon arrival, you will set out to visit the ruins of Wat Phou, understood to be the most important Hindu sanctuary of the Khmer Empire. Set among the rice fields and waterways common to this part of the country, the spectacular three-level temple is particularly striking. The first temple on the site was built as early as the 5th century, though the current ruins are from the 11th to 13th centuries. Your thorough 2-3 hour visit of the ruins includes a steep climb to holy shrines of worship on the upper level where many sacred Hindu, Buddhist and Animist elements can be found.
You also visit the Wat Phou Museum exhibition hall on the lower levels to study the rich heritage of Khmer artists and Buddhist sculptures.
After you're done exploring, head back to your hotel for an afternoon at leisure. You might like to relax by the pool or borrow bikes from the hotel to go cycling around the neighborhood. Dinner can then be enjoyed overlooking the river.
Overnight in Champasak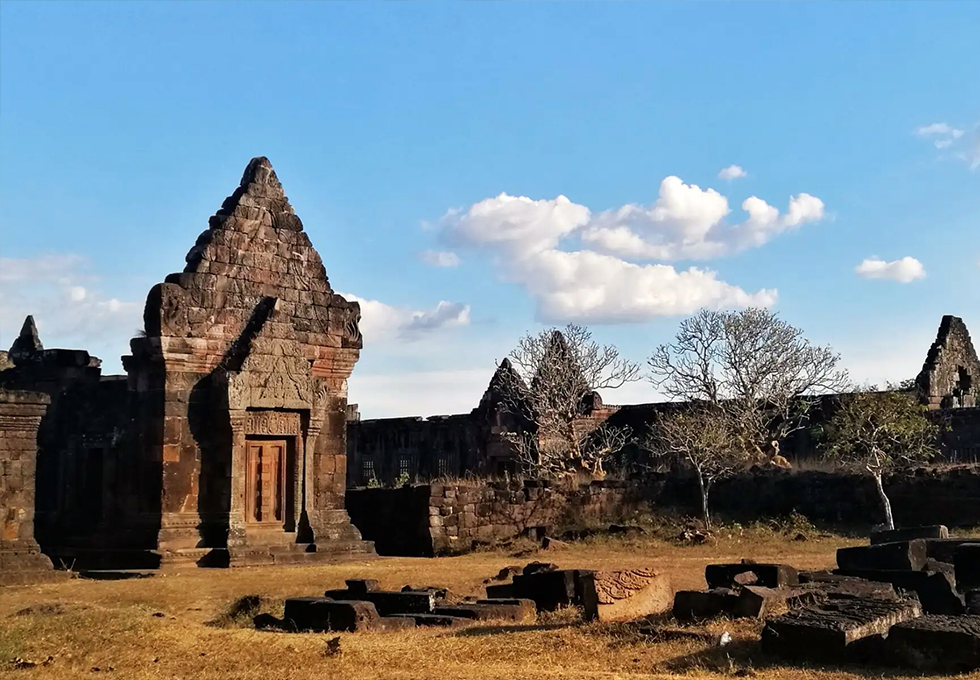 ruins of Wat Phou
After breakfast, you will travel further south of your hotel as you embark on a full-day tour to Siphandon, an archipelago of over 4,000 islands where the pendulum of time swings slowly and postcard-worthy views are the rule rather than the exception. This unique cluster of islands is found in a section of the river that's over eight miles wide (no, that's not a typo) and is dotted with rapids and waterfalls.
On arrival, you will visit the village of Ban Nakasang and then hop on a boat to cruise across to the peaceful island of Done Khone, a small island in Si Phan Don home to rural villages and plantations and where you can spend some time cycling around.
After this, travel on to the impressive Lippi Waterfall. From a distance, you can hear the unmistakable roar of the falls. These falls are famous for the Irrawaddy freshwater dolphins that swim nearby. Ban Hang Khon is one of the few places on earth it's possible to spot these endangered mammals. You also view the old locomotive, a railway and colonial bridge built by the French in order to avoid navigating the rapids and waterfalls in this section of the Mekong River.
After lunch at a local restaurant, continue with further explorations on the river. By late afternoon, head back to your hotel in Champasak in time to watch the sunset.
Overnight in Champasak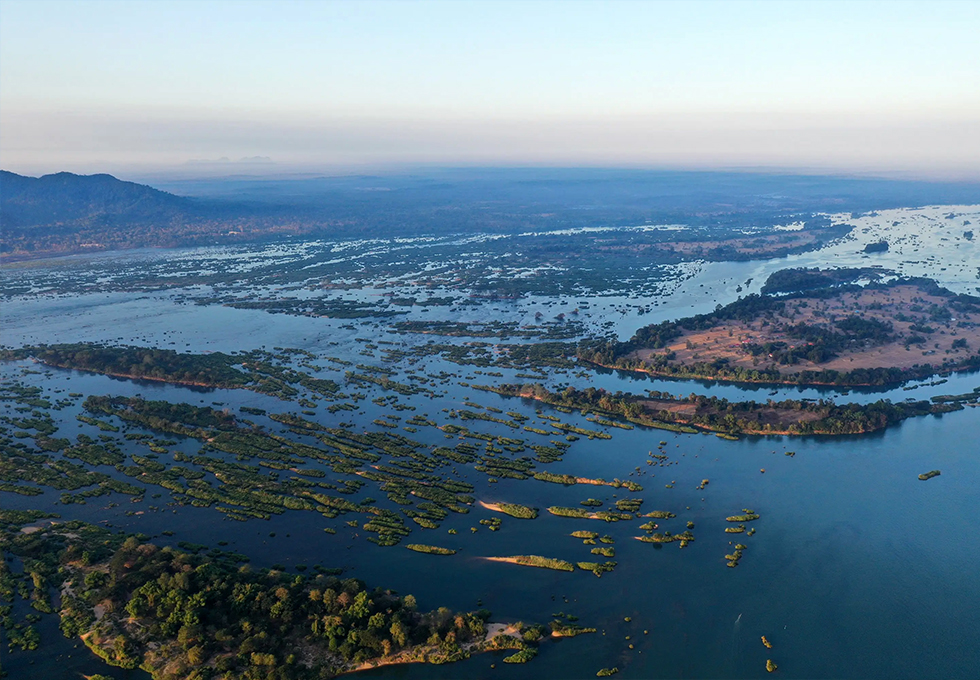 Siphandon
After a busy holiday of sightseeing and immersing yourself in the local Laos culture, today is yours to simply sit back, relax and reflect on the trip.
Spend a full day enjoying the sunshine, either from the pool at your hotel or at one of the nearby sandy beaches.
Overnight in Champasak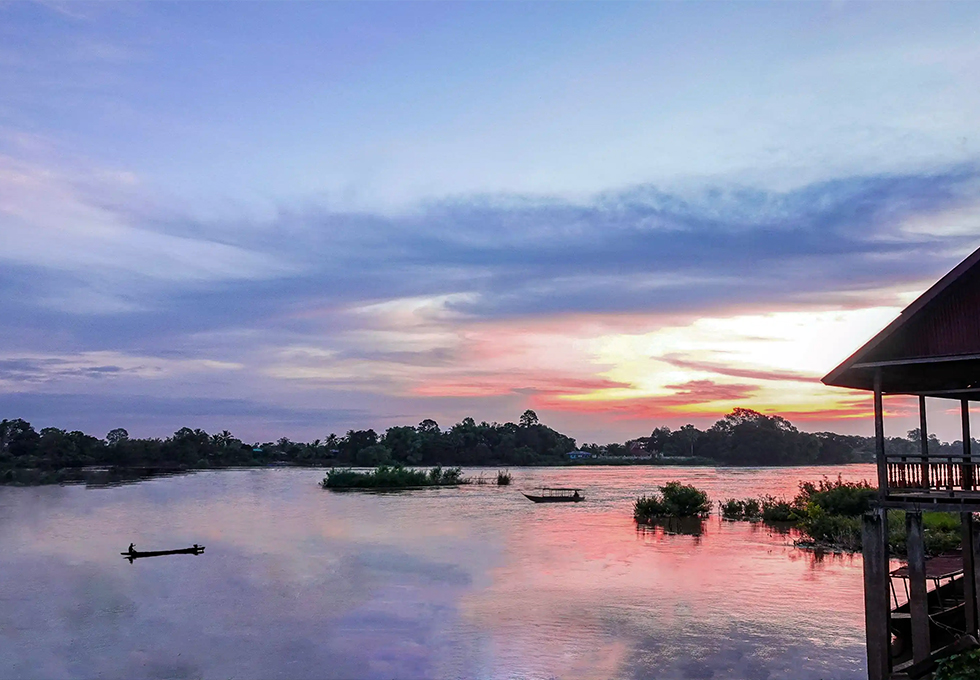 Leisure Time
You have the morning to relax and after a long, lazy lunch, bid farewell to the beautiful country of Laos and transfer to Paske airport to take a short flight to Siem Reap, Cambodia or taking an overland exit through Chongmek International checkpoint to Ubon Rathani in Thailand, two and a half hours away. From there, board your one-hour flight to Bangkok and connect on to your flight home or travel on to more adventures, we will help you with the planning.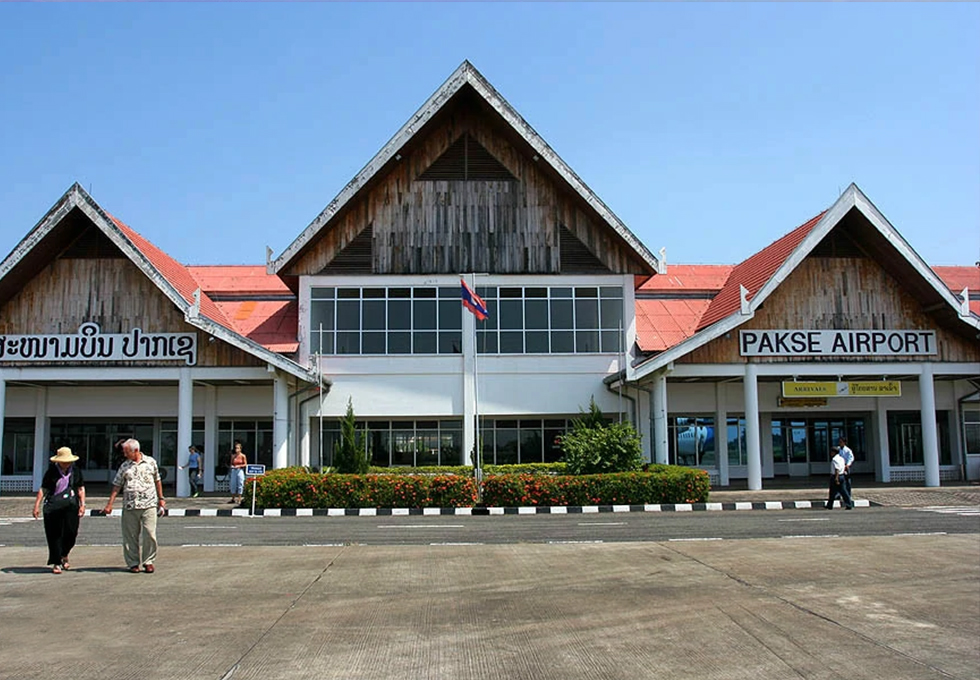 Paske Airport
Price Includes
In-country transportationas noted in the itinerary.
Admission fees and activity expenses as noted in the itinerary.
Luxury or boutique hotels centrally located.
Meals in local restaurants as noted in the itinerary with complimentary drinking water.
Your own English-speaking guide service.
Your own chauffeur and vehicle service.
Price Excludes
International transportation.
Chinese tourist visa. (which enquired for most foreign passport holders)
Travel and medical insurance.
Meals, snacks, alcohol, etc. apart from those included in the itinerary.
Excess baggage charges.
Personal expenses.
Sights, excursions and activities not included in the itinerary.
Gratuities to guide and driver.
ANY QUESTIONS?
This tour is tailor-made and we can tailor to meet your reqeusts. Your personal travel consultant will contact you within 24 working hours!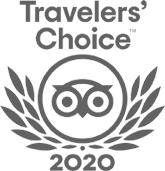 FABULOUS TOUR COMPANY
CHINA OCTOBER - NOVEMBER 2019 We researched several companies and studied reviews on Trip Adviser before contacting who did a very China Culture Tour with an initial query. Right from the outset Grace who owns the company was excellent. She emailed detailed with pictures information and a suggested…read more details
Karen from US
Ready to Create a Unique Dream Travel?