15 Days Giant Pandas and Tibet Soul
Experience the drama of China's past and present, diverse landscapes, the in-depth cultural roots and uncover the mystery of Tibet. This itinerary works brilliantly for those seeking for culture, nature, luxury travel experience and a twist of adventure. After discovering the historical marvels of Beijing and Xian, continue with a spiritual journey to Tibet for its fascinating Buddhist culture and unique scenery of striking mountains and holy lakes. Visit giant pandas in Chengdu and finish your trip perfectly in Shanghai.
Trip Highlights
Witness the spectacle on the roof of the world
Explore the imperial palaces and sacred sites
Hands-on cookery lesson
Enjoy plenty of time meeting giant pandas
Customizable Tour Itinerary
Start your journey in Beijing, China's capital city since the 13th Century, where you can soak in historical atmosphere and witness China's rapid development simultaneously. Be greeted and transferred to your luxury hotel in downtown Beijing. Relax at hotel to minimize jet lag. Alternatively your guide can give great advice on restaurants or nearby places to idle around.
Hotels: Beijing Double Happiness Courtyard Hotel, Beijing Fairmont Hotel, Beijing Aman Summer Palace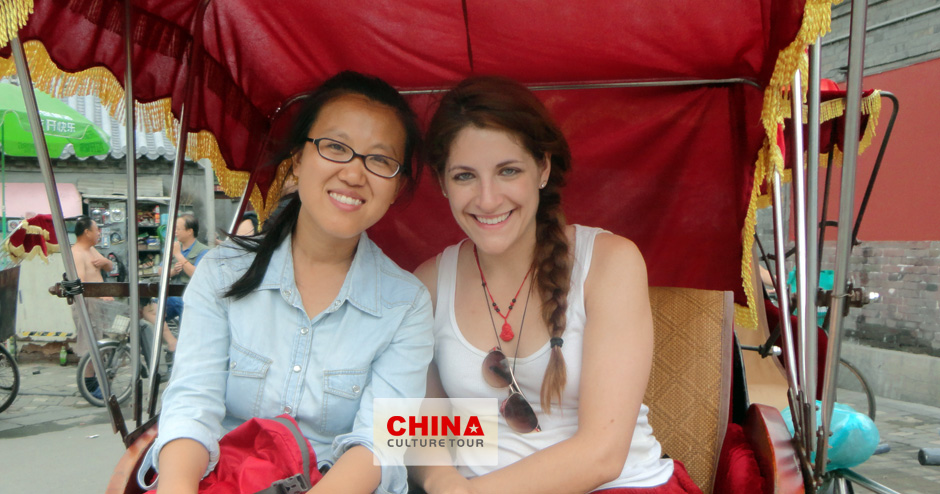 Hutong rickshaw
This morning you'll feel journey back Chairman Mao Era as you walk across Tiananmen Square. Through the solemn red-painted gate to get into Palace Museum – China's largest and best museum was actually the imperial palace of Ming and Qing Dynasty named Forbidden City. Admire its rich collections of relics dating to different historical periods.
View China's most remarkable garden – Summer Palace, favorably located at the Wanshou Hill and with the rolling West Hills as its backdrop. Based on the landscape of Kunming Lake and by using the garden technology of Jiangnan classical garden, Summer Palace is praised as a museum of Chinese garden.
This evening, attend a Shaolin Kungfu Show (optional).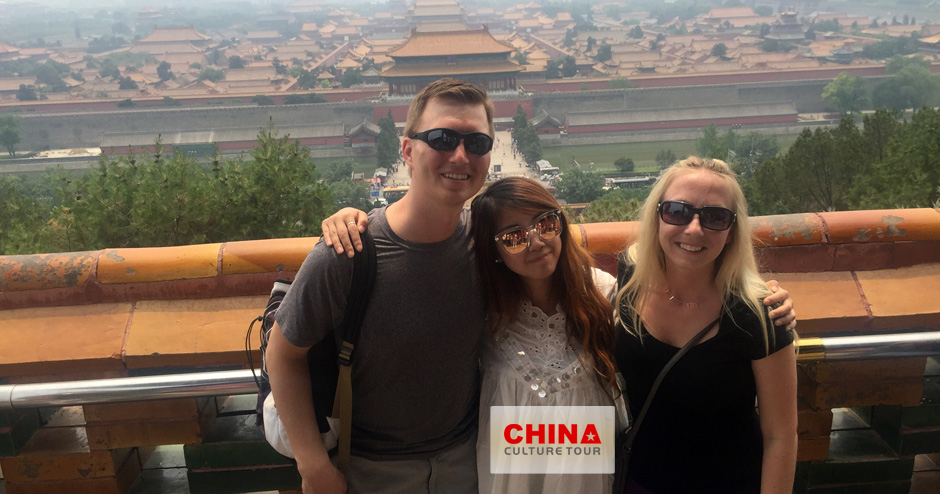 Forbidden City
Despite the historical changes for over 2000 years, the Great Wall of China stands still majestically on the mountain peaks of North China. Visit a lesser-tourist and more authentic Great Wall – Mutianyu Great Wall. Hike up and down to get through the beacon towers and view the other walls on the distant mountains.

In the afternoon, hop in a vintage richshaw through hutongs – those narrow alleyways are in an intricate layout like a checker-board pattern. For the past 700+ years, hutongs, with its quadrangle complex and cultural sites, have experienced long historical changes and become a unique treasure of Beijing.
Tonight, enjoy crispy Peking Duck for dinner (optional)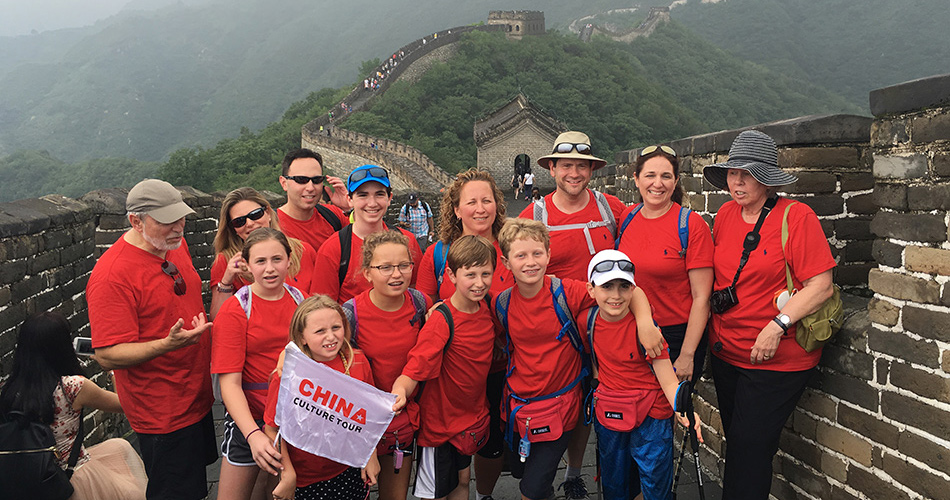 Great Wall
You may have heard that activities to worship heaven played a crucial role in the ancient China Empire. The Temple of Heaven you visit today was just the most important site for kings to hold these activities during the Ming and Qing Dynasties. The solemn and magnificent architectures remind intact today.
Visit a local flea market in Beijing – Panjiayuan Market, which is at its best and busiest at the weekend. With all sorts of secondhand goods from jades, jewels and ancient coins to stamps and furniture, Panjiayuan is praised as China's biggest "open-air museum".
Take a high speed train from Beijing to Xian, where centuries year-old city wall and legendary Terracotta Army await.
Meals: Breakfast, Lunch,
Hotels: Sofitel Legend Peoples Grand Hotel Xian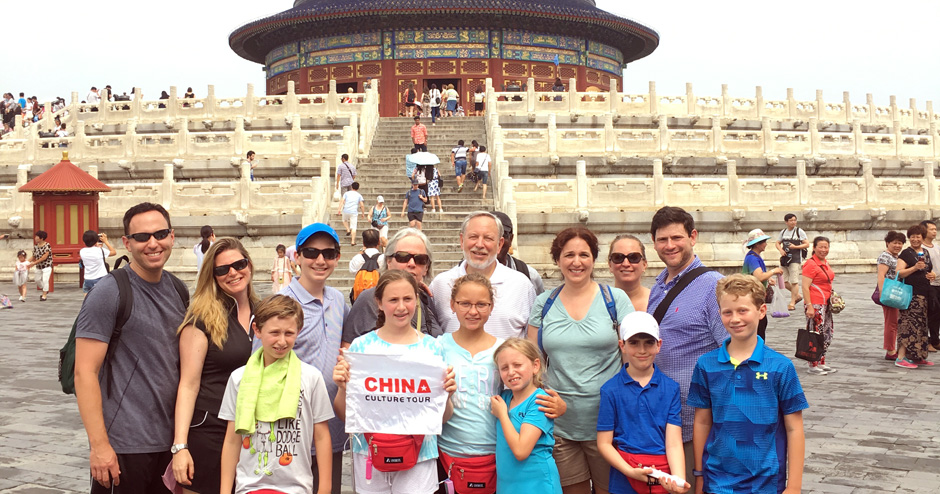 Temple of Heaven
The thousands of lifelike Terracotta Warriors and Horses you meet today were made over 2200 years ago with complicated process, as the burial objects of the great Emperor Qinshihuang. When it was excavated in 1970s, it was celebrated as the "Eighth Wonders of the World". If you like, learn to make a mini terracotta solider yourself, and bring it home.
You will be embraced with hundreds of street foods when wandering Muslim Quarter, which has been inhabited mainly by Muslim Hui people and known as Xian's most popular food center. Experience the spectacle of local Muslim and visit the Great Mosque of Xian, with a unique façade that mixes Islamic and ancient Chinese style.
This evening, enjoy a banquet of dumpling as dinner before watching Tang Dynasty Music and Dance Show (optional).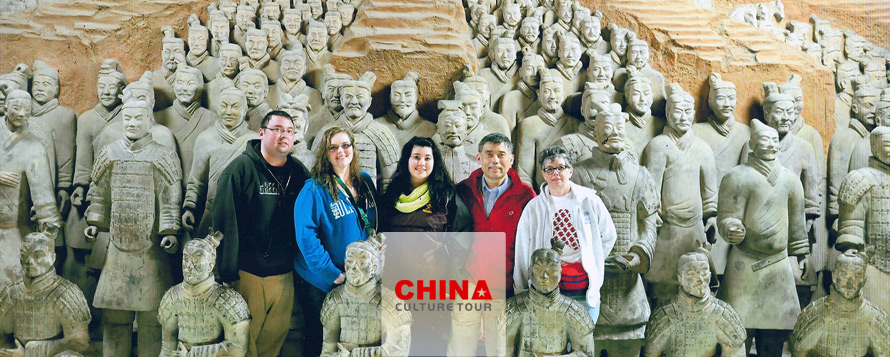 Terracotta Warriors Museum
This morning visit Shaanxi History Museum to study the past of Xian as a prosperous capital in the ancient times and the starting point of the great Silk Road. One of the most famous museums in China, it is a treasure house of Chinese civilization. The iconic structure of Xian, Big Wild Goose Pagoda is within a walking distance from Shaanxi History Museum. It was built over 1300 years ago during Tang Dynasty by Master Xuanzang to collect Sanskrit scriptures, Buddha statues and Sarira.
You'll have a special lunch experience today. Visit a local family and learn to make dumpling or Xian noodles – making a local flavor lunch yourself.
Admire Xian's Ancient City Wall built in 1370, 13.74km long and 12m high. Standing on it, you can look back Xian's history, tradition and look into its modernity and development. When the night falls, the wall will be illuminated by colored lights, creating an extremely beautiful scene.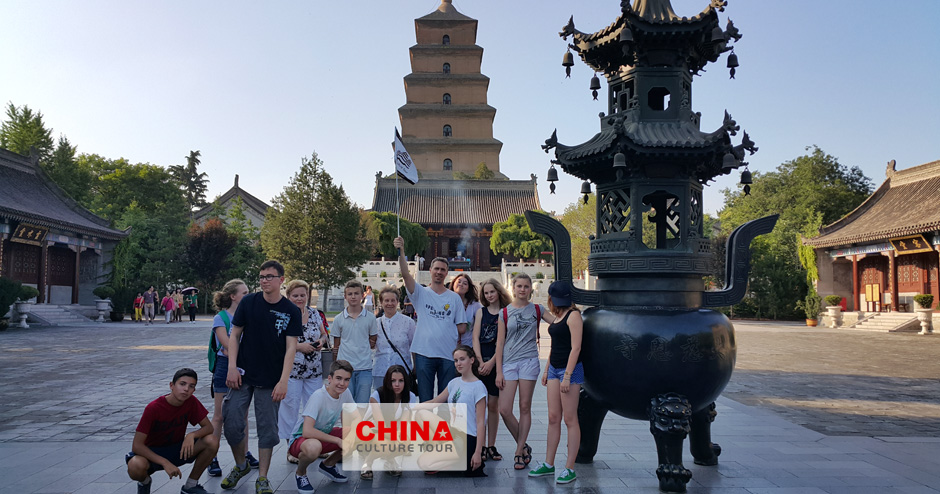 Big Wild Goose Pagoda
Fly into Lhasa, city of sunlight and the holy city for Tibetan Buddhists. Located in the middle of Tibet Plateau, north of Himalayas, Lhasa is 3650m (12,000 feet) above sea level. So the rest of the day is to acclimate yourself to the high altitude, breathe the freshest air and view the bluest sky and snow-capped mountains. 
Meals: Breakfast,
Hotels: The St. Regis Lhasa Resort, House Of Shambhala, Intercontinental Lhasa Paradise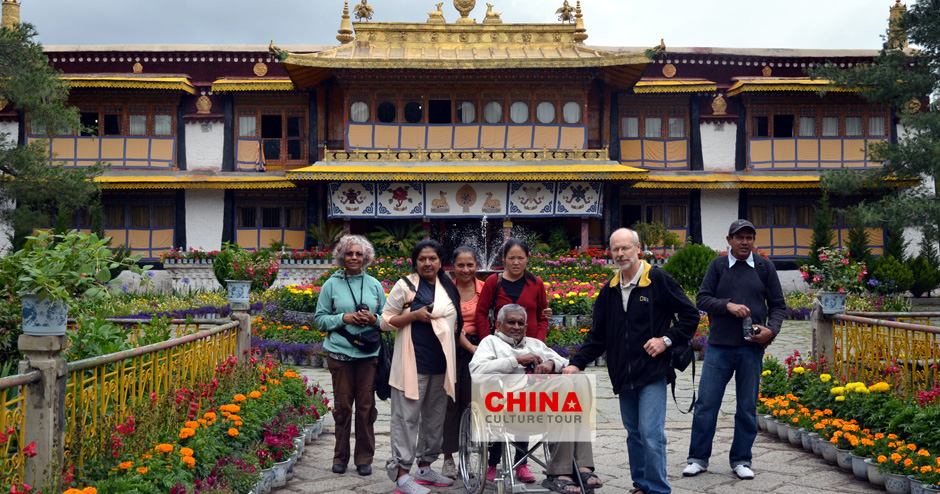 Norbulingka
Drepung Monastery was built in 1416 by a disciple of Tsongkhapa, founder of the Gelug Sect of Tibetan Buddhism. The largest temple in Tibet, The grand architectures of Drepung Monastery sprawl on the hill, resembling a mountain city.
Then visit a classical Tibetan garden – Norbulingka – the summer palace for Dalai Lamas. Furthermore, it is a plateau botanical garden, as boasting various exotic flowers and herbs transplanted from Himalayas, mainland China and even foreign countries.
There's chance you may attend a Buddhist debate at Sera Monastery. This tradition has been carried on for more than 600 hundreds. The tens of lamas dressed in scarlet robe are the debaters.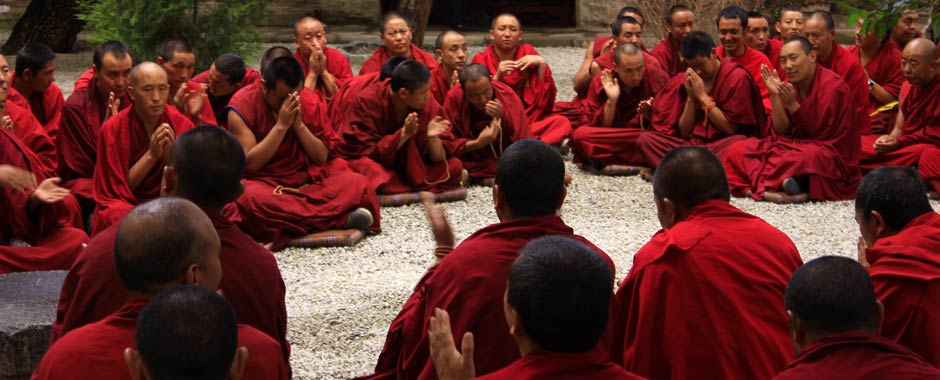 Monks debating at Sera Monastery
Walk across the Potala Square and visit the enormous Potala Palace in person – the winter palace of the Dalai Lama for 1300 years. UNESCO depicts it as a historic ensemble, since it incorporates perfectly the palace, castle, and temple complex and possesses a myriad of Buddhist and Tibetan culture and art treasures.
Later come at Jokhang Temple, the final destination of the pilgrimage of Tibetan Buddhists. When Jokhang Temple was built in the 7th Century, Lhasa was then honored as the holy city. Admire the statue of Shakyamuni in twelve years old and find the best place to see the distant Potala Palace.
Then walk Barkhor Street, the commercial center of Lhasa and a ritual walk path surrounding Jokhang Temple, thus known as the sacred way. Here you can meet friendly local Tibetans and buy Tibet souvenirs and specialties.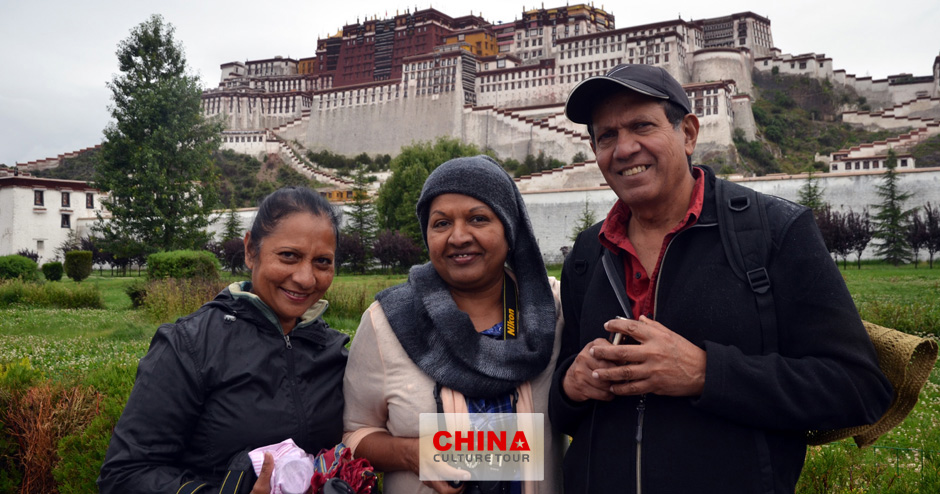 Potala Palace
Today continue your Tibet journey getting to Yamdrok Lake (about 2 hours' drive from Lhasa). One of the three holy lakes in Tibet, Yamdrok looks like a coral branch lying on this wild land, hence it is also called Coral Lake in Tibetan language. Walk around leisurely to take in breathtaking views of this emerald plateau lake and the surrounding wilderness scenery. Drive back to your hotel along the scenic roads.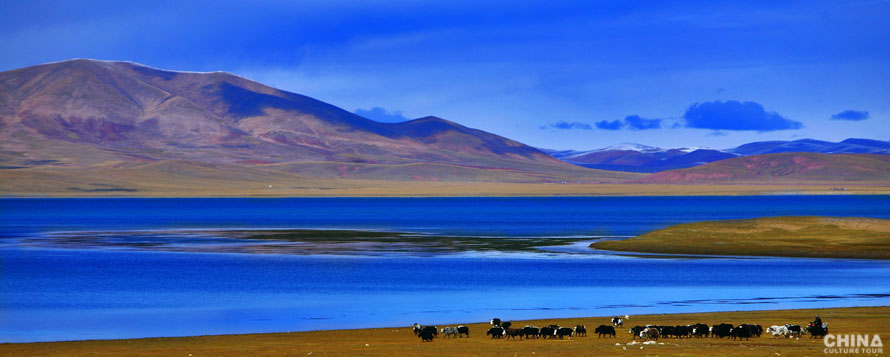 Yamdrok Lake
Bid farewell to Tibet. Enjoy your last minute sightseeing, wandering the old streets and corners, viewing the sublime scenery on the roof of the world. Then fly for 2 hours from Lhasa to Chengdu, where you will realize your dream to meet giant pandas in person.
Meals: Breakfast,
Hotels: Buddha Zen Hotel Chengdu, Grand Hyatt Chengdu, JW Marriott Hotel Chengdu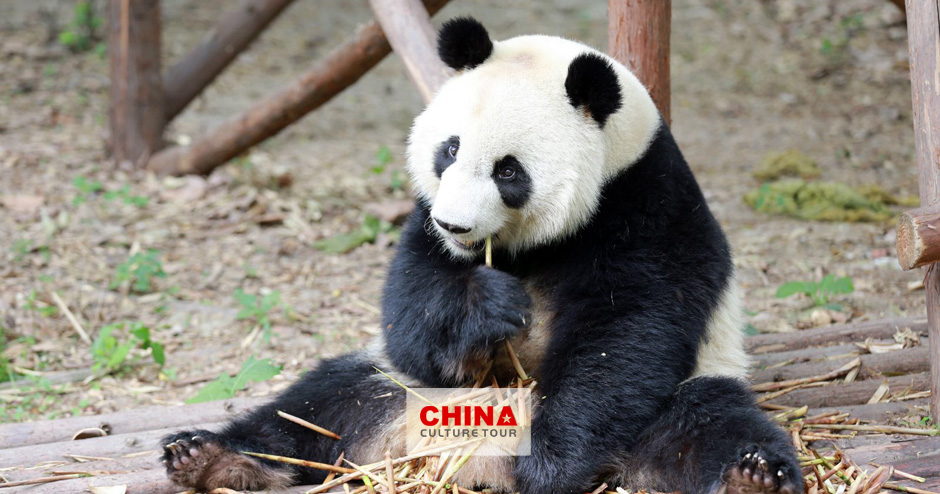 Chengdu Panda Breeding Research Center
Visit Chengdu Research Base of Giant Panda Breeding, one of China's and world's most important research institutes for the protection and research of giant panda. At this panda base of Chengdu, you will not only observe pandas, but also learn knowledge of giant panda scientific research, history and panda culture.
Sichuan Cuisine Museum showcases the many different types of cooking utensils and various categories of Sichuan Cuisine, one of the eight Chinese cuisines. Try delicious snacks on the museum's food street. And if you wish, attend a cooking class, learning to cook authentic Chinese dishes.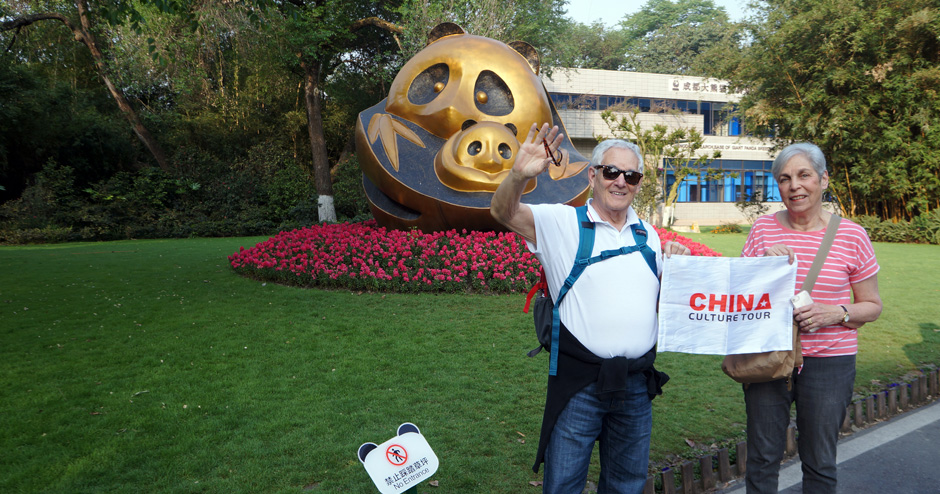 Chengdu Panda Breeding Research Center
Apart from being home of panda and Sichuan cuisine, Chengdu is also famous for the leisure lifestyle. This morning, your guide will lead you to Renmin Park, the liveliest park in Chengdu. Enjoy yourself a relaxing morning by watching locals practice martial arts, dance, play chess and play mahjong – the most popular way of entertainment among locals. Then find a quint teahouse to enjoy a cup of aroma local tea.
This afternoon, visit an ancient temple – Wenshu Monastery - hidden in the bustling city center. It is an all-wood architecture built to be embraced by an elegant garden. Wander the laidback Jinli Old Street with glimpse into the traditional commercial center of Chengdu. 
Fly from Chengdu to Shanghai.
Meals: Breakfast, Lunch,
Hotels: Grand Hyatt Shanghai, Four Seasons Hotel Pudong Shanghai, Grand Central Hotel Shanghai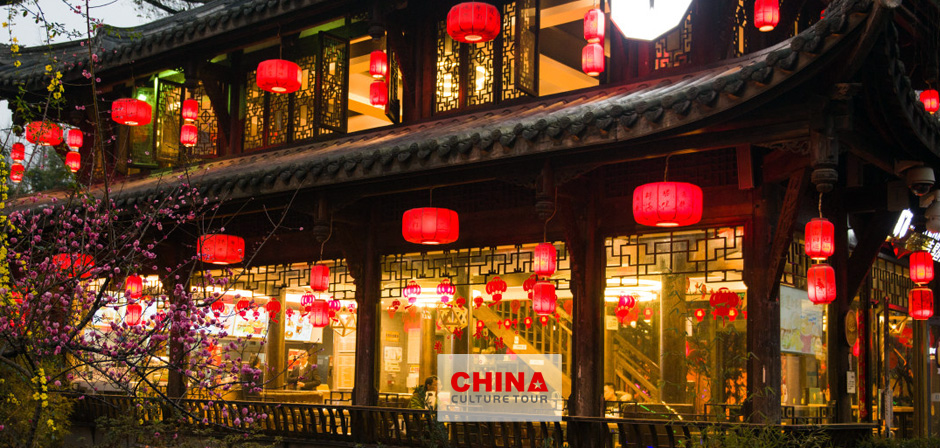 A tea house in Chengdu
This morning, your guide will introduce you the cultural and artistic treasures on display in Shanghai Museum. Admire their perfect workmanship and learn about the history and stories. Later visit a typical Jiangnan garden – Yuyuan Garden, a private mansion built in 1559, with more than 40 meticulously-preserved structures and a wide diversity of plants and flowers. And discover the cultural root of Shanghai at the Town God Temple area, where you'll see many beautiful traditional architecture complexes and Shanghai's most popular food street.
Take a brisk walking tour of the Bund to trace Shanghai's colonial history back in 18th-19th Century. See over 50 colonial structures of different classical European styles. Then up Shanghai Tower, on the world's highest observation deck, to snap photos of Pudong skyline.
After dinner, enjoy a magical acrobatics show that integrates tricks and dizzying effects (optional).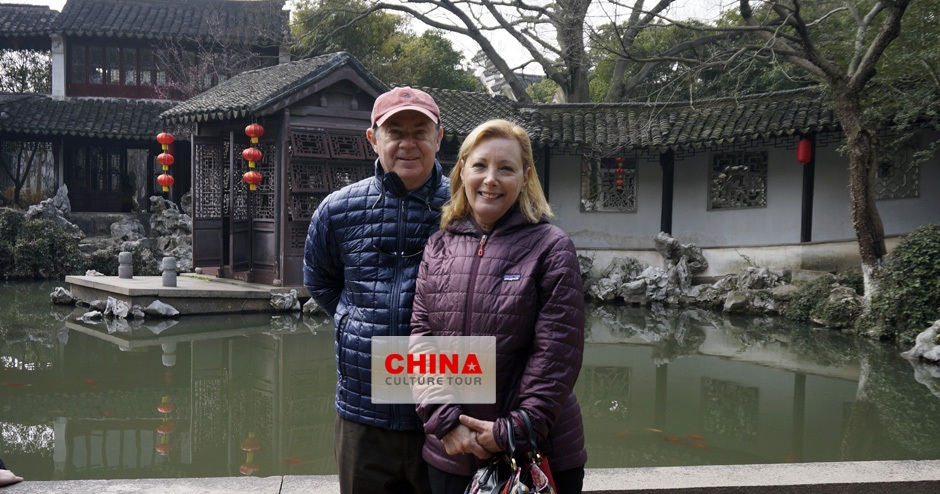 Yu Garden
Here comes to the end of your 15 days China & Tibet tour. After you are escorted to the airport and get through the security pass, wave goodbye to your guide, and China Culture Tour service ends.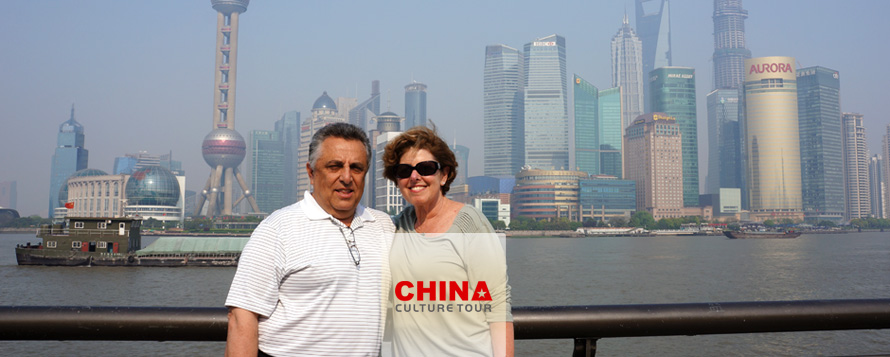 Shanghai Pudong area
Price Includes
In-country transportationas noted in the itinerary.
Admission fees and activity expenses as noted in the itinerary.
Luxury or boutique hotels centrally located.
Meals in local restaurants as noted in the itinerary with complimentary drinking water.
Your own English-speaking guide service.
Your own chauffeur and vehicle service.
Price Excludes
International transportation.
Chinese tourist visa. (which enquired for most foreign passport holders)
Travel and medical insurance.
Meals, snacks, alcohol, etc. apart from those included in the itinerary.
Excess baggage charges.
Personal expenses.
Sights, excursions and activities not included in the itinerary.
Gratuities to guide and driver.
ANY QUESTIONS?
This tour is tailor-made and we can tailor to meet your reqeusts. Your personal travel consultant will contact you within 24 working hours!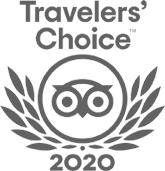 FABULOUS TOUR COMPANY
CHINA OCTOBER - NOVEMBER 2019 We researched several companies and studied reviews on Trip Adviser before contacting who did a very China Culture Tour with an initial query. Right from the outset Grace who owns the company was excellent. She emailed detailed with pictures information and a suggested…read more details
Karen from US
Ready to Create a Unique Dream Travel?